Hello, hello dearest people!
I decided to do an update on my WIP Halloween costume.  As stated in my prior Cosplay Confession, I will being doing Rarity from My Little Pony this year.
I was able to find a suitable dress at Torrid.com though there was a bit of trepidation since there were no returns and no exchanges offered since it was a clearance item.  I oscillated between one size and the other and finally decided on the one that aligned closest with my bust and waist even though it was only a 1x.  I…can't even get started on how ridiculous women's sizes are.  Even with such measurements, there's no guarantee that clothing will fit, but I took a leap of faith, bought the smaller one and hoped for the best.
My wonderful coworker lent/gave me a purple ribbon, and while I love the color and think it looks cute, it's not long enough to tie in a bow, and I kind of want a bow.
Next was the search for a purple with a potential horn and ears combination.  I lucked out in finding exactly this on Etsy from the indomitable Yaya Han's shop.  If you know anything about cosplay, you know about Yaya Han.  She has done nearly every cosplay under the sun and even includes her construction notes.  She's…kind of a big deal hehe.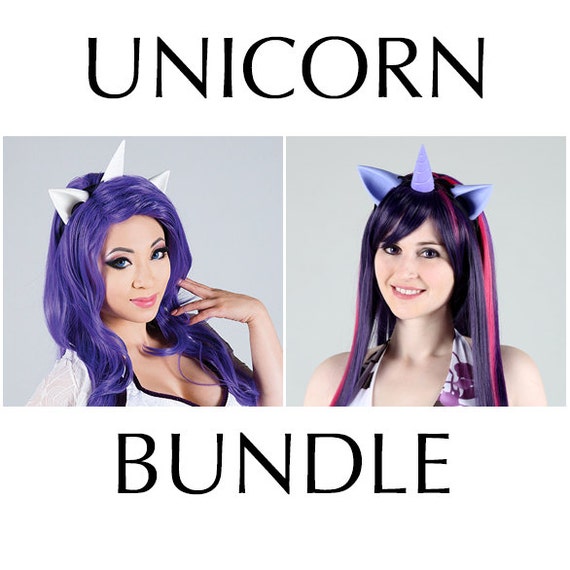 Obviously I went with the one on the left for Rarity, but it's nice to know there's a Twilight option.  Totally random, but I've noticed that Twilight is very often depicted as a woman of color in a lot of fanarts, which is pretty freaking sweet.
While on Etsy, I also found Rarity's Element of Harmony.
So…all I needed to do next was wait.
I received the white dress first, but because of my awful experience last year with my failed Elsa costume, I was very wary to even open the package let alone try it on.  The wig/horns/ears and Element arrived not too long after, and they all just sat…and sat…and sat until today when I myself was sitting on my couch (after being an adult aka paying bills and making medical bill arrangements ughhhhhh hate it) on vacation and I thought, Well, I should do a Halloween costume update.  Even though this is my blog and I do what I want, I'm paranoid about people bitching about me posting nothing but FFVII articles all the time even though it's really obvious that I'm an FFVII fangirl, and, well, that's what I post about.  If you don't want to see my fanfiction, macros, metas, and essays about my favorite thing, then you shouldn't be following this blog, but I'm still paranoid and variety is the spice of life so I like to throw in other things when I can.  So I took the chance and opened up my costume/cosplay accoutrements, put them on and ended up with this.
I also made a video, but I'm not sure how I'd get that up lol.  I think I'd have to post it on YouTube and then put a link here, and I don't feel like going through that song and dance right now.
Through some miracle I actually look skinnier in the photos than I do in my mirror!  Not sure how I managed to pull that off, but I'll take it.  I actually really liked how I look, which is a HUGE thing for me.  I've probably mentioned this before but the Shameful Narcissist and self-esteem have never been best friends, so when I actually like the way I look, it's quite a cause for celebration.  I think I'm adorable in this outfit.
I just threw on some lip gloss to combat how dry my lips are.  My skin is a bit of a nightmare right now because I got some sun damage when I was in Cape May.  I don't burn, but I'll break out in this rash if I'm out in the sun for too long without sunscreen.  I didn't put any on the last day because I didn't expect to be out in it, but we waited a long time for breakfast and it was really beating down.
I still need to find her red famed glasses.
Buy blue sapphires (or rather sapphire like stones) for her cutie mark.
Purchase fancy white shoes.  I'm thinking flats because I don't really need to be taller.  I found an awesome pair at Payless, but they don't come in wide
I would love to find a stuffed Opalescence if possible, but seeing as I can't even find anything for that online, I may have to forgo.
Opera length gloves are a possibility as seen in this cosplay,
but they're not really a requirement.
So that's my current Halloween costume/cosplay status!  I may do an update about my major decade long planned Sephiroth cosplay as I did some makeup tests for that with the custom made contact lenses, and I think I looked awesome (again shocked and surprised).
Until then, what are you all working on for Halloween?  It doesn't have to be a full blown cosplay of course.  Costuming can be as serious as you want to make it, and above all else, it should always be fun!  Leave what you're doing in the comments if you want 🙂
Until then my dears and ducklings, adieu!