So we need to talk about Rose Quartz from Steven Universe and how mind-blowingly beautiful she is.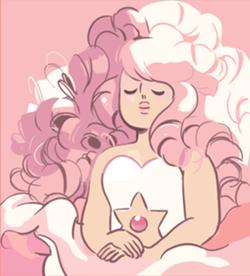 Before I started watching Steven Universe, my friend posted on Facebook about how the main character's mother was not remotely skinny, feminine, and a total bad ass, and even though I did not yet have time to watch the show, I loved that.  Too often the only female characters considered bad ass embody stereotypical male traits, and while I do love Brienne of Tarth and think Arya is pretty cool, I do grow tired of explaining why Sansa is not shitty or weak because she does not have stereotypical male traits and instead embodies more of the feminine mannerisms of courtesy and politeness.  These are the very traits that kept her alive.
The more I watch SU, the more I love Rose, and not only that we have to talk about representation.  Rebecca Sugar created a character that is not skinny in not only a sea of ultra thin "magical girls," but an ocean of predominantly thin female protagonists.  While I am trying to keep that air of positivity and "I do want I wantness," it is still amazing to see a character of a not skinny body type being portrayed in not only an awesome, but a totally kick ass manner.  So, while this is the latest cosplay idea that I have, I think it may become one of my most passionate.  I love episodes that focus on RQ, and eventually I might talk about all of the mommy feels that Steven Universe illicits because holy shit was a feeling them today.  Ah fuck it, I'll explain.  Why the hell not?  Gives me an excuse to talk about my favorite narrative (not that I need one) and the mommy feels that seems to always bring up.
I've been binge watching Steven Universe while on vacation in an attempt to catch up and see what manner of shenanigans the latest and greatest episode displayed, and as I've said many, many times I constantly run into stories with dead/missing mothers.  It's not only my MO, its also an extremely common trope especially in the fantasy genre, especially with females.  I haven't done nearly as much research as I'd like on this paradigm, but it hasn't gone unnoticed (think Disney and fairytale princess).  Also obviously, my favorite narrative FFVII is rife with it as is my second favorite narrative ASOIAF.  What must be noted about both of these is that it's not only daughters who are deprived but sons, as well, (there's an excellent blog post/manifesto by Cantuse about what happens to mothers who abandon sons,) and this is present in SU too.
So I spent a good part of today (and yesterday) watching Steven Universe and around four in the morning posted a sort of sad sack post about how every damn narrative I become obsessed with has this paradigm.  I was reminded about the macro I made last week (that I just posted now for the express purpose of talking about it here), and when I found the artist source, I also other pictures that just dug the knife deeper in.  I…don't feel like posting them right now, but her name is Dark6Nika, and you can check them out on her Deviant Art page.
(Bonus: She liked and reblogged the macro I made of her picture/manipulation on tumblr so squee!!!)
Another thing is I've been obsessed with the lyrical ending song to SU for the past week.  I can't stop listening to it; I wish it were longer; and I'm considering writing additional lyrics in order to make that so.
So Rose Quartz cosplay.  I found quite a few wonderful ones on tumblr, Pinterest, and just by using Google search.  Again, I love, love, love that there's a beautiful and bad ass cosplay for larger ladies, and please realize this.  This great tumblr post I found sums it up  It is okay to cosplay Rose Quartz if you're thin.  It's okay to cosplay Garnet if you're white.  It's okay to cosplay Steven if you identify as female (and/or are thin).  But you can't claim that RQ isn't fat; you can't' claim that Garnet is white, and you can't claim that Steven is skinny (I don't think there's much argument about Steven being female so I don't think I need to proclaim that).
Omg she's so freaking beautiful.
The list of what I (think) need is as follows:
Ruffled pink and white dress (maybe of the prom or wedding variety)
Huge pink wig
Rose quartz jewel
Sword and shield
Mr. Universe shirt (optional)
The white and pink dress doesn't seem like it would be too difficult.  The internet seems to think that Rose Quartz and Pinkie Pie have the same hair.
I think Rose's hair is bigger but tidier.
The gem doesn't seem too hard to locate.
There's also the star that goes around it, but that shouldn't be too difficult either.
Aaaaand you can buy her sword and shield as a set on Etsy.  God bless the internet.
This may be my Halloween costume for next year.  I just plan earlier and earlier, n'est-ce pas?
Are there any new characters you've recently fallen in love with that you'd love to portray?  Are there any old loves you've been dying to do?  Let me know in the comments and Godspeed on whatever cosplay or costuming ventures you're currently involved in!
Until later lovelies,
Adieu.