<–The State of the Reader: 6/22/16          The State of the Reader: 7/6/16–>
A weekly post updated every Wednesday detailing my current reading projects and where I am with them in addition to what new titles I've added to my to-read list.  Title links go to Goodreads to make it easier for interested parties to add any books that might strike their fancy.  I attempt to use the covers for the edition I'm reading, and I'll mention if this is not the case.  If you have a Goodreads account feel free to friend me!  I'd love to see what you're reading and/or planning to read.
Content Warning: Some discussions of rape as it pertains to narratives.
---
Books Finished This Week: 2

Title: Windhaven
Authors: George R R Martin and Lisa Tuttle
Review will be forthcoming.  Oddly enough the action and interest dipped and lifted like a flyer in a series of eddies.  I wonder if that was done purposely or if it was just a happy accident of the wind.
Title: Paradise Lost
Author: John Milton
I'll be honest with you.  I didn't finish the volume; I looked up the last two Books on the internet and read the summary there.  I'm glad I did.  I didn't miss much excitement.  I also didn't find the direct reference I was looking for (the internet lied to me) about God taking one of Satan's wings as punishment for rebelling (which if you've been paying any sort of attention would particularly interest a fangirl such as me), but I believe it may be something that readers/scholars could've interpreted from either the first or sixth book.  I'm unsure, but regardless, Milton's epic poem was still highly influential in the narrative of FFVII and my second favorite story ASOIAF. 
I think I"m going to do the review for this differently though.  Instead of posting a written one, I'm going to attempt to do  a video one since I have an abundance of notes for this epic and could just talk/rant about it on camera.  I don't have the equipment for such right now, but the desire to do this might spur this process on.
---
Books Currently Reading: 3
Change from Last Week: 0
Title: The Mystical Qabalah
Author: Dion Fortune
Medium: Paperback
Progress: 63%
Went up one percentage!  Go me!!  I'm still plugging away at this volume.  Maybe I'll finish it this year; it would be a decade long accomplishment.  After this I want to find a good translation of the Sepher Yetzirah, so if any of you have any recommendations on that, I'd love to hear them.
Title: The Rape of Lucrece
Author: William Shakespeare
Date Added: December 11, 2015
Date Started: June 25, 2016
Medium: Paperback
Progress: 32%
It's going to be interest noting the progress for this once since I'm reading it from another book I didn't technically add, The Sonnets and Narrative Poems: The Complete Nondramatic Poetry.  There are many compendium books for great and classical authors so you must either choose adding their works one by one or as part of a particular volume.  I decided to add Shakespeare's works one at a time, which may inflate my finished "book" count, but I'm not overly worried about it.  While A Midsummer Night's Dream may not be a novel, I'd still count it as a finished book (Note: I've already read Midsummer…should probably make sure that's on my read list).
It is exceedingly difficult to read a poem about rape, while editing a story about the same 😦  I actually haven't read any more of this since starting my edit of The Broken Rose.  It's…just too much.  Once I get far enough in my edit where rape is no longer directly forefront, I think I can pick this back up.  I'm very happy I started reading it though.  This is another one of my so-called "VII  books" (books/stories I read because of FFVII), as the game makes a pretty important reference to Lucretia, though it's ironically and tragically only discovered during a side quest.  I also think ASOIAF is playing with and subverting the main motif the poem.  I may post a meta on tumblr about this.  I was quite excited about the revelation.
Title: The Slow Regard of Silent Things
Series Title: The Kingkiller Chronicle
Author: Patrick Rothfuss
Date Added: October 30, 2014
Date Started: June 25, 2016
Medium: Paperback
Progress: 28%
Sometimes you find a book where the title itself speaks poetry.  Thus is The Slow Regard of Silent Things.  The moniker alone evokes both potential horror and poignant poetry.  Sometime that both has time for silence and slow regard must be long lived in deed.  It puts me in the mind of Lovecraftian horror, as if something dark and horrible is watching, watching, always watching and waiting for what we do not know.
I just realized something else this picture reminds me of: the first time you see the Emerald Weapon in FFVII.  I'm not going to bother to put a link/picture, since I haven't been able to find a screenshot of that particular moment, but the first time I played and saw it, it terrified me.  You're in a cave and you just see this great, slivered eye open, look at your characters, then close again.  It's…unsettling to say the least.
---
Fanfictions Finished: Written in the Skies
Author: runicmagitek
Fandom: FFVI
Pairing: Celes Chere/Setzer Gabbiani
That greedy runicmagitek taking up all my time *grumble* hehe.  I really don't mind.  If I'm going to "waste" my time, I'd rather do it reading.  She is quite a prolific writer and puts out at least two stories a week in the FFVI fandom, but also for FFVIII, FFX, Sailor Moon, and other fandoms/games I don't really know like Transistor and Overwatch among others.
Skies was a sweet little number involving letters.  I was happy I was able to finish something by her, because I feel incredibly guilty that I'm only two chapters into the longer fic, but she's to the end of Part I of mine *shame*
In Progress Fanfictions Read: 1
Title: The Sound of the Waves
Author: tastygoldentaters
Fandom: FFVII
Pairing: Aeris/Sephiroth
Note: The "in progress" means the story is still ongoing, but parts have been posted.  Not everyone is neurotic like me, and some will post their work as they go along 😉
I was very anxious to read this story once I finished my own.  I'd started it and found it very intriguing.  One of the best things about fanfiction is how it is transformative, sometimes literally.  In this "tale," Aeris literally has one (two literallies in just as many sentences…) as she's a mermaid.  At first I was like, "Hm," but as I read, it actually made a great deal of sense considering the Forgotten City does have an Atlantis like vibe with its shell houses and white coral reef looking trees.  So it's not canon, but I can see the logic in it.
I've spoken to this author on tumblr.  She'd messaged me before about NL to compliment me on my writing, but also to regret she was unable to read further than Chapter 1 because of the attempted rape scene.  I felt awful.  Even though I'd warned about it, any time the warning is necessary makes me sad and angry.  We talked a bit, actually about TBR, but I let her know in no uncertain terms that if she couldn't read NL, there was no way she could read the (then) WIP, but I let her know I was planning on re-editing/reworking some of my older FFVII fanfictions, which are far more innocent.  I also ensured her that there is no rape in Northern Lights and let her know the chapters where it's mentioned or attempted.  She was able to finish reading it and thanked me for giving her this information.  She also clued me in to an author friend of hers who used warnings in consideration of others, and  I immediately bought his story Khalarea the Fallen (Tales of Yagath).  The link goes directly to Amazon instead of my Goodreads, and the author's name is Claus Corbett.  I haven't had a chance to read the story yet, but I definitely want to support people like that. It's only $0.99 so it should hopefully not break anyone's bank (I never like to assume).
Anyway, the author of Waves told me that she intends to write up a storm once she's on break, and I cannot wait to read more of this.
Fanfictions Currently Reading: 1
Title: I'm the Darkness, You're the Starlight
Author: runicmagitek
Fandom: FFVI
Pairing: Celes Chere/Setzer Gabbiani
I managed to read Chapter 2 this week, and I and the lovely author have had some wonderful correspondences.  As stated above, she just finished Chapter 14 of my Northern Lights, and it evinced the appropriate reaction from her 🙂  I need to reply to her overly flattering comments in addition to reading Chapter 3 of this.
---
Books Added to Goodreads This Week: 17
Title: Revelation Space
Series Title: Revelation Space
Author: Alastair Reynolds
Date Added: June 23, 2016
I did it again.  I added the second book to my to-read list instead of the first.  It was due to the title Redemption Ark, which is the ship I sail across nearly all of my fandoms.  The blurb was promising, too.  One of my blogger friends, Jay Dee of the blog I Read Encyclopedias for Fun, turned Goodreads friend is halfway through the "redemptive" second, and from what I've read, the series reminds me a bit of the Reapers from Mass Effect.
"Late in the twenty-sixth century, the human race has advanced enough to accidentally trigger the Inhibitors – alien killing machines designed to detect intelligent life and destroy it."
"Seasons don't fear the Reaper, nor do the wind, sun or the rain…"
Title: Beloved
Series Title: Toni Morrison Trilogy
Author: Toni Morrison
Date Added: June 23, 2016
I don't think much needs to be said about why I'm adding this.  I have read The Bluest Eye, and if this is half as heartbreaking, I'll be in for many a teary night.
Title: The Temple of My Familiar
Author: Alice Walker
Date Added: June 23, 2016
I remember starting the Temple of My Familiar when I was but a child, barely a teenager, and being drawn into Walker's lush language.  I had no idea what the meaning behind the symbolism was, but I do remember an adult making disparaging remarks about Ms. Walker, and while I didn't really understand what she was lambasting the author for, I know I felt ashamed for liking this book so much.  Oddly, this person was another Black woman, and I didn't have the knowledge or experience to understand the source of her disdain, nor do I even remember what words she said.  I have read The Color Purple (of course), but I forgot about this until I added Beloved above.
Title: Breath, Eyes, Memory
Author: Edwidge Danticat
Date Added: June 23, 2016
I believe I own this one; I'll double check this weekend before adding it to my physical-copy list on Goodreads.  Looking at the blurb again, I remember why I was interested in it.  Journey to the unknown which should be known, secrets through the eyes of a child, eventual return.
Title: Sun and Moon, Ice and Snow
Author: Jessica Day George
Date Added: June 25, 2016
This is one of two books about a girl promised to a polar bear as his bride, and it's making me wonder if there's some specific fairy tale about this in addition to thinking Phillip Pullman took inspiration from such for the trilogy His Dark Materials.  While Lyra isn't promised to a polar bear as a bride, she pretends to be our world's equivalent of his soul, which is far more intimate.  I'm already enamored with winter, the north, the northern lights, and endless cold.  It wasn't a hard sell for me to add this to my to-read list.
Title: Ice
Author: Sarah Beth Durst
Date Added: June 25, 2016
Now I'm even more convinced that Pullman pulled inspiration from stories such as these.  The cover to The Golden Compass is reminiscent of this ones.
I almost didn't add this and not because of disinterest.  I almost didn't add it because I don't need to read any more dead/missing mother stories, but I know it would haunt me and needle at my mind if I didn't.  I wouldn't be able to remember the title (or find it since "Ice" is a fairly common name), and that would haunt me worse.
"When Cassie was a little girl, her grandmother told her a fairy tale about her mother, who made a deal with the Polar Bear King and was swept away to the ends of the earth. Now that Cassie is older, she knows the story was a nice way of saying her mother had died. Cassie lives with her father at an Arctic research station, is determined to become a scientist, and has no time for make-believe.
Then, on her eighteenth birthday, Cassie comes face-to-face with a polar bear who speaks to her. He tells her that her mother is alive, imprisoned at the ends of the earth. And he can bring her back — if Cassie will agree to be his bride.
That is the beginning of Cassie's own real-life fairy tale, one that sends her on an unbelievable journey across the brutal Arctic, through the Canadian boreal forest, and on the back of the North Wind to the land east of the sun and west of the moon. Before it is over, the world she knows will be swept away, and everything she holds dear will be taken from her — until she discovers the true meaning of love and family in the magical realm of Ice."
Didn't I just write a story about searching for your lost mother in the northern wastes?  I suppose narratives such as these give hope to the hopeless, but it's really just a cruel and bitter lie.  They're just stories, and there are no happy reunions.
Title: The Age of Fable
Author: Thomas Bullfinch
Date Added: June 26, 2016
Title: The Age of Chivalry
Author: Thomas Bullfinch
Date Added: June 25, 2016
I organized my final bookshelf on Saturday/Sunday (slash because it was technically early Sunday morning) and added a boatload of books.  I've had Bullfinch's Mythology for years.  I think I started it, became bored, and put it aside.  I would like to attempt a read even though I've read other far more interesting mythology volumes (D'Aulaires' comes to mind hehe).  I'm always willing to give things a second chance though.
Title: The Ultimate French Review and Practice: Mastering French Grammar for Confident Communication
Authors: David M. Stillman & Ronni L. Gordon
Date Added: June 25, 2016
Title: The Everything Learning German Book: Speak, Write, and Understand Basic German in No Time
Author: Edward Swick
Date Added: June 25, 2016
Title: 501 German Verbs (Barron's Foreign Language Guides) (Barron's 501 German Verbs (W/CD))
Author: Henry Strutz
Date Added: June 25, 2016
Title: The Everything Learning Latin Book: Read and Write This Classical Language and Apply It to Modern English Grammar, Usage, and Vocabulary
Author: Richard E. Prior
Date Added: June 25, 2016
Title: The Everything Learning Spanish Book: Speak, Write, and Understand Basic Spanish in No Time
Author: Julie Gutin
Date Added: June 25, 2016
Quite a few language books, n'est-ce pas?  I was quite ambitious many years ago and decided I was going to teach myself Latin then German then finally Spanish.  I made flashcards for Latin verbs and German nouns and for a while I kept up with it.  But time and tide wait for no man, and the former for me ran out.  I had other projects (mostly writing) to attend to, and alas my language studies fell by the way.  I still want to learn them especially Latin and German, which are my favorite languages to sing in (see here) and knowing Spanish would be so useful. I'm hoping I can either pick these books back up or perhaps utilize the Rosetta Stone programs that I happen to have.  Unfortunately, I don't have one for Latin, but German and Spanish are readily available.  For French I want to brush up.  I still remember quite a bit of it (not nearly as much as I knew in high school or even college), but I could bumble my way through Paris where everyone would clearly know the truth.  Je suis américainne.

Title: The Illustrated A Brief History of Time/The Universe in a Nutshell
Author: Stephen Hawking
Date Added: June 25, 2016
I loved this book.  I wish I'd finished it when I first started reading it.  Professor Hawking essentially writes "An Idiot's Guide to the Universe" by breaking down complex quantum physics into something astronomical plebeians like me can understand.  It was exceedingly easy to follow and gives credence to the words of Albert Einstein, another scientific genius, "If you can't explain it simply, you don't understand it well enough." I do agree with Einstein to a point.  You should be able to explain things simply…at the start, but when you start to delve into more complex themes, it should become more complex.  Either that or I don't understand anything, which is entirely possible.  I try to explain things in metaphors and comparisons to make them easier for me and others.  I know it works for me.  Everyone else, though…*shrug*
Title: The City of Ember
Series Title: The Book of Ember
Author: Jeanne DuPrau
Date Added: June 28, 2016
Trust an author for a book recommendation.  This is another one (recommendation that is) from Patrick Rothfuss, the author of The Kingkiller Chronicle.  I love a mysterious city whose expiration date is during the time of the story.  Created by the builders to contain everything needed for human survival, now resources are being depleted and the lights are growing dim.  It's up to two children, Lina and Doon, to decipher the fragments of an ancient parchment and find a way out of Ember…if the people listen to them.  That bit of blurb leads me to believe that somehow for some reason humanity is trapped there, and I want to know why.
Title: The Bird and the Sword
Author: Amy Harmon
Date Added: June 29, 2016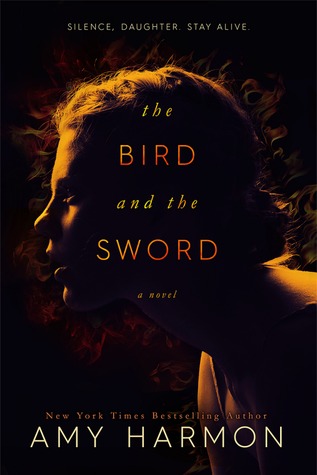 The blurb and the stellar reviews sold this one for me.  I probably would've read it based on only the poem in the beginning.
"Swallow, Daughter, pull them in, those words that sit upon your lips. Lock them deep inside your soul, hide them 'til they've time to grow. Close your mouth upon the power, curse not, cure not, 'til the hour. You won't speak and you won't tell, you won't call on heav'n or hell. You will learn and you will thrive. Silence, Daughter. Stay alive.
The day my mother was killed, she told my father I wouldn't speak again, and she told him if I died, he would die too. Then she predicted the king would trade his soul and lose his son to the sky.
My father has a claim to the throne, and he is waiting in the shadows for all of my mother's words to come to pass. He wants desperately to be king, and I just want to be free.
But freedom will require escape, and I'm a prisoner of my mother's curse and my father's greed. I can't speak or make a sound, and I can't wield a sword or beguile a king. In a land purged of enchantment, love might be the only magic left, and who could ever love . . . a bird?"
I truly wonder if the daughter was turned into a swallow to make a double entendre of that first word.
Title: The Animals of Farthing Wood
Series Title: Farthing Wood
Author: Colin Dann
Date Added: June 29, 2016
This showed up in my recommendations today, and it heavily reminds me of Watership Down even though it was recommended to me because of my rating of Salamandastron.  Either way it's about animals trying to escape the destruction of their forest.  They must rely on each other, predator and prey, to escape the worst predator of them all.
---
Books Added to Goodreads To-Reread List This Week: 1
Title: The Jungle Books
Author: Rudyard Kipling
Date Added: June 24, 2016
Almost forgot I added this to my reread list.  It's been over a decade since I have, and knowing more about Kipling (…) I want to do a reread.  I remember I fell in love with the way the characters spoke using "thou" and "thy."  I thought that was interesting.  I hear the Disney remake is absolutely marvelous.
---
What are you currently reading and/or what's on your radar to read next?  What would you recommend based on my current and recently added?  As always I look forward to your comments and suggestions!
<–The State of the Reader: 6/22/16          The State of the Reader: 7/6/16–>
Save
Save
Save
Save
Save
Save
Save
Save
Save
Save
Save
Save