<–The State of the Reader: 7/6/16          The State of the Reader: 7/20/16–>
A weekly post updated every Wednesday detailing my current reading projects and where I am with them in addition to what new titles I've added to my to-read list.  Title links go to Goodreads to make it easier for interested parties to add any books that might strike their fancy.  I attempt to use the covers for the edition I'm reading, and I'll mention if this is not the case.  If you have a Goodreads account feel free to friend me!  I'd love to see what you're reading and/or planning to read.
Content Warning: Some discussions of rape as it pertains to narratives.
---
Books Finished This Week: 0

---
Books Currently Reading: 3
Change from Last Week: 0
Title: The Mystical Qabalah
Author: Dion Fortune
Date Added: August 13, 2012
Date Started: Unknown
Medium: Paperback
Progress: 66%
I completed the weekly goal set last week and finished the chapter on Hod, so I'm happy about that.  This week's goal is to finish the chapter on Yesod.  I like this weekly goal thing.  It keeps me even more honest and means I may actually finish reading The MQ before the end of this year.
Title: The Rape of Lucrece
Author: William Shakespeare
Date Added: December 11, 2015
Date Started: June 25, 2016
Medium: Paperback
Progress: 32%
Nope.  Still no progress.  Not only am I now editing a story about rape, but I'm also writing an essay where a major point is about rape in the subtext of my favorite story, FFVII.  I actually had to stop writing the fore mentioned because in researching the book above (interestingly enough) I became very upset with Wikipedia's explanation of how the titular character was viewed.  It was an excellent analysis, but horribly dehumanizing.  It also perfectly aligned with what it references in FFVII.  I was both fascinated and disgusted, and eventually the latter emotion won out.  I'm working on the essay tonight and hoping to finish it, so that will be one less source of rape rhetoric on my plate, and I can hopefully finish up this poem.
Title: The Slow Regard of Silent Things
Series Title: The Kingkiller Chronicle
Author: Patrick Rothfuss
Date Added: October 30, 2014
Date Started: June 25, 2016
Medium: Paperback
Progress: 82%
I'm so close to being done with this slim volume.  I was hoping to finish this week, but I still have about 50 pages left.  I should definitely be able to knock them out before next Wednesday.  I'll more than likely review this.  It shouldn't take me too long.  I think afterwards, I'm going to give it to my friend Siobhan (who's going to be reviving her own blog here!).  There's something about Auri that utterly reminds me of her.  I feel like this book needs to be hers.
---
Fanfictions Finished:0
In Progress Fanfictions Read: 0
Fanfictions Currently Reading:1

Title: I'm the Darkness, You're the Starlight
Author: runicmagitek
Fandom: FFVI
Pairing: Celes Chere/Setzer Gabbiani
I finished Chapter 6 in this and actually am up to read Chapter 8, because I already read Chapter 7.  Why did I read this story out of order?  Well I thought it was one I'd already started so when the author posted Chapter 7, and I received the email for such, I just plunged in.  Since I know the story of FFVI already, I wasn't particularly lost, but then I realized I hadn't read the prior chapters so I went back and did so.  Now I'm set to read 8 and after that there are just two more published so far.
Things are about to go horribly wrong for Celes to put it lightly, well…not necessarily her per se, but she's about to lose a long time friend.  Again, if you're familiar with VI you'll know about a pretty iconic death in the first half of the game.
---
Books Added to Goodreads This Week: 9
Title: Truthwitch
Series Title: The Witchlands
Author: Susan Dennard
Date Added: July 8, 2016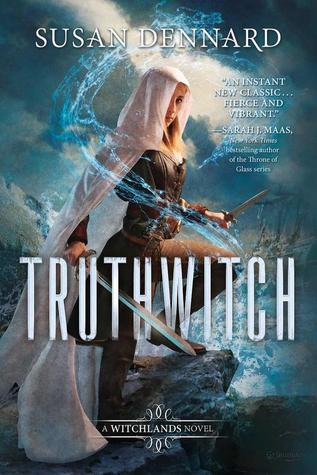 It was the the "threadwitch" that prompted the add.
"Iseult, a Threadwitch, can see the invisible ties that bind and entangle the lives around her—but she cannot see the bonds that touch her own heart. Her unlikely friendship with Safi has taken her from life as an outcast into one of reckless adventure, where she is a cool, wary balance to Safi's hotheaded impulsiveness."
As you've probably been able to discern, I am very interested in the threads that bind stories together and the foundation of it all.  I also love when stories utilize the power of threes, and the power of truth is something I use in my own writing.  This book also received many stellar reviews, so I'll give it a chance.
Title: The Crow Box
Series Title: Box & Ink Series
Author: Nikki Rae
Date Added: July 8, 2016
A box full of darkness and voices in your head.  How can I resist the call?  Some doors shouldn't ever be opened even if you have the key…
Title: White Wind Rising
Series Title: Gunpowder and Alchemy
Author: Dan Davis
Date Added: July 8, 2016
This was discovered by a reblog of the author's own promotion here.  I don't recall whom I reblogged it from, but I'll always support authors in promoting their work.
The simplicity in the description oddly drew me, because I want to know what's going on in this world.  What is the Alchemist up to?  The names of the characters come off as archetypes for something greater.  I need to know more.
Title: Alive
Series Title: The Generations Trilogy
Author: Scott Sigler
Date Added: July 10, 2016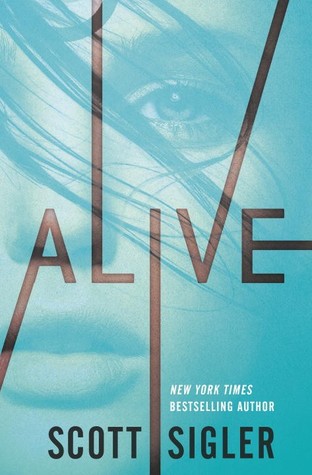 Of all of the books/book series this is compared to only Hunger Games pushes it in my favor.  I was not a fan of The Maze Runner Series at all, and only marginally enjoyed Divergent, but the description of "the remains of a war long past" ignites something in me.  I love stories that incite nostalgia, even if that nostalgia is horrifying, and the motif of the "war to end all wars" has always been fascinating.
Title: The Lightning Tree
Series Title: The Kingkiller Chronicle
Author: Patrick Rothfuss
Date Added: July 11, 2016
The cover is in Spanish because that was the best one I could find.  The link goes to Rogues, a collection of stories from world renown authors (including GRRM).  Oddly enough even though the page is clearly about that compendium, the title remains The Lightning Thief.  I…guess I'll just add it by itself. I'm not quite sure how I'm going to do it since I intend to read (and indeed just added) the entire compendium.  I suppose I'll burn that bridge when I come to it.
This book isThe Kingkiller Chronicle #0.  It follows around a particular and quite mysterious character in that universe, and as this fellow is quite particular and mysterious, I'm quite curious what a day in his life is like.
Title: The Archived
Series Title: The Archived
Author: Victoria Schwab
Date Added: July 12, 2016
This is another "one liner" book as in it only took one line to catch me.
"Imagine a place where the dead rest on shelves like books."
I'm both horrified and intrigued.
Title: Rogues
Series Title: Ancient World
Authors: Various
Date Added: July 12, 2016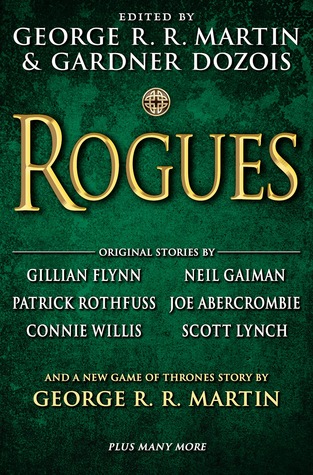 Since I added a story from it, it only makes sense to add the whole collection.  I believe this is where Martin's The Princess and the Queen story is.
Title: Starglass
Series Title: Starglass
Author: Phoebe North
Date Added: July 12, 2016
I was on the fence whether to add this.  Not that I'm that snooty, but it has a below 4 star rating, and the premise only marginally intrigued me.  But the main character's name is Terra and she's on a ship that's been traveling for 500 years away from earth.  The irony of that isn't lost.
Title: The Passage
Series Title The Passage
Author: Justin Cronin
Date Added: July 12, 2016
The blurb…
"An epic and gripping tale of catastrophe and survival, The Passage is the story of Amy—abandoned by her mother at the age of six, pursued and then imprisoned by the shadowy figures behind a government experiment of apocalyptic proportions. But Special Agent Brad Wolgast, the lawman sent to track her down, is disarmed by the curiously quiet girl and risks everything to save her. As the experiment goes nightmarishly wrong, Wolgast secures her escape—but he can't stop society's collapse. And as Amy walks alone, across miles and decades, into a future dark with violence and despair, she is filled with the mysterious and terrifying knowledge that only she has the power to save the ruined world."
If you make my VII Sense (as I call it, the sense that picks up things that remind me of FFVII, which I marked in bold) tingle, you've piqued my intrigued, and I will read your book.  While these are common motifs, that is not a deterrent, and indeed, draws my curiosity more to the universality and commonalities in all stories.  Does it exist?  I don't know, but even science has proposed a Theory of Everything.
The third book in the series, The City of Mirrors, was reviewed here by The Book Review Directory.  I haven't read it so as not to have the first potentially spoiled; however, I wanted to give credit to how I found the series.
---
Books Added to Goodreads To-Reread List This Week: 2
Title: Macbeth
Author: William Shakespeare
Date Added: July 6, 2016
I was catching up on Steven Attewell's chapter-by-chapter analysis of ASOIAF last night.  He writes a wonderfully thorough political and historical analysis of every single chapter of each book.  Currently, he's on A Storm of Swords, but I only just finished his examination of Catelyn VII in A Clash of Kings.  In the analysis he speaks of how Lady Stark's story (and many others) plays out like a Greek tragedy (you'll be hearing more about this from me later, but in regards to another narrative), but Dr. Attewell (hopefully he's okay with me calling him that.  He did receive a PhD recently, but not everyone uses the title e.g. Professor Stephen Hawking) also uses an example from Shakespeare's Macbeth, and that made me realize I needed to reread the play, because I don't recall many of the nuances, and nuances are what great stories are about.
Title: Hamlet
Author: William Shakespeare
Date Added: July 6, 2016
I added this for the same reason as the above, though it was not mentioned in the analysis.  When I think of one play by the Bard (or really any work by any author really), I tend to remember others.  Like Macbeth, I don't recall the nuances of Hamlet, and reading/rereading classic works such as this gives me more fodder for comparisons and discussions.
---
What are you currently reading and/or what's on your radar to read next?  What would you recommend based on my current and recently added?  As always I look forward to your comments and suggestions!
<–The State of the Reader: 7/6/16          The State of the Reader: 7/20/16–>
Save
Save
Save
Save
Save
Save
Save
Save
Save
Save
Save
Save