<–The State of the Reader: 7/13/16          The State of the Reader: 7/27/16–>
A weekly post updated every Wednesday detailing my current reading projects and where I am with them in addition to what new titles I've added to my to-read list.  Title links go to Goodreads to make it easier for interested parties to add any books that might strike their fancy.  I attempt to use the covers for the edition I'm reading, and I'll mention if this is not the case.  If you have a Goodreads account feel free to friend me!  I'd love to see what you're reading and/or planning to read.
Content Warning: Some discussions of rape as it pertains to narratives.
---
Books Finished This Week: 2

Title: The Slow Regard of Silent Things
Series Title: The Kingkiller Chronicle
Author: Patrick Rothfuss
Date Added: October 30, 2014
Date Started: June 25, 2016
Date Finished: July 14, 2016
Though the volume is slim it is bursting with poignancy.  I'll be working on the review for it tonight right after I post this.  I gave it a 5 star rating so you have an idea of what I thought.
Title: Spectrum
Author: Aidan J. Reid
Date Added: June 9, 2016
Date Started: July 16, 2016
Date Finished: July 16, 2016
I read Mr. Reid's spectacular short story in less than 24 hours so it didn't even make the Books Currently Reading list.  I had no compunctions about giving this 35 page short 5 stars.  The review for it is right here.
So both of the books I finished this week received a perfect score!  I don't know if that will ever happen again hehe.  Either the finishing two books in a week or the perfect score.
---
Books Currently Reading: 3
Change from Last Week: 0
Title: The Mystical Qabalah
Author: Dion Fortune
Date Added: August 13, 2012
Date Started: Unknown
Medium: Paperback
Progress: 69%
I made my goal set last week of completing the chapter on Yesod.  I'm currently on the section on Malkuth, the lowest of the Sephiroth.  The goal this week is to finish that.  Mini-goals seem to be working out well for this volume.
Title: The Rape of Lucrece
Author: William Shakespeare
Date Added: December 11, 2015
Date Started: June 25, 2016
Medium: Paperback
Progress: 48%
I was able to read ten more pages of Lucrece last week since I finished my Seventh Is the Darkest essay.  It was just too much between editing The Broken Rose and working on an essay whose main focus was rape (and other dark) metaphors to stomach this poem that has far too many of the same insidious paradigms prevalent today.  I'm nearly halfway through though.
Title: The Invisible Library
Series Title: The Invisible Library
Author: Genevieve Cogman
Date Added: June 14, 2016
Date Started: July 17, 2016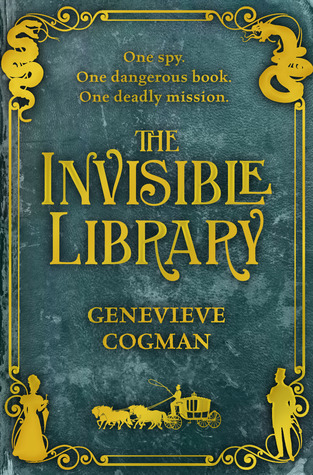 Medium: Paperback
Progress: 10%
Keeping with my three book limit, I started The Invisible Library this week, but it was a toss up between this novel and the first book in The Sword of Shannara Series.  I read a few pages of both.  Shannara is very much like the fantasies I grew up with.  Opening paragraphs describes the sun sinking against a sylvan setting, and quite a few pages talking about what the main character looks like.  I'd actually forgotten that writers used to start  books like this!  It's greatly frowned upon now.  Readers want action first, description later, and NO INFO DUMPS.  I'm one of the rare few who actually likes those, but I could definitely see the book's age (originally publication date 1977; three years before I was born).  The above drew me more so I decided I'd read Library first, but I'll probably read Shannara next.
I like some things about this novel, but so far I'm not getting much in the way of characterization.  I'm hoping that will be remedied soon.  Also the main male character's personality seems to flip flop.  His name is Kai, and I'm curious if that's a Snow Queen reference.  He's also really pretty…I have some trepidation about this, which is weird, because I usually love super pretty guys (in other news: water is wet), but I don't want it to be cliched (I also worry about me writing them cliched, but that's another post).
---
Fanfictions Finished:0
In Progress Fanfictions Read: 0
Fanfictions Currently Reading: 1

Title: I'm the Darkness, You're the Starlight
Author: runicmagitek
Fandom: FFVI
Pairing: Celes Chere/Setzer Gabbiani
I finished Chapter 8 of this mid-canon retelling that the lovely author is worried is trite (it's not), and oh boy, did Chapter 8 warrant it's warning.  She's finished Chapter 17 in my Northern Lights so I need to return the favor.
---
Books Added to Goodreads This Week: 8
Title: Everlost
Series Title: Skinjacker
Author: Neal Shusterman
Date Added: July 13, 2016
I added this due to a stellar review by Young Adult Lit Reviews.  The reference to "mother" in their summary sent a chill through my heart, awakening my ever present VII Sense.  This is a novel of the in between of life and death and what horrors or miracles might lurk there.
Title: A Monster Calls
Author: Patrick Ness
Date Added: July 14, 2016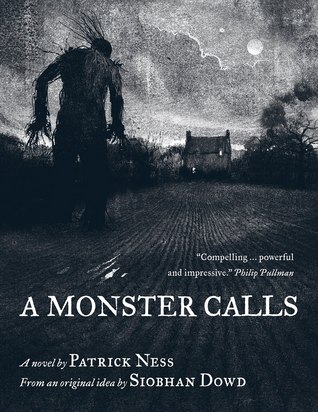 "The monster showed up after midnight. As they do.
But it isn't the monster Conor's been expecting. He's been expecting the one from his nightmare, the one he's had nearly every night since his mother started her treatments, the one with the darkness and the wind and the screaming…
This monster is something different, though. Something ancient, something wild. And it wants the most dangerous thing of all from Conor.
It wants the truth."
The first and last lines of the summary are absolutely brilliant for drawing you in.  With that one sentence you know you're in a world where monsters are known to show up midnight.  This is established with minimal fuss, and the last sentence is not only something the monster wants. It wants the truth, and I want to know what this truth is.  Is it terrible?  Is it glorious?  Will it tear apart the very fabric of the world?  And what do his mother's cancer treatments have to do with it?
Title: Anomalies
Author: Sadie Turner
Date Added: July 14, 2016
This was reviewed by blogger Iridescence here on her blog Light Up the Shining Night Stars.  While the book seems to have some major issues, one of them being an unlikable main character, there may be some merit in it still.  I've read books where I don't like the main character, an example being Memory and Dream by Charles de Lint (though in retrospect, my reasons for not liking her were very indicative of victim blaming, and I really want to reread now that I know better), but other factors can more than make up for this.  Many people aren't that fond of Harry in the Harry Potter Series, and some find Katniss of The Hunger Games Series to be a difficult person to like (I disagree with both, though I've read excellent critiques of Harry that give me food for thought).  Hell, my least favorite main character of the Final Fantasy Series is Cloud, and it's no secret that FFVII is not only my favorite game, but my favorite story of all time.  There are many factors that can make a story not only serviceable, but great.
While this story sounds a bit overdone(teen lives in dystopian, conformist world and is different from everyone else e.g. Divergent), I am curious as to how it will all play out.
Title: The Forgotten Garden
Author: Kate Morton
Date Added: July 15, 2016
A foundling, dark fairy tales, secret gardens, grief, and a protagonist named Cassandra.  I also love meta-stories, the tale within the tale.  It's one of the things that drew me to The Thirteenth Tale (though I had some issues with the macro story and never reached the micro one.  I'm not writing that off as an Unfinished yet though), and one of the many reasons I love The Neverending Story. 
Title: Titus Andronicus
Author: William Shakespeare
Date Added: July 17, 2016
Heralded as Shakespeare's "worst play," it was (potentially ironically) well received by audiences in its orgy of war and rape.  The potential irony is that in portraying these horrible things over and over again, the Bard was attempting to hold up a mirror in order to show humanity how terrible we're being, but like so many other narratives from then until now, the point was sadly missed.  Your Hunger Games, your ASOIAF,, your The Matrix, and per my latest essay, FFVII are only a few that do this, but people sadly see only the spectacle and miss the truth.
There's an excellent review of this over at a fellow blogger's site, Stuff Jeff Reads, which is why I was so inclined to add it.  I can't say that I'll finish this morass of bloodshed, rape, and racism, but one of my goals is to read all of the Bard's work, so I have to at least give it a try.
Title: Fire, Fury, Faith
Series Title: Winged Warriors
Author: N.D. Jones
Date Added: July 18, 2016
So I'm super excited about this for a number of reasons.  One, it's a fantasy novel with Black protagonists AND the author is a Black woman who has her own publishing company.  Two, they're angels (yassssss), and the main male character is a contrite angel who feels he has to make up for some past wrong.  Omg this is a trifecta of awesome.  The last one is a major part of one of my main characters' personality, so I was instantly drawn to this for all of these reasons.
Title: Darkness on the Edge of Town
Author: Brian Keene
Date Added: July 20, 2016
In the past week of so I've been talking to another awesome Sephiroth cosplayer on Deviant Art DarkStar016.  The funny thing is I didn't even find her on a Sephiroth cosplay, but rather the picture of her homemade Black Materia.  We're like 30 comments deep in that just back and forth.  She's a writer, as well, AND another black, busty lady ♥♥♥ #representationmatters  Looking at her cosplays answered a major question for me: What the hell am I going to do with my boobs?  Answer: Black leather corset.  Now I'm currently super broke, so there will be no corset purchases for me any time soon, but I now have an idea of what I'm going to look for (and I just went to this website Corset Story.  This may be a possibility sooner than I thought.  They're not that expensive.  I want to check out Renn Faire, too, though).  I do want to start working on the cosplay again (not like I've done much work tbh), and I'll probably be updating my much neglected Cosplay Confessional posts again soon.
Anyway DS016 has written some horror stories, too.  Chain Letter is fantastic and creepy, putting me in the mind of Martin with the unlikable yet still sympathetic main character and The Ring, a movie I won't even link to, because it scared me so much.  To write horror you need to read it, and through our talks she told me her favorite horror author is Brian Keene so I riffled through his Goodreads profile then asked DS016 for her favorite story by him, and thus added the one above.
I have read horror before.  My author friend (well friend of a friend, but we're Facebook friends, and I share stuff about his work so yeah, we can go with that!) Jonathon Ryan's 3 Gates of the Dead was a chilling foray into that genre, and since I want to write a cosmic horror one day, I have to take the icy plunge.
Title: Fear Nothing
Series Title: Moonlight Bay
Author: Dean Koontz
Date Added: July 20, 2016
I actually started reading this book years ago.  It was one of the many my brother would get through book clubs and whatnot.  It was an interesting story about this guy Christopher Snow (no relation to Jon) who has this genetic vulnerability to light.  He gets embroiled in some misadventure, and I believe a guiding cat might have been involved.  For whatever reason, I never finished it, but I'd think about it over the years and wonder how things turned out.  I couldn't recall the title for a while, but since I knew it was by Mr. Koontz, it wasn't that hard to find.  Reading the blurb I'm reminded a little of Odd Thomas with it's slightly different hero, but where Odd has a supernatural blessing (or curse depending on how you look at it), Christopher has a genetic limitation he has to be ever cognizant of, but apparently, it serves as an advantage in this novel.
---
Books Added to Goodreads To-Reread List This Week: 0
---
What are you currently reading and/or what's on your radar to read next?  What would you recommend based on my current and recently added?  As always I look forward to your comments and suggestions!
<–The State of the Reader: 7/13/16          The State of the Reader: 7/27/16–>
Save
Save
Save
Save
Save
Save
Save
Save