This is an unfinished book review as I did not complete the book in question.  Sometimes a story doesn't hold my interest enough or there's a a fatal flaw in the writing that makes it impossible for me to read; however, I feel that I should still put up my impressions of the story and explain why I was unable to make it through.  These reviews will vary in length depending on how much of the novel I was able to complete.
---
Title: City of Bones
Series Title: The Mortal Instruments
Author: Cassandra Clare
Genre: YA, Fantasy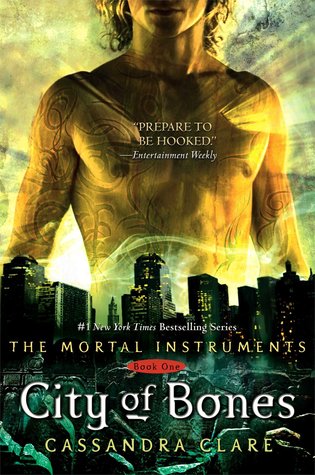 Pages: 485
Publication Date: March 27, 2007
Medium: Paperback
"When fifteen-year-old Clary Fray heads out to the Pandemonium Club in New York City, she hardly expects to witness a murder― much less a murder committed by three teenagers covered with strange tattoos and brandishing bizarre weapons. Then the body disappears into thin air. It's hard to call the police when the murderers are invisible to everyone else and when there is nothing―not even a smear of blood―to show that a boy has died. Or was he a boy?
This is Clary's first meeting with the Shadowhunters, warriors dedicated to ridding the earth of demons. It's also her first encounter with Jace, a Shadowhunter who looks a little like an angel and acts a lot like a jerk. Within twenty-four hours Clary is pulled into Jace's world with a vengeance, when her mother disappears and Clary herself is attacked by a demon. But why would demons be interested in ordinary mundanes like Clary and her mother? And how did Clary suddenly get the Sight? The Shadowhunters would like to know…"
---
This book came highly recommended, and I realized when I picked it up in the bookstore that I had considered it before.  However as it had a recommendation from Stephanie Meyer right in the middle of the front cover, I reconsidered my options.  I'm not a fan of Meyer and have issues with her Twilight Series beyond even the writing style, but I take friend recommendations seriously so figured I'd give it another try.
Despite all the encouraging signs and high recommendations I was incredibly disappointed in this novel.  None of the characters remotely held my interest, though this may be due to YA not really being my genre of choice.  There are really only two series in that genre I enjoy (Harry Potter and Hunger Games), though the novel The Fault in Our Stars is my favorite standalone across genres.
The main character Clary was bland and Jace, the initial love interest, comes off as an arrogant douchebag who is utterly full of himself.  At one point Clary points out that there are girls staring at him and he responds with, "Of course they are!  I'm incredibly attractive."  Really?  I guess Cassandra Clare was going for the pretentious teenage voice, but all I'm getting is the pretentiousness with no intrigue or charm.  As for the other characters, Isabelle seemed like a bitch just to be a bitch.  She's the "attractive" girl while Clary is the "plain" one and those were just the roles they were destined to play.  Of course Simon, the boy next door, is the "in love with the main girl best friend.  It was trite without adding anything new to the paradigm and seemed to be done just because that's what YA does.There was nothing new or refreshing
The sarcastic dialogue just annoyed me, and I'm usually one for witticisms.  It was forced as if Clare was trying with each conversation exchange to be as bitterly teen as she possibly could.  Even if this is the way young adults talk, it didn't translate very well in this story.
Many of the descriptions were downright lazy.  At the beginning of one chapter she starts  out with "The weapon room looked just as you would expect a weapon room to look."  ???  This was the only way the weapon room could be described?  I mean I suppose it does convey the image, but leading off with such is one of the worst kind of "tells."
The potential for better was lurking between the lines and bubbling just below the surface. I did find the world fairly interesting and actually liked the "dreaded info dump" when it happened, which may in and of itself say something about the story.
1 and a half stars.
Save
Save
Save
Save
Save
Save