This is an unfinished book review as I did not complete the book in question.  Sometimes a story doesn't hold my interest enough or there's a a fatal flaw in the writing that makes it impossible for me to read; however, I feel that I should still put up my impressions of the story and explain why I was unable to make it through.  These reviews will vary in length depending on how much of the novel I was able to complete.
---
Title: The Invisible Library
Series Title: The Invisible Library
Author: Genevieve Cogman
Date Added: June 14, 2016
Date Completed: July 26, 2016
Percentage Read: 17%
Genre: YA, Fantasy, Mystery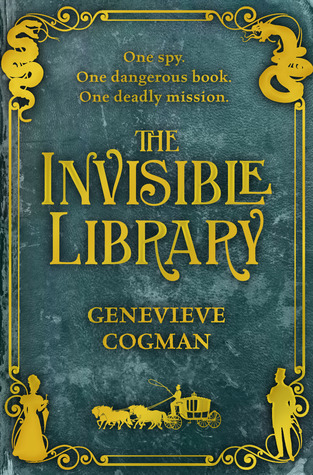 Pages: 329
Publication Date: January 15, 2015
Medium: Paperback
"The first installment of an adventure featuring stolen books, secret agents and forbidden societies – think Doctor Who with librarian spies!
Irene must be at the top of her game or she'll be off the case – permanently…
Irene is a professional spy for the mysterious Library, which harvests fiction from different realities. And along with her enigmatic assistant Kai, she's posted to an alternative London. Their mission – to retrieve a dangerous book. But when they arrive, it's already been stolen. London's underground factions seem prepared to fight to the very death to find her book.
Adding to the jeopardy, this world is chaos-infested – the laws of nature bent to allow supernatural creatures and unpredictable magic. Irene's new assistant is also hiding secrets of his own.
Soon, she's up to her eyebrows in a heady mix of danger, clues and secret societies. Yet failure is not an option – the nature of reality itself is at stake."
---
I really liked the concept of this book: a secret and eternal library as the hub of multiple worlds.  It definitely seemed like what it claimed, librarians with a Doctor Who twist.  The novel starts out strong with the main character Irene masquerading as a serving girl in one of the many alternative worlds in order to get her hands on a book unique to that universe.  It was adventurous, bold, and fast paced, but my issues came in the after when the world of the library was introduced.
A lot of information was dumped on the reader at once, and it was very difficult to keep it all straight.  The characters also couldn't seem to alight on what kind of personalities that wanted to convey especially Kai, Irene's new assistant.  He would be at some points snarky and other points shy.  Irene seemed a bit too stuffy for her age, but this is set in (a) London, and Ms. Cogman is English so this might just be an American complaint, though I haven't noticed it as much with other YA books in the same locale.
I can see the appeal of this book more than my prior unfinished City of Bones, and I believe my issues are more stylistic than anything else.  It seems like it would be an interesting tale and fantastic film if it ever gets to that point.  I just wasn't wholly absorbed by the writing, nor did the characters exude enough favorable personality traits to entice me.  Even with these foibles, I really don't have anything bad to say about the book.
As mentioned numerous time before YA isn't really my preferred genre so I am probably not the best reviewer to heed when it comes to books of that nature.  I would highly recommend you check out Virginia's review on Pop Culture Uncovered, as she was quite enthusiastic about it and the reason I added the novel in the first place.  It's always beneficial to see other points of view.  Hopefully, she won't mind me tagging her in this as it's a less than stellar examination, but I'm also not utterly lambasting the tale.
While I have no issue giving star ratings to unfinished books I have serious issues with (again see City of Bones), I don't think it would be fair to give any to The Invisible Library.  I didn't hate it, and had I the time (and not 500+ books on my TBR list), I may have puttered through, but as I did not, I shall leave this novel starless, but not hopeless.
Save
Save
Save
Save