<–The State of the Reader: 7/27/16          The State of the Reader: 8/10/16–>
A weekly post updated every Wednesday detailing my current reading projects and where I am with them in addition to what new titles I've added to my to-read list.  Title links go to Goodreads to make it easier for interested parties to add any books that might strike their fancy.  I attempt to use the covers for the edition I'm reading, and I'll mention if this is not the case.  If you have a Goodreads account feel free to friend me!  I'd love to see what you're reading and/or planning to read.
---
Books Finished This Week: 0

---
Books Currently Reading: 3
Change from Last Week: 2
Title: The Mystical Qabalah
Author: Dion Fortune
Date Added: August 13, 2012
Date Started: Unknown
Medium: Paperback
Progress: 70%
I'm on the chapter about Malkuth, the lowest of the Holy Sephiroth known as the Kingdom.  There's a very large final chapter entitled Subjective Pathworkings that I'm not sure I'm going to delve into.  I may just stop after the Conclusion.
Title: The Tales of Beedle the Bard
Series Title: Hogwarts Library
Author: J.K. Rowling
Date Added: August 24, 2014
Date Started: July 28, 2016
Medium: Hardback
Progress: 56%
This is a collection of wizard tales many of which are mentioned in the main Harry Potter Series.  So far they're all quite fantastic.  I should hopefully finish this one by next week.
Title: The Mabinogion Tetralogy
Author: Evangeline Walton
Date Added: August 24, 2014
Date Started: July 31, 2016
Medium: Paperback
Progress: 3%
I bought this almost two years before I started reading it.  It's a huge collection of Welsh mythology and was a major influence for Lloyd Alexander's Chronicles of Prydain.  I've read that wonderful series numerous times in my youth and a few times as a young adult.
I'm counting this current compendium among my "Classic" reads.  Recall I read one fiction/fantasy, one "reference," and one "classic."  The classic and the reference do cross the streams a little bit as I believe I have The Poetic Edda as a reference since it refers to actual poems, but entails Norse mythology.  It is very possible I may be studying two mythologies at the same time, since I'll need a new reference to read once I complete The Mystical Qabalah.
I thought this compendium would be four sections broken up into chapters where each chapter was a different story, but I erred in my assessment.  Each section seems to be a literal book in and of itself telling a story separated into chapters, which are called branches with some broken up into books.  I'm currently on the part entitled "Prince of Annwn," and it is absolutely riveting.  The titular prince Pwyll meets the Grey Man or Arawn, the lord of death, who begs of him a terrible favor.  I'm enjoying this volume far more than I expected.  It reads more like a fantasy than a book of mythology.
---
Fanfictions Finished: 0

In Progress Fanfictions Read: 2

Title: I'm the Darkness, You're the Starlight
Author: runicmagitek
Fandom: FFVI
Pairing: Celes Chere/Setzer Gabbiani
I am finally caught up on my dear friend runicmagitek's lovely story, and now I must wait for her to update Chapter 13.  She's making me want to reedit/rework my old FFVI fanfictions especially since mine also concern Celes who's my favorite character in the game (and arguably my favorite main character over all).  I already do have The Descent and Fall from Grace on my list of stories to work on, but RM is making me consider bumping them higher in the queue.  I have to do my first FFVII fanfics first…after I work on my short story's edit #alwaysbusy
Title: The Broken Orrery
Author: CymbalinesHalo
Fandom: FFVII
Pairing: Aeris (Aerith)/Sephiroth
Stories like this are worth waiting for.  Stories like this are why I breathe.  Monday morning I saw the email that she'd updated after nearly a year, and I knew what my evening plans would be.  There are now 39 chapters and I would kill myself to read 39,000 more.  I have never found a better written fanfiction, and in truth, this tops many, many books I've found in the store.  The author I believe is also immersed in original work as she states on her profile that these are "dry runs" for her own.  I did swallow my fear and message her my laud, but as of yet, she hasn't replied.
I initially had no interest in this tale as I much prefer Aeris as all forgiving and Sephiroth as the penitent fallen, but the former was not true.  The Cetra did not forgive her murderer for what he did to her, though she and he were forced together by circumstance.  Because of that I gave up on the tale though the writing was exquisite and the words like ambrosia on my tongue.  One of my own readers pulled me back to it with his suggestion, and I thought it deserved another try.  I stayed up until 1-2 on a work night, consuming nothing but words such as these…
"As intimate as any touch, her gaze opened to him, licking his heart and setting it aflame.  He surrendered to it helplessly, like flesh surrenders to the knife."
"His scars were a million silent riddles that she wanted to possess, proof of all that he had suffered.  It was something she could understand."
"The intensity of it all was terrifying, like looking into the seething core of a star.  It would blind her if she looked at it too long, expand and consume her, until nothing but ashes would remain."
The cadence of it reminds me of the monologues in one of my favorite games Dear Esther, the last one especially.  As I was reading it, I could hear echoed in my head:
"The foliage is all static, like a radio signal returning from another star."
or
"I am the aerial.  In my passing I will send news to each and every star."
It could just be the mention of the stars, but the cadence of the prose was reminiscent of Esther. 
Orrery is dark and lush.  Both Aeris and Sephiroth ache with an emptiness that can only be filled with each other even though metaphorically and viscerally for her, he drove part of that emptiness in.  The latest chapter had her describing her death in detail that left me gaping with my hand over my open mouth.  It was nearly triggering to be honest as I have major issues with impaling and can no longer even look at steeples.
I had to craft poetry to make reviews even remotely worthy of this work.  I told her how it was "intensely amazing. It is raw, bleeding, and beautiful. It is like watching a dancer move over shattered glass. You can neither deny the beauty of the movements nor ignore the blood seeping from her feet."  One day I hope I can thank her for inspiring these words, as I used them later in Northern Lights, which was I was posting at the time.
Finally, in a strange coincidence the author's name, CymbalinesHalo, is oddly reminiscent of a character in my paranormal romance novel The Serpent's Tale.  Cymbaline is the mother of the main male character, but I won't give anything else away, and I suppose it's just my own jumbled brain that picks this detail out and holds it up for consideration, but mothers are quite an important aspect of my stories and VII indeed.
Fanfictions Currently Reading: 0

---
Books Added to Goodreads To Read List This Week: 14
Title: The Alchemy of Stone
Author: Ekaterina Sedia
Date Added: July 28, 2016
What caught my interest in this book was the main character was a female automaton.  Haven't seen that one before.  I love stories that make us question what it means to be a person, and sci-fi offers us the ability to ponder this question before it's posed to us in a far more dire way..
Title: Among Others
Author: Jo Walton
Date Added: July 28, 2016
Crap…I just remembered that this book and the one prior is a blogger recommendation.  One of the people I follow posted this list of a hundred sci-fi/fantasy books all by female authors, but I can't recall who it was.  I didn't add or even look at them all, and I almost didn't with this one, but I'm a sucker for a dark mother motif (as should be well known by now).  Actually reading the blurb makes me want to recommend it to my fellow blogger and friend Siobhan who runs Eyes of Seraphim.
Title: Arrows of the Queen
Series Title: Heralds of Valdemar
Author: Mercedes Lackey
Date Added: July 28, 2016
I added this based on the Amazon blurb, having looked at it before on Goodreads and passing.  Apparently, the MC has some sort of telepathic connection with her horse, and that sounds pretty awesome.  The only other Mercedes Lackey I've read has been her collaboration with Piers Anthony If I Pay Thee Not in Gold, and according to internet wisdom, that project was an utter shit show.  Though I enjoyed the novel (when I read it many years ago), I can see the validity in the critiques.
Title: Fledgling
Author: Octavia E Butler
Date Added: July 28, 2016
Though I've never read Octavia Butler (yet), friends I highly respect have sung nothing but praises for her Parable of the Sower, which I have on my to-read list.  Respected recommendations are my bread and butter.  That along with Ms. Butler being one of the best known Black female authors in the sci-fi field means a lot to me.  Add that to an interesting blurb and I'm good to go.
Title: Kindred
Author: Octavia E Butler
Date Added: July 28, 2016
I just added this immediately after I read the blurb.  I…don't even have any words only chills.  I'm already imagining the permutations and implications of this novel.  I'll just post the blurb and leave it at that.
"The first science fiction written by a black woman, Kindred has become a cornerstone of Black American literature. This combination of slave memoir, fantasy, and historical fiction is a novel of rich literary complexity. Having just celebrated her 26th birthday in 1976 California, Dana, an African-American woman, is suddenly and inexplicably wrenched through time into antebellum Maryland. After saving a drowning white boy there, she finds herself staring into the barrel of a shotgun and is transported back to the present just in time to save her life. During numerous such time-defying episodes with the same young man, she realizes the challenge she's been given: to protect this young slaveholder until he can father her own great-grandmother."
Title: The Many Selves of Katherine North
Author: Emma Green
Date Added: July 28, 2016
I went to the bookstore today, and while I didn't purchase one, I did add it to my to-read list.  It's warging explained by science, which puts me in the mind of ASOIAF, and the evil corporation at the helm ignites my VII Sense of course.  The MC can jump through a neurological interface into the minds of animals.  Now that I'm thinking about it, Martin did do a sci-fi story with this concept in "Under Siege."
Title: Dreams of Distant Shores
Author: Patricia A. McKillip
Date Added: July 28, 2016
Another addition from my bookstore trip.  I have a few more of Ms. McKillip's books to read, and since I'm still a bit iffy on her, I figured I'd just add this instead of buying it.  It's a short story collection and is apparently introduced by Peter S Beagle, the author of The Last Unicorn. 
Holy shit I just checked Goodreads, and Mr. Beagle is still alive AND he's a Taurus.
Title: The Bone Witch
Series Title: The Bone Witch
Author: Rin Chupeco
Date Added: July 30, 2016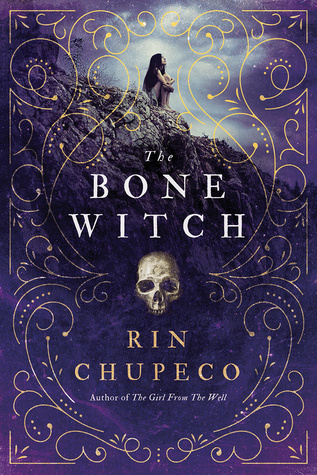 This story just sounds utterly chilling.  A young woman from a witching family discovers she's a necromancer or bone witch when she accidentally resurrects her dead brother.  Ms Chupeco seems to take a lot of influence from Patrick Rothfuss's The Name of the Wind, which is a story I absolutely love for its lyrical language.  If The Bone Witch is written half so well, I'm sure to find it an enjoyable read.
Title: Monstress #1
Author: Marjorie Liu
Date Added: August 1, 2016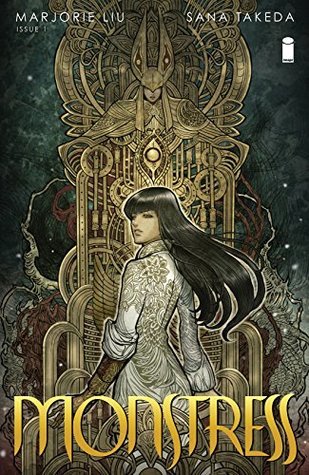 This isn't the only comic/graphic novel on my list, but it's the first one I've posted about here.  Reviewed by A Book Nation, such a glowing recommendation warrants an add.
"Steampunk meets Kaiju in this original fantasy epic for mature readers, as young Maika risks everything to control her psychic link with a monster of tremendous power, placing her in the center of a devastating war between human and otherworldly forces."
Title: The Clockwork Scarab
Series Title: Stoker and Holmes
Author: Colleen Gleason
Date Added: August 1, 2016
I added this based on a review from Staci's Bookish Probs (whose site btw had the wonderful tagline of "Books make me happy.  People, not so much."  YES.  This is a sentiment I can 100% get behind).  The story follows the adventures of Bram's Stoker's sister Evalina and Sherlock's niece Mina Holmes as they attempt to solve a murder with their only clue, an Egyptian scarab beetle.  Since I'm a fan of Egyptian mythology as a part of my love of mythology in general, this story seems like something that would hold my interest.
Title: The Water Mirror
Series Title: Dark Reflections
Author: Kai Meyer
Date Added: August 2, 2016
I found this one while I was looking at either the book prior or after.  It showed up in my recommendations.  Sometimes it'll just take a name to keep me reading.  One of the main character's is called Serafin, which is obviously the male version of Serafina, which is of course from seraphim, so that's a good start.  There are mermaids on live in the canals of Venice, guards on living stone lions, and like the prior tale Egypt is involved, but this time as invaders.  The Venetians are protected by an entity known as the Flowing Queen who lives in the canals, keeping invaders at bay, but there's a plot to capture her that Serafin and the other character Merle overhear.  Merle is the possessor of the titular water mirror herself.  All of these factors  are enticing enough for me to add this tale to my ever growing list.
Title: Cracked
Series Title: Soul Eaters
Author: Eliza Crewe
Date Added: August 2, 2016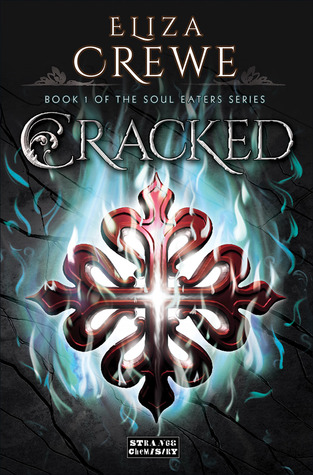 I found this book from a review by fellow YA unenthusiast Cupcakes and Machetes.  Delicious AND deadly.  Yassss.  Neither of us hate YA, but it's not our genre of choice, though I personally enjoy a few offerings from the youthful side.  This story seems interesting in a "pity the monsters" and "have a monstrous main character" type of way.  Meda is a soul eater, but she only eats "bad" souls about once a week.  It reminds me of the legendary Anne Rice and her Lestat who only drinks the blood of the "evil doer."  You are what you are.  You can't change that.  All you can do is accommodate.
Title: A Thread in the Tangle
Series Title: Legends of Fyrsta
Author: Sabrina Flynn
Date Added: August 2, 2016
I originally found this on a review of the third book in the series, but the blogger, Humanity's Darker Side (another name I can utterly connect with) conveniently included a link to the first.  I like tales where the gods are brought down to earth, and this story hangs a lot in the balance where the fulcrum is a sixteen year old heroine who herself teeters on the edge.
Title: The Strange and Beautiful Sorrow of Ava Lavender
Author: Leslye Walton
Date Added: August 2, 2016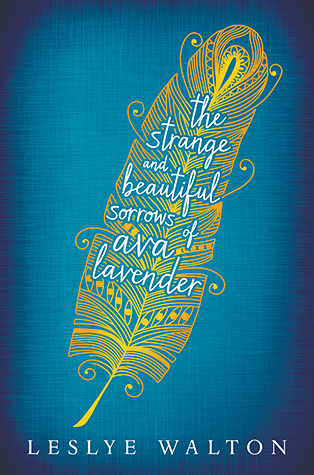 I saw the words "magical realism," and that was all I needed to take a look.  I always think of Mark Helprin's Winter's Tale whenever I hear the term.  I absolutely love the (sub) genre and wish I could find more books like it.  This novel also boasts the claim of lyrical prose, which is another one of my weaknesses (I use it some would say ad nauseum).  I have The Fictional Reader to thank for this add.
---
Books Purchased This Week: 2
Title: Miss Peregrine's Home for Peculiar Children
Series Title: Miss Peregrine's Peculiar Children
Author: Ransom Riggs
Date Purchased: July 28, 2016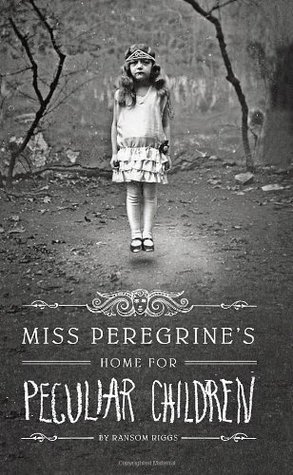 I picked this up from Barnes and Noble.  There was something about it when I held it, some energy or whatnot.  I read the prologue, and the writing seems solid.  Hopefully, this will hold me better than The Invisible Library.
This book was featured in The State of the Reader: 5/11/16
Title: Lovely Bones
Author: Alice Sebold
Date Purchases: July 28, 2016
The movie for this book pissed me off something awful.  I don't need a happy ending, but I need a just ending, and the film failed in that regard.  I hope the book either does it better or at least offers a better explanation.
---
Books Added to Goodreads To-Reread List This Week: 0
---
What are you currently reading and/or what's on your radar to read next?  What would you recommend based on my current and recently added?  As always I look forward to your comments and suggestions!
<–The State of the Reader: 7/27/16          The State of the Reader: 8/10/16–>
Save
Save
Save
Save
Save
Save
Save
Save
Save
Save
Save
Save
Save