<–The State of the Reader: 8/3/16          The State of the Reader: 8/17/16–>
A weekly post updated every Wednesday detailing my current reading projects and where I am with them in addition to what new titles I've added to my to-read list.  Title links go to Goodreads to make it easier for interested parties to add any books that might strike their fancy.  I attempt to use the covers for the edition I'm reading, and I'll mention if this is not the case.  If you have a Goodreads account feel free to friend me!  I'd love to see what you're reading and/or planning to read.
---
Books Finished This Week: 1
Title: The Tales of Beedle the Bard
Series Title: Hogwarts Library
Author: J.K. Rowling
Date Added: August 24, 2014
Date Started: July 28, 2016
Date Finished: August 5, 2016
Finished and reviewed within the week.  It was cute and definitely worth the time and money.
---
Books Currently Reading: 3
Change from Last Week: 0

Title: The Mystical Qabalah
Author: Dion Fortune
Date Added: August 13, 2012
Date Started: Unknown
Medium: Paperback
Progress: 71%
Malkuth has a long chapter.  I have 20 pages left in it before I get to the Qliphoth, the averse or Unholy Sephiroth.  I'm…a bit interested in that, but a little bit wary, too.  While I'm fairly scientifically minded, I don't find it wise to poke the things that go bump in the night.
Title: The Mabinogion Tetralogy
Author: Evangeline Walton
Date Added: August 24, 2014
Date Started: July 31, 2016
Medium: Paperback
Progress: 4%
This book is absolutely amazing.  I'm not surprised that I find it interesting, but I am pleased that it reads more like a story than separate myths.  It's quite long though so I think I'll probably be reading it for a while.  I've been averaging about a chapter a week, which isn't much considering.
Title: The Red Rose
Series Title: Submissive Beth Mysteries
Author: Fia Black
Date Added: August 8, 2016
Date Started: Unknown
Ms. Black is one of the amazing authors I've met through my WordPress adventures.  I read and thoroughly enjoyed her first Submissive Beth Mysteries book The Jade Dragon, and I was generously gifted a copy of the second.  It's only $0.99 on Amazon (the same price as Jade), so it shouldn't break your bank to purchase.
This book is so easy to breeze through.  The first four chapters are available on her blog, which I linked above under her name, so you can actually get a free sample before purchase  The best gift you can give an author is a review of their work.  This book and the prior are unique in its protagonist is a PI who also works in the BDSM scene.  She takes the cases the cops often brush aside, and that alone makes a statement that people who don't fit a "perfect" profile are still worthy of being helped.
---
Fanfictions Finished: 0

In Progress Fanfictions Read: 0

Fanfictions Currently Reading: 0

I've caught up on all of my fanfictions!  runicmagitek hasn't updated a chapter in her Darkness/Starlight story so I'm just waiting for that email that tells me she has.
As for The Broken Orrery I don't expect to see an update from that for at least another six months.  The author did not reply to my message sadly.  Either she doesn't check them or I'm beneath her notice.  Either way I'll still be ecstatic when another chapter comes out.
---
Books Added to Goodreads To Read List This Week:  9

Title: Apology
Author: Plato
Date Added: August 4, 2016
I added this per a review by the wonderful blogger over at Stuff Jeff Reads who notes that the title is either a misnomer or the examiner needs to look deeper than the mere words.  I put this onto my Classic's list.  I don't believe I've ever actually read any Plato, though one of my YouTube theorists for ASOIAF constantly refers to his Republic.  I should add that, too, actually…ah, already did.
Title: The Waking Fire
Series Title: The Draconis Memoria
Author: Anthony Ryan
Date Added: August 4, 2016
I have been having a correspondence with a lovely blogger Virginia over at Pop Culture Uncovered.  She posted the review of The Invisible Library that had me attempt the novel.  I'd commented on her review that my interest was piqued, and she asked for my thoughts on it.  I messaged her on Goodreads and was honest with how I felt about the book, and we started off a nice exchange even though we had quite different opinions on the story.
In our messages , since I said I wasn't huge on YA, she recommended The Red Queen, which I had on my TBR list and the book above, which I didn't.  I had looked at it before, but didn't add it for whatever reason.  I love that the title of the series is in Latin.  I believe it translates to "dragon memory," dragon's memory," or "the memory of dragons," but anyone who actually speaks Latin is more than welcome to correct me, and it deals with blood magic.  Sounds like something that would hold my attention.
Title: Lady Midnight
Series Title: The Dark Artifices
Author: Cassandra Clare
Date Added: August 4, 2016
I never thought I'd ever add another Cassandra Clare book to my TBR list (see my review of City of Bones), but per a comment conversion with gallifreyidiot of A Book a day keeps the mind at bay on the CoB review itself, I'm willing to giver her another shot.  Her writing has apparently improved in this series (which is something similar I've heard about Brandon Sanderson in his Warbreaker series as opposed to Mistborn), and since I know you can love some things a writer does and be lukewarm on others (John Green's The Fault in Our Stars is my favorite standalone novel, but I haven't been able to get through any of his others), it's very possible I will enjoy this.
It's a Shadowhunters novel like Mortal Instruments, but seems to be a bit more mature.  I really wish the series starting with Clockwork Angel wasn't the prequel to the City I (nearly) loathed, because anything with angels always catches my eye.
Since I'm going tomorrow to (finally) procure a library card from my local one (I've been living here for five years and never bothered to do that.  What the hell is wrong with me?), I can hopefully start borrowing books instead of buying them.  That will save me considerable cash.
Title: The Ill-Made Mute
Series Title: The Bitterbynde
Author: Cecilia Dart-Thornton
Date Added: August 5, 2016
This is one of those books that I'd constantly see in bookstores as I was searching for my next escape.  I'd picked it up a few times, but it never caught my eye enough to buy.  I randomly thought of it today while at work, looked it up on Goodreads, and now I'm not sure why I consistently passed it by. It has an interesting mystery to it.  I want to know why the MC is ill-made and mute.  What are her origins?  And why is she so important?
Title: Keturah and Lord Death
Author: Martine Leavitt
Date Added: August 6, 2016
My dear friend Megan included this in her Alphabet Book Tag post.  I'm a sucker for the "death and the maiden" motif (which is…pretty obvious given my favorite ship and what I write).  This also has that fairy tale flare to it with flavors of Scheherazade and The Little Mermaid sprinkled in.  It sounds like it would be right up my alley.
Title: Sheepfarmer's Daughter
Series Title: The Deed of Paksearrion
Author: Elizabeth Moon
Date Added: August 7, 2016
I had The Deed of Paksenarrion on my list, but for some reason I had books 3-5 (wth?), so I updated to just put the first book in the series there, since that's what I do.  I'm trying to whittle down my reading list to only include the first of any series unless I've read it and love it.  This is a classic fantasy that I just never got around to reading concerning a rebellious daughter who refuses to be herded (heh) into a life she wouldn't choose.  I like the way it sounds already.
Title: Prince of Thorns
Series Title: The Broken Empire
Author: Mark Lawrence
Date Added: August 9, 2016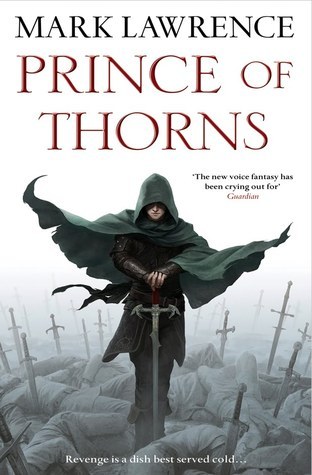 This was recommended by one of my blogger friends cupcakesandmachetes (but no cupcakes in machetes…if you're lucky mwahaha).  I actually found her review of the second first, but didn't read that so as not to be spoiled.  I'd peeked at this book before, but I'm often offput by stories that are similar to my own paranormal romance novel.  However, while there are similarities in the "privileged royal child raised by a loving mother" who's now dead, there are enough differences that my lack of publishing credit is due to my own deficiency or ill-luck.
Title: The Devil's Prayer
Author: Luke Gracias
Date Added: August 10, 2016
A stellar review from Bookish Regards prompted this add.  The blogger marked it as a book worth reading, and combined with its dark subject matter (and very familiar dead/missing mom motif), I believe it has a place on my TBR list.  The marked genre is historical horror thriller, which is an interesting combination.  When places in a book are real with horrifying events attached to them, it often moves the story from just plain eerie to "I'm never going to that place ever" territory.  The last book I remembering doing that was Jonathan Ryan's 3 Gates of the Dead (reviewed here), and I enjoyed that thoroughly.
Title: The Library at Mount Char
Author: Scott Hawkins
Date Added: August 10, 2016
Now this might be a "library" book I can sink my teeth into hehe.  Dead parents, orphaned children, missing gods, new gods, and darkly mind-blowing are what I thrive on.
---
Books Added to Goodreads To-Reread List This Week: 0
---
What are you currently reading and/or what's on your radar to read next?  What would you recommend based on my current and recently added?  As always I look forward to your comments and suggestions!
<–The State of the Reader: 8/3/16          The State of the Reader: 8/17/16–>
Save
Save
Save
Save
Save
Save
Save
Save
Save
Save
Save
Save
Save
Save