Title: The Girl With All the Gifts
Author: M.R. Carey
Genre: Post-Apocalyptic/Dystopian
Date Added: Unknown
Date Started: Unknown
Date Finished: June 19, 2014
Percentage Read: 36%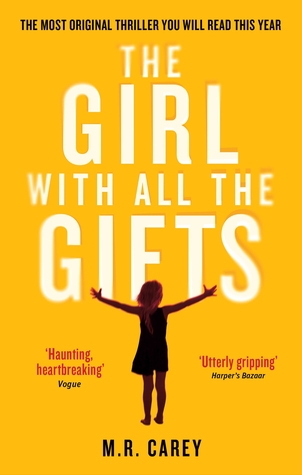 Pages: 460
Publication Date: January 14, 2014
Media: Kindle
"Every morning, Melanie waits in her cell to be collected for class. When they come for her, Sergeant Parks keeps his gun pointing at her while two of his people strap her into the wheelchair. She thinks they don't like her. She jokes that she won't bite, but they don't laugh.
Melanie loves school. She loves learning about spelling and sums and the world outside the classroom and the children's cells. She tells her favorite teacher all the things she'll do when she grows up. Melanie doesn't know why this makes Miss Justineau look sad."
---
Unbeknownst to me before today, M.R. Carey comes with high acclaim.  He wrote Lucifer and Hellblazer, the latter of which is what the movie Constantine was based on.  Constantine was my favorite movie for many years.
I was extremely intrigued by this book; it was a different take on a familiar paradigm *spoiler* zombies *end spoiler* especially since I've never seen one as the main (and a sympathetic) character *spoiler* save for the movie Warmbodies, which I haven't seen. *end spoiler*
Once the truth about Melanie came out, I lost interest, and I'm not really sure why.  The book is well written with a compelling plot, destitute setting, and unsure resolution.  From what I read of the reviews the ending is bittersweet, but beautiful.  I more than likely hit a slow spot in the narrative, and had I kept going, may have found the intrigue that rushed me through the beginning again.  At this point, though, I think I will leave it as an unfinished that I highly recommend.
3 stars.
Save
Save
Save
Save
Save
Save