<–The State of the Writer: 8/10/16          The State of the Writer: 8/24/16–>
A weekly post updated every Wednesday detailing my current reading projects and where I am with them in addition to what new titles I've added to my to-read list.  Title links go to Goodreads to make it easier for interested parties to add any books that might strike their fancy.  I attempt to use the covers for the edition I'm reading, and I'll mention if this is not the case.  If you have a Goodreads account feel free to friend me!  I'd love to see what you're reading and/or planning to read.
---
Books Finished This Week: 0
---
Books Currently Reading: 3
Change from Last Week: 0
Title: The Mystical Qabalah
Author: Dion Fortune
Date Added: August 13, 2012
Date Started: Unknown
Medium: Paperback
Progress: 73%
I'm still on the chapter about Malkuth. It's a slow crawl to the finish, but I'm making progress every week, which is something.  It's been ten years since I've attempted to read this book, what are (potentially) ten weeks more?

Title: The Mabinogion Tetralogy
Author: Evangeline Walton
Date Added: August 24, 2014
Date Started: July 31, 2016
Medium: Paperback
Progress: 5%
I considered adding Ms. Walton's fantasy novel Witch House to my TBR list, but held off for the nonce.  Now that I'm looking, I can see that she has a bunch more stories to her credit.  You may see some of them on my Goodreads added list next week.
This compendium continues to delight.  I'm only reading a chapter with each session, and since the chapters are short, but the book is long, it's going to take quite a while at this pace.
Title: The Red Rose
Series Title: Submissive Beth Mysteries
Author: Fia Black
Date Added: August 8, 2016
Date Started: Unknown
I'm breezing through this book thanks in part to the author's quick and easy to read style. I didn't realize how much I'd love that for mysteries, but it fits so much better than the heavy prose I use and am used to for high fantasy.  It's definitely a stylistic tip I want to remember if/when I try my hand at the genre. I just hit a big point in the narrative the other night. I'm hoping to finish before my update next week.
---
Fanfictions Finished: 0

In Progress Fanfictions Read: 0

Fanfictions Currently Reading: 0

I'm actually a little bit worried about my fellow fanfiction friend runicmagitek.  I haven't seen any updates from her for two weeks, and she hasn't commented on Northern Lights on AO3.  I don't want to be a nudge, but I may shoot her a message on tumblr just to make sure she's okay.
Eh I just did it.  I'll be a nudge if it means I need to check on a friend.
---
Books Added to Goodreads To Read List This Week: 9

Title: My Life as a White Trash Zombie
Series Title: White Trash Zombie
Author: Diana Rowland
Date Added: August 12, 2016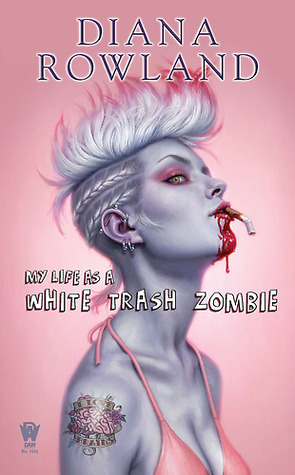 My review of The Girl With All the Gifts generated some good conversation.  One of the things that came out of it was a recommendation for this book by my dear friend Cupcakes and Machetes (I know she doesn't separate the words on her blog, but it's just easier to read).  I expressed my liking for zombie protagonists especially since that was something I don't see often, as said in the review, I haven't seen the movie Warm Bodies, but I have seen the show Ugly Americans., though I'm not sure if Randall can be called a "protagonist."  Either way a newly turned zombie who has a job at a morgue is sure to cause some hilarious shenanigans.
Title: The Alchemyst
Series Title: The Secrets of the Immortal Nicholas Flamel
Author: Michael Scott
Date Added: August 12, 2016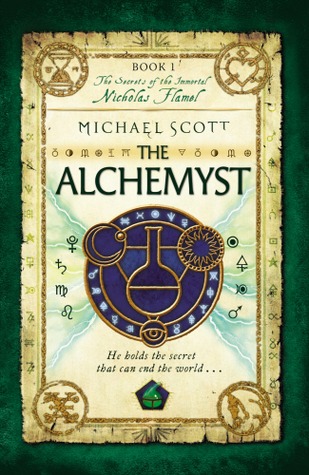 The conversation about this book started on a post on By Hook or By Book's blog for a novel of the same author entitled Mirror Image.  I debated added that to my list but decided against it (for the moment) by her review.  The comment conversation turned to the author's Nicholas Flamel series as I stated that I'd first heard that name in Harry Potter.  Scott's is also YA, which I'm always wary of since I tend not to like stories in that genre, but through the conversation I decided to give it a try.
Title: Walk on Earth a Stranger
Series Title: The Goldscryer Saga
Author: Rae Carson
Date Added: August 15, 2016
This book has popped up in my Goodreads feed for over a week now.  I read the blurb, but didn't add it, because I'm not really one for Westerns even if they are touted as fantasy.  Then comes a review by Cupcakes and Machetes, and she said the nostalgic words "Oregon Trail," and I started to see the book in a new light, the light of an 80s kid who grew up despite "dying from dysentery."  I like that the main character is "as good as a man," quotes because that's a horse shit concept, but considered valuable at the period of the story (and let's be honest…NOW) and doesn't need anyone to save her.  This seems odd since I love rescue romances, but variety is the spice of life.
Title: Knights of the Borrowed Dark
Author: Dave Rudden
Date Added: August 15, 2016
I seem to be added a boatload of YA for someone who claims to dislike the genre.  It's because of those damn bloggers I follow giving stellar reviews *shakes fist*  This one was from By Hook or By Book and she's far from damned so I must retract my statement and unshake my fist.  I'm really not upset.  I like being proven wrong and/or shown exceptions to the rule.  Hell, I'm sure I've mentioned ad naseum how much I wasn't into sci-fi and lo and behold my favorite story is heavily sci-fi (FFVII: despite the "fantasy" in its title, there's a great deal of the other side).  It makes me reconsider my point especially since I do love Harry Potter, Hunger Games, and The Fault in Our Stars.
Title: In the Eyes of Madness
Series Title: Declan Peters Chronicles
Author: Michael Pang
Date Added: August 15, 2016
The Hungry Monster's review of this book prompted me to add it.  The haunting paradigm of the "evil matriarch" that I always seem to find.  Oddly enough it was another blogger of the gaming variety, talking about Super Meat Boy (predecessor to The Binding of Isaac), which led me to the paradigm on TV Tropes.  I have a thing where I always have to check for any Final Fantasy VII entries on any trope I suspect it will be.  The EM is painfully obvious here (if you know the game at all), but I really wish I hadn't indulged #nowhasasad
Anyway, I want to know how deep this dark ladder goes.  Despite my propensity to be a gigantic wuss puss, I still have a cat's curiosity.  That worked out well for him, didn't it?
Title: King's Folly
Series Title: The Kinsman Chronicles
Author: Jill Williamson
Date Added: August 16, 2016
I have The Writing Hufflepuff to thank for this one, and it wasn't even a review or recommendation!  Rather her typical weekly update that mentioned this particular book.  Actually, no, she mentioned the second, but it's marked as book 1.1.  So very odd how some series are numbered.  I understand marking a book as a half (The Slow Regard of Silent Things fit that bill), if it's a smaller volume that occurs between two larger, but these other decimals places seem to be a bit excessive.  Regardless, this story reminded me a bit of the very first Final Fantasy in the "the earth is rotting" type of way (maybe the king's folly is he didn't take good care of the crystals.  That would be hilarious), and the prince of the realm is sent to investigate.  It was enough for an add.
Title: The Ghost of Buxton Manor
Author: Jonathon L. Ferrara
Date Added: August 16, 2016
I am so super excited to add this to my TBR list, because it's another one by a fellow blogger (see my Currently Reading The Red Rose above for another example).  Jonathon and his husband Aaron blog at Husband & Husband where they discuss their creative careers via writing, videos, and comics, too!  They're one of the first blogs I started to follow, and I'm so happy I did since I might not have known about this book if I hadn't.  Actually, wait, now that I'm remembering, it was By Hook or By Book who reblogged it so I definitely have to give her some credit, too.!
I didn't feel it would be fair to take the author up on the free offer since I'm not sure when I'll have time to read and give my honest review, plus I have no problem dishing out the cash to support a fellow writer.  I just need to remember to pre-order it on Amazon.
I already love the book's premise about a ghost who doesn't even know why he's a ghost, but he loves literature, and he does have some ghostly companions so his existence isn't entirely solitary, but then a new family moves into the estate, and there's a boy our MC's age or rather the age he was when he died, and things become more interesting.  There's a dearth of LGBTQ representation in paranormal romance (or any romance…or any genre let's be honest), and while I've stated numerous times that I'm not a huge fan of YA, I support YA books (and any books but especially ones geared towards youth) that give everyone someone to relate to.
Title: The Lightning Thief
Series Title: Percy Jackson and the Olypians
Author: Rick Riordan
Date Added: August 16, 2016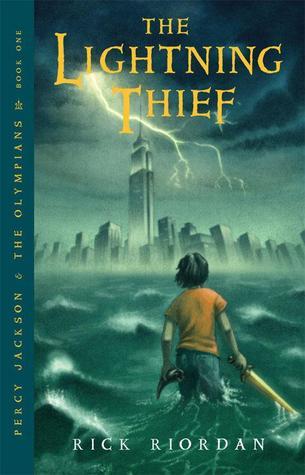 I know.  I know.  For someone who claims to not like YA I'm adding a lot of YA to my TBR list, but this one has been a long time in the coming.  I was dragging my heels because it's…YA.  I never promised I was going to make sense.  I'm the Shameful Narcissist, not the Shameful Sense-Maker (omg that's terrible…).  I finally made my move on this one due to a conversation with Kim of By Hook or By Book.  It wasn't even a review of this particular novel, but another.  Either way, I was convinced by the promise of Classical mythology, which is part and parcel of my ubiquitous mythology love.
Title: The Snow Child
Author: Eowyn Ivey
Date Added: August 17, 2016
Besides the fact that the author's name is Eowyn, as in the bad ass shieldmaiden from LOTR, I was also drawn by my winterlust.  I love anything associated with the mystical qualities of winter.  That fueled my love for Disney's Frozen, Philip Pullman's His Dark Materials, and of course helps my fascination with the northern lights.  For once there's no blogger or review that led me to this, but rather I was scrolling through my Goodreads feed and there it was.  The blurb reminded me a bit of the main character GRRM's Ice Dragon, Adara with her otherworldly winter skin, but this story has other strange implications.  The titular child appears after a troubled couple make one out of snow.  Their frosty homunculus is gone the next day, but they glimpse a fey, blonde girl in its place.  Spiced with both the magic of that and the despair of reality, this book was a must add.
---
Number of Books Added to my To-Reread List: 1
Title: Black Beauty
Author: Anna Sewell
Date Added: August 16, 2016
I've probably read this book more than ten times in my youth, but feel like I need to read it again as an adult.  I adored this novel.  Growing up I always loved "animal" stories where creatures normally silent finally had a voice albeit in the realms of fiction/fantasy.  Books like this helped shaped the empathy that often plagues yet assists me today.  They forced me to think in the point of view that I would never be able to access in real life in terms of "talking" to the point of viewer.  I have no tolerance or patience for animal cruelty, and stories like this helped me to this point.
---
What are you currently reading and/or what's on your radar to read next?  What would you recommend based on my current and recently added?  As always I look forward to your comments and suggestions!
<–The State of the Writer: 8/10/16          The State of the Writer: 8/24/16–>
Save
Save
Save
Save
Save
Save
Save
Save
Save
Save