<–The State of the Reader: 8/24/16          The State of the Reader: 9/7/16–>
A weekly post updated every Wednesday detailing my current reading projects and where I am with them in addition to what new titles I've added to my to-read list.  Title links go to Goodreads to make it easier for interested parties to add any books that might strike their fancy.  I attempt to use the covers for the edition I'm reading, and I'll mention if this is not the case.  If you have a Goodreads account feel free to friend me!  I'd love to see what you're reading and/or planning to read.
---
Books Currently Reading: 4
Change from Last Week: 0
Title: The Mystical Qabalah
Author: Dion Fortune
Date Added: August 13, 2012
Date Started: Unknown
Medium: Paperback
Progress: 82%
I finished the part of the book initially written by Fortune, and while I was  on the fence with whether I'd continue into the Subjective Pathworking section, I'm glad I did.  In many ways it's more engaging than the book proper.  There are other reasons I'm happy I continued.  I came upon something extremely meta that I never would've known about had I not.
Fortune in this latter section strives to explain the concept of Astral Light, and I immediately thought of two other ideas, one bleeding from the other, with the source concept very well known in popular culture:
"It is held to extend like a tenuous yet viscid atmosphere throughout the entire cosmos, interpenetrating all dense substance, and acting as the medium for the transmission of subtle forces."
I read that and thought, "…wait, that sounds a hell of a lot like the Force."  *letting the geek flag fly* "And wait again…the Lifestream from FFVII is inspired by the Force…and this book is about the Holy Sephiroth, omg holy meta, Batman, wheels within wheels."  Do I think Squeenix delved that deeply into this concept?  Probably not, but I do believe they did some preliminary research, nor is it farfetched that they'd use philosophies from the Qabalah, as it's quite commonly if not knowingly utilized through the fantasy and sci-fi genre.  It's one of those theologies that's prevalent in the zeitgeist, though it's not necessarily named.  I'm pretty sure GRRM is using it to with his followers of R'hllor, the Red God, in the ideas of light and darkness, as there aren't two trees, but rather the tree and the shadow it casts.
Title: The Mabinogion Tetralogy
Author: Evangeline Walton
Date Added: August 24, 2014
Date Started: July 31, 2016
Medium: Paperback
Progress: 7%
I read more, but only a little bit.  Apparently, I didn't put any reading on my to do list so I didn't do any (except for what I can from my phone) since Saturday.  Wtf.  I've remedied it, but I'm a bit annoyed since I really like this and the one below.
Title: Miss Peregrine's Home for Peculiar Children
Series Title: Miss Peregrine's Peculiar Children
Author: Ransom Riggs
Date Added: May 11, 2016
Date Started: August 24, 2016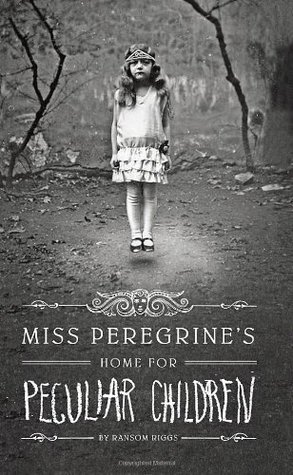 Medium: Paperback
Progress: 20%
I can't praise this book enough.  If it keeps up being this awesome, it's on its way to a five star rating, and I don't give those out on a whim.  Again like the book above, I didn't do as much reading on this as I wanted to, since I neglected to put them on my to do list (yes, I have to schedule out when I'm going to read.  My time and energy are that tight), but I've fixed it now and intend to read a bit of Miss Peregrine tonight.
Title: Sigil
Author: Aidan J. Reid
Date Added: June 9, 2016
Date Started: August 23, 2016
I can read this book at work during my lunch break and when I'm waiting for slow ass programs to react lol.  There are so many people and little mini stories, and I'm just waiting to see how it all comes together.  I can't say much about this book since it is a mystery, and too much information will give the game away.  I am still waiting for the titular "sigil" to show up.
---
Fanfictions Finished: 0

In Progress Fanfictions Read: 0

Fanfictions Currently Reading: 0

No new fanfictions or updates this week either, but I have been catching up on my Deviant Artist writers.  I should probably make a separate section for them, but I'm tired and can't think of what I should call it.  I want it to be for online authors, but Online Authors sounds weird.  I'll figure something out.
Anyway, I've been reading more of DarkStar016's stories, and she continues to be phenomenal.  Not only with horror (like the latest story I read "He Who Follows" brrr), but also with other genres.  Her Royal Academy is so absorbing.  It's about a prestigious school in Japan and has a bit of an anime flair to it (at least that's kind of how I picture it), but there's no magic/fantasy element.  It's just about tumultuous and very real relationships.  Despite that I'm still shipping characters hehe.
Then I discovered another writer through DS016, nothing-creative, which is quite a misnomer, and she's selling herself short.  She has a series that takes place on Mars, and while I'm not overly fond of the character Olivia, the other thief leader December is quite fascinating as seen in her story "leadership."  Similar to me, nothing-creative puts her characters in a variety of situations that may or may not take place in the same universe.
---
Books Added to Goodreads To Read List This Week: 5

Title: Nemesis
Series Title: Nemesis
Author: Anna Banks
Date Added: August 26, 2016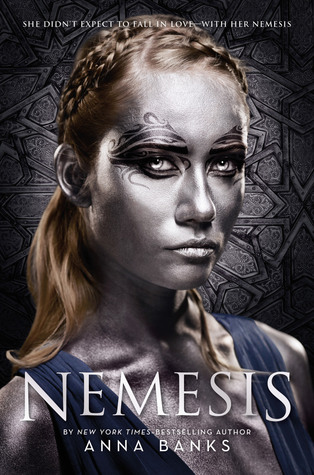 This book was controversial even before release due to its "hideous" cover, a critique I don't agree with.  Nor am I sure where the accusations the author utilized blackface came from.  The girl on the cover has silver skin; there are numerous characters with non-human skin tones, so I'm unsure where this ugly assessment comes from.
Anyway, this is another story I looked at, but didn't add until one of my followed bloggers/reviewers over at By Hook or By Book reviewed it well (she's also how I caught wind of the lambasting, which I did indeed see on Goodreads).  The main character's name is Sepora, which immediately puts me in the mind of Sephora, and when I first saw that store, it (of course) made me think of Sephiroth.
There aren't many words (or common names) that start with "seph-" so the makeup store stood out.  Of course I googled "Sephora," and the etymology is pretty interesting….actually back the train up.  I was just about to regurgitate some fallacious information.  Originally on Sephora's Wikipedia entry, the company claimed that the name came from the Greek word "sephos," which means beauty, but per this fantastic page, that's a whole load of bunk.  The Greek word for beauty is "kallos."  It's nowhere close to the pronunciation of "sephos," which appears to be a made up word (make up for make up).
It's a shame her name isn't from the word that means beauty as that would be deliciously ironic given the flak the cover has received.
Title: Never Never
Series Title: Never Never
Author: Colleen Hoover
Date Added: August 26, 2016
This book came from a blogger I haven't tagged before.  It's a Novelty's August 2016 Book Haul post had this and the next one.  They haven't read any of them yet as it's just the August purchase, but what intrigued me about Never Never was its "creepy" description and exceedingly short blurb.
"Best friends since they could walk. In love since the age of fourteen.
Complete strangers since this morning.
He'll do anything to remember. She'll do anything to forget."
Memory is a big draw for me, and this minimalistic explanation gives just enough to make me want to know more.  It's almost like a microstory to be honest.
Title: The Kiss of Deception
Series Title: The Remnant Chronicles
Author: Mary E. Pearson
Date Added: August 26, 2016
How the hell I didn't add this before is beyond me.  One, it's from a series called The Remnant Chronicles, which makes my VII Sense twinge a bit ("remnants" are kind of important in Advent Children, with the titular "children" arguably being "remnants," but not necessarily of what some viewers think.  Also who the children of Advent are is up for debate as well.  FFVII is complicated…), and two, it's about a princess who flees on her wedding day, refusing to accept the arranged marriage.  Two men are sent for her, one the prince she was supposed to marry, and the other an assassin sent to kill her.  I really, really hope she ends up with the assassin ♥♥♥
As mentioned in the prior entry, this one was added due to It's a Novelty's August 2016 Book Haul post.
Title: Odd and the Frost Giants
Author: Neil Gaiman
Date Added: August 29, 2016
I'm pretty sure Odd is supposed to be a reference Odin in this short Neil Gaiman story about never ending winter, which can't help but remind me that "Winter Is Coming."
Title: The Long Earth
Series Title: The Long Earth
Author: Terry Pratchett & Stephen Baxter
Date Added: August 31, 2016
This is a collaboration involving Terry Pratchett, the late, great author of the Discworld Series.  From the blurb it seems like many different angles of time coming together like a clock imploding in on itself.  There's also mention of something called the Silence.  My faint Whovian stirrings are curious.
---
Books Purchased This Week: 3

Title: By the Sea
Author: Katherine McIntyre
Date Purchased: August 27, 2016
Media: Paperback
On Saturday August 27, my lovely friend Kat had her first book signing at the West Chester Library in West Chester, PA where I picked up this book (and the one below) to have signed copies.  I've read and reviewed this one (and I believe I may even own it on Kindle), but I'm happy to spend a few dollars in order to support.
Title: Soul Solution
Author: Katherine McIntyre
Date Purchased: August 27, 2016
Media: Paperback
I was one of the beta readers for this book, but I never rated or reviewed it, for shame!  This was the other one I picked up today.  It's about Eric, a reluctant Grim Reaper bound to a train who'd do anything to renounce his "commission," but when "life" leads him to the brightness that is Mina Castner, Eric has more pressing reasons to abhor his employment.
Title: Scrying for Summer
Series Title: Philadelphia Coven Chronicles
Author: Katherine McIntyre
Date Added: August 17, 2016
Date Purchased: August 30, 2016
Media: Kindle
I thought I was going to have to make a double purchase of this and the first novel in the series Hunting for Spring, but Amazon remembers better than I do and informed me that I'd already bought it in January, so go me.  As stated this is the second book in my author friend Kat McIntyre's new series about hunters of the undead in the City of Brotherly Love, and she's "scrying" hard to finish the next two for the final seasons.  I haven't read the first yet, but they're short novels at around 150 pages, so I can't imagine them taking me too much time.
This book was on last week's SOTR post.
---
Books Added to Goodreads To-Reread List: 1

Title: Soul Solution
Author: Katherine McIntyre
Date Added: August 27, 2016
I believe this is the first week I've ever had to use a book twice.  I added Soul Solution to my Reread List after purchasing it today.  I want to rate/review it, but I read it so long ago that a refresher is necessary.
---
What are you currently reading and/or what's on your radar to read next?  What would you recommend based on my current and recently added?  As always I look forward to your comments and suggestions!
<–The State of the Reader: 8/24/16          The State of the Reader: 9/7/16–>
Save
Save
Save
Save
Save
Save
Save
Save
Save
Save