Title: Miss Peregrine's Home for Peculiar Children
Series Title: Miss Peregrine's Peculiar Children
Author: Ransom Riggs
Genre: YA, Fantasy
Date Added: May 11, 2016
Date Started: August 24, 2016
Date Finished: September 25, 2016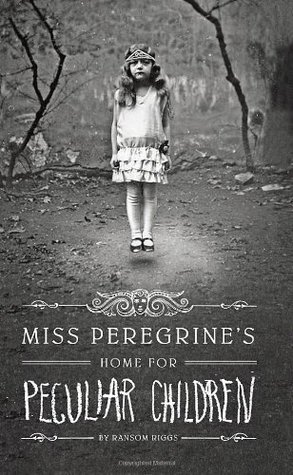 Pages: 428
Publication Date: January 14, 2014
Media Type: Paperback
A mysterious island. An abandoned orphanage. A strange collection of curious photographs.
A horrific family tragedy sets sixteen-year-old Jacob journeying to a remote island off the coast of Wales, where he discovers the crumbling ruins of Miss Peregrine's Home for Peculiar Children. As Jacob explores its abandoned bedrooms and hallways, it becomes clear that the children were more than just peculiar. They may have been dangerous. They may have been quarantined on a deserted island for good reason. And somehow—impossible though it seems—they may still be alive.
A spine-tingling fantasy illustrated with haunting vintage photography, Miss Peregrine's Home for Peculiar Children will delight adults, teens, and anyone who relishes an adventure in the shadows.
---
The instant I picked this novel up in the bookstore, I required it.  The mystery of it tingled along the cover promising a grand read to come.  While I didn't say so above, there is a horror element to the story, though I doubt anyone would ever officially categorize it as so.  I was unsettled by many aspects, and this feeling was augmented by the photographs contained therein, photographs the author obtained (legally) from unknown sources, and as he didn't know their origin, decided to weave threads of story between them.  This was a nice touch even as though it gave some false impressions that the chapter was coming to an end.
To give too much away would be to ruin the narrative.  It follows Jacob Portman, a young man who witnesses a terrible tragedy that completely changes his life.  This event is the impetus for his adventures in a Welsh orphanage where his grandfather supposedly grew up. What he finds there defies belief, and yet he, too, is a part of it in a way that may have been kept hidden for Jacob's own good.
There are some critiques that the peculiarity of the children is similar to that of the X-Men, and the special house set up for them does nothing to topple that observation, nor does its special "teacher."  However, this is no way diminishes the narrative since children with special powers is a fairly common trope (Eleven anyone?).
The children themselves were a bit difficult to keep track of, and I constantly forgot what name went with which power.  Barring a few, there could've been more character development on their end to make differentiation a bit easier.  Only Jacob and a few others receive the benefit of a discernible personality, but the novel's many other attributes make up for this.
Like many other YA novels, this one comes equipped with two more books to make a trilogy.  I've already added Hollow City to my reading list, which picks up right where Miss Peregrine leaves off.
The prose isn't your typical fare for YA in the least.  There's a lyrical flow to it, which not only enticed me to purchase the book, but kept me reading into the night where the shadows presented by the stories could grow quite long.
4 stars.
Save
Save