<–The State of the Reader: 9/28/16          The State of the Reader: 10/12/16–>
A weekly post updated every Wednesday detailing my current reading projects and where I am with them in addition to what new titles I've added to my to-read list.  Title links go to Goodreads to make it easier for interested parties to add any books that might strike their fancy.  I attempt to use the covers for the edition I'm reading, and I'll mention if this is not the case.  If you have a Goodreads account feel free to friend me!  I'd love to see what you're reading and/or planning to read.
---
Books Finished This Week: 1

Title: Khalarea the Fallen
Series Title: Tales of Yagath
Author: Claus Augustus Corbett
Date Added: April 3, 2016
Date Started: September 19, 2016
Date Finished: October 2, 2016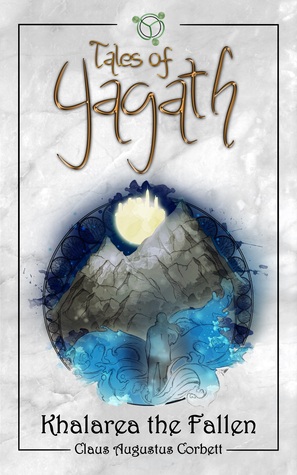 I'm planning on writing a review of this one.  Actually, I think I have it on my day planner for tonight, but I don't think that's going to happen.  More than likely I'll do it this weekend.
---
Books Unfinished This Week: 1
Title: The Scarlet Mantle
Series Title: Tales of Yagath
Author: Claus Augustus Corbett
Date Added: October 2, 2016
Date Started: October 2, 2016
Date Unfinished: October 3, 2016
This is the sequel to Khalarea the Fallen above, and it's the book my unknown friend was telling me about a while ago where the author risked sales to put a content warning.  While I definitely appreciated that, the story unfortunately didn't hold my interest.  I'm not planning a separate, unfinished review, but rather I'll talk about the issues I had with it when I review Khalarea.
---
Books Currently Reading: 3
Title: The Mabinogion Tetralogy
Author: Evangeline Walton
Date Added: August 24, 2014
Date Started: July 31, 2016
Medium: Paperback
Progress: 19%
I've reached the part of the book where they're talking about the Black Cauldron.  Now anyone who remembers Disney's darker era (and I'm mean that both in the macabre sense and the lower quality sense.  It's been called "the film that almost ruined Disney") might recall the movie The Black Cauldron.  That was the catalyst for getting me to read The Prydain Chronicles, and it's how I got to where I am reading this today.
The Cauldron is just as terrible and tempting as it was in the books.  It reminds me of how the wights act in ASOIAF of course, and otherworldly, glowing (green) eyes that indicate a power unknown in control make me think of that and FFVII.  There's a fantastic video speculating why the wights' eyes glow like they do, and the implications are a bit chilling.  Considering that VII has that layer of manipulation, and it most certainly does concern people and abominations with glowing eyes, I come to think the usage of this trope is not coincidental, and the implications of it are older than once believed.
Title: The World of Ice and Fire: The Untold History of Westeros and the Game of Thrones
Author: George R R Martin
Date Added: January 7, 2015
Date Started: February 8, 2015
I'm currently reading the section on the Stormlands and the time before the Andal invasion.  Huh, wasn't I already talking about Song above?
Title: Magonia
Series Title: Magonia
Author: Maria Dahvana Headley
Date Added: January 31, 2016
Date Started: October 1, 2016
I bought this book a few months ago on a failed "I'm just going to get one thing from Target" run.  The cover is magnificent and the story seemed intriguing.  Since I finished Miss Peregrine last week, I needed another general fiction/fantasy.  I picked this up off my shelf and reread the blurb, which I never noticed invoked both the novel The Fault in Our Stars by John Green and the video game Child of Light by Ubisoft Montreal.  The faulty lungs for the former, and the death/escape to another world for the latter.  Since these are two of my favorite things, I thought the combination would be perfect.  So far it's a little bit too Fault like with her "lungs not understanding air" ("my lungs suck at being lungs"), and even the snarky attitude is similar to Hazel Grace, but I like the language even if it is a bit metaphor heavy, and I'm curious about this world (which I assume is called Magonia) that Aza Ray (which sounds a lot like "ashre" so maybe some religious symbolism in the name.  I like names with religious symbolism attached…in case you didn't know) finds herself in.  Hoping to get there soon.  I'm only 3% in so I've a ways to go.
---
Fanfictions Finished: 0

In Progress Fanfictions Read: 1

Title: I'm the Darkness, You're the Starlight
Author: runicmagitek
Fandom: FFVI
Pairing: Celes Chere/Setzer Gabbiani
I'm so happy my friend has been feeling up to updating her stories including this one!  She's also close to finishing my Northern Lights and has impeccable timing since I'll probably start posting The Broken Rose within the next few weeks.  Ah, if only I could be so lucky.  She has Chapter 13 finished.  I'm guessing she's going to take the story to the end of the game, though I'm not sure since she didn't actually start at the beginning.
Fanfictions Currently Reading: 0

Fanfictions Added to TBR List: 0

---
Books Added to Goodreads TBR List This Week: 7

Title: Bambi's Children
Series Title: Bambi
Author: Felix Salten
Date Added: September 28, 2016
I didn't know Mr. Salten wrote a sequel to his Bambi, and since I added that to my To Be Reread list, it's only fitting that I add the second book to my TBR list.
Title: The Stolen Child
Author: Keith Donohue
Date Added: September 30, 2016
A story written from the point of view of the changeling and the child so stolen as their lives eventually converge in dual searches for their truth.
This was one of those adds due to a review on another book by Kim over at By Hook or By Book (er the review is by Kim not the book hehe).  It's the same author Keith Donohue and his novel The Motion of Puppets, which I didn't add as it didn't really pique my interest.  The review was also much less enthusiastic for this than for the this book and the next.
The Stolen Child looks like it would be something I'd highly enjoy.  I like both fairy tales and tales about fairy, which are rarely the same thing.
Title: The Boy Who Drew Monsters
Author: Keith Donohue
Date Added: September 30, 2016
This was added due to the same review above.  There's a definite eerie vibe to this book that just pulls me.  Despite my claims to being frightened of horror, I'm inexplicably drawn to it, or maybe not so inexplicable if I really drill down into the psychology.  I put horror motifs into nearly all the stories I write, and my favorites contain them as well.  The novel boasts strange drawings that come to life, ghostly apparitions, and drowning motifs.  It's a trifecta of darkness.
Title: The Scarlet Mantle
Series Title: Tales of Yagath
Author: Claus Augustus Corbett
Date Added: October 2, 2016
This is the second book in the Tales of Yagath series, added after I finished the first (as indicated above).  This is the book my friend (whomever they may be) was referring to when the said the author risked losing sales in order to provide a content warning.  It's also the reason I bought the first book since I respected him for taking that chance in order to give an oft needed warning.
The main character has bright violet eyes, which mark her as a Targaryen demon/witch, and for that she needs to die.  The blurb both directly mentions she's abused by the hunters who find her, and the author has a warning at the end to leave no doubt as to what type of abuse.  It's a short story at only 41 pages, so hopefully it will be quick if brutal.
Note:  This is the fastest turnaround I've ever had on a book.  I both added, bought, and declared it an unfinished all within a week.
Title: Rejected Princesses: Tales of History's Boldest Heroines, Hellions, and Heretics
Author: Jason Porath
Date Added: October 3, 2016
I was scrolling through my Facebook feed today and came across this tome shared by a friend.  I'm a fan of rebellious women.  We tend to make more waves than our sweet princess counterparts.  We also tend to graduate from mere princess status fairly quickly.  I mean Daenerys is a queen 🙂
Title: The Catalyst
Author: Helena Coggan
Date Added: October 5, 2016
So the story behind this book makes me feel like a total failure.  The author wrote this when she was thirteen, and now it's published two years later.  She's less than half my age and a hundred times more successful.  Yeah…I feel great about myself at 36 and still a rejected writer 😦
The world is divided into magic users and non-magic users, and the magic users, or Gifted, brutally control whom they call the Ashkind, and am I the only one pronouncing that like "ash-keent" instead of "ash-kind?"  It just seems appropriate.  But the main character and her father have a major secret, and an old enemy is threatening a catastrophic war.
This was reviewed by Kim over at By Hook or By Book and through that, I know there are some angel and demon shenanigans going on, which is a big draw.
Title: The Six-Gun Tarot
Series Title: Golgotha
Author: R.S. Belcher
Date Added: October 5, 2016
I'm not even mad at Cupcakes and Machetes for "making" me add this book, because it sounds fucking amazing.  I'm a fan of mixing genres when the brew turns into gold (figure my favorite story is sci-fi/fantasy fusion with tons of religious symbolism, mythology references, and horror motifs, so…), and the name of the city (and series) makes me think there will be religious symbolism all over the place.  While I'm not usually a fan of westerns, neither will I turn down a good sounding book based on one petty reason alone.
---
Books Added to Goodreads To Be Reread List This Week: 0

---
Books Purchased This Week: 1

Title: The Scarlet Mantle
Series Title: Tales of Yagath
Author: Claus Augustus Corbett
Date Added: October 2, 2016
Bought on my Kindle.
---
I added two shelves to my Goodreads this week: passed-based-on-sample and downloaded-sample.  The first shelf is an exclusive (meaning in GR lingo, a book can only be on that shelf) and is for books I downloaded a sample for and decided not to read based on that.  The second shelf is for the samples I download so I can keep track of them.  I decided to go through Amazon on my lunch break and see what I could send to my Kindle.  I'm probably add more tomorrow and try to download all the samples I can.  This should help clear out my TBR list.
I'm also thinking about adding a really-want-to-read shelf since there are some books (like The Six-Gun Tarot above) that I'm super excited about, but they can get buried in the flurry of so many.
---
What are you currently reading and/or what's on your radar to read next?  What would you recommend based on my current and recently added?  As always I look forward to your comments and suggestions!
<–The State of the Reader: 9/28/16          The State of the Reader: 10/12/16–>
Save
Save
Save
Save
Save
Save
Save
Save
Save
Save