<–The State of the Writer: 10/1/16          The State of the Writer: 10/15/16–>
A weekly post updated every Saturday discussing my current writing projects and where I stand with them.  This will include any and all work(s) in progress (WIP) be they creative writing, essays/analyses, or reviews of any type.
---
Project: Story
Title: The Broken Rose
Genre: Paranormal Romance
Type: Fanfiction (FFVII) Novel
Current Word Count: 279,131
Prior Word Count: 277,937
Word Difference: +1194
Status: Editing
Progress: 1st Edit of Chapter 6
The cover picture for the chapter was not my preferred choice.  I attempted to find a luxurious beach house lit by a gorgeous sunset, but neither Google nor Pinterest nor tumblr yielded any acceptable results.  So I went with a seascape that at least had the black cliffs that I can see in my mind.  The sky certainly resembles what might be the Gate of Heaven, so there's some consolation there.
I have officially starting editing Chapter 6 instead of adding additional content from notes.  My word count jumped up almost 1200 since last week, but it will probably fall at least a little bit as I go through the paring process.  Though I will say I've been writing more notes, though I know their specific place.
I'm currently in that wonderful writer place where I have more ideas than time to write them down.  While I'm drafting this post, I'm going back to my notes to attempt to get some out.  While this is great and necessary, it's stymieing my progress on this post hehe, and making me sound far less eloquent than I typically strive for.
I think then I'll keep it brief.  I'm hoping to work on a combination of editing and adding in more.  This chapter focuses on Aeris's direct surroundings, the splendor she's found herself in.  This is the chapter where I found much use for pinning nice clothes and priceless jewelry.  Things like this
are easier to describe when I have a visual, so Google managed to prove its usefulness to me after all.
Quote: He smiled to the circlet in her hair with jade stones bright as stars.  The dress she wore today was white.  On her feet with flat, slipper-like shoes.  A large, square emerald lay near her breast pulsing near deep as cold eyes.  Sephiroth's smile softened.  She seemed to like that.  That stone and that aching green color.  Seeing her dressed and wreathed in jewels brought joy to his dark, ailing heart.
"My beautiful flower.  My tiny rose."  He brushed her little hand with his thumb.  Caressing her palm as she turned it, while tilting her face back and up.  The Great General knew what his next words would bring as endless light rode his long lashes.  "My Aeris…"
---
Project: Story
Title: The Threads of Sorrow
Genre: Paranormal Romance/Retold Fairy Tale
Type: Original Short Story
Prior Word Count: 6787
Current Word Count: 6787
Word Difference: 0
Status: Critiques received
Progress: Critiques reviews
Don't let the word difference fool you, I have made some progress (albeit minimal) on this story.  I reviewed the critiques from my writer friend Kat, and there were less than I thought there would be.  A large chunk of story didn't have anything so I'm taking that as a good sign.  I highlighted the ones I plan to take into consideration, and the next step is to do the second edit with them in mind.  I don't think I'm going to get to it today as I'm going to a trivia contest around 7:00 (I'm very trivial), which is why I'm trying to get this post out fairly early.  Next week I have nothing on my Saturday schedule so I hope to work on Threads then.
---
Project: Essay
Title: Half a Tragedy Is Worse Than Whole
Subject: FFVII Comparative and Meta
Status: Outline Complete
No progress on this one.  I'll work on it either the 15th or the 21st.  I'm more in story mode right now, but I would like to get back to this at some point.
---
Project: Book Review
Title: Khalarea the Fallen
Series Title: Tales of Yagath
Genre: Fantasy
Status: In Progress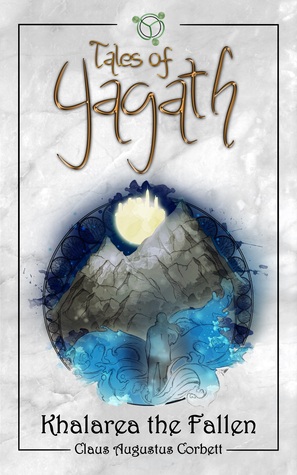 I'm working on the review for this and hope to have it completed by this weekend.  It was a fast read and only $0.99 on my Kindle.  It's an interesting world, and there were many aspects of this particular story that remind me of something else.  I discuss that more in my review.
---
What are you currently working on?  Is it a creative writing project, essay, review, or something else?  Have you just started something new or are you wrapping up a long term project?
<–The State of the Writer: 10/1/16          The State of the Writer: 10/15/16–>
Save
Save