<–The State of the Reader: 10/12/16          The State of the Reader: 10/26/16–>
A weekly post updated every Wednesday detailing my current reading projects and where I am with them in addition to what new titles I've added to my to-read list.  Title links go to Goodreads to make it easier for interested parties to add any books that might strike their fancy.  I attempt to use the covers for the edition I'm reading, and I'll mention if this is not the case.  If you have a Goodreads account feel free to friend me!  I'd love to see what you're reading and/or planning to read.
---
Books Currently Reading: 4

Title: The Mabinogion Tetralogy
Author: Evangeline Walton
Date Added: August 24, 2014
Date Started: July 31, 2016
Medium: Paperback
Progress: 22%
I seriously doubt I'm going to finish this before the end of the year seeing as I only go up a percentage a week and there are far less than 78 weeks left.  Hell 78 weeks is like a year and half so by that count I'll be finished this by 2018  It's okay though. I'm enjoying the read.
Title: The World of Ice and Fire: The Untold History of Westeros and the Game of Thrones
Author: George R R Martin
Date Added: January 7, 2015
Date Started: February 8, 2015
There's a good chance I will finish this one before the end of the year and most certainly before The Winds of Winter comes out.  I'll be lucky if the 6th book is released by this time next year, let's be honest.
Title: Magonia
Series Title: Magonia
Author: Maria Dahvana Headley
Date Added: January 31, 2016
Date Started: October 1, 2016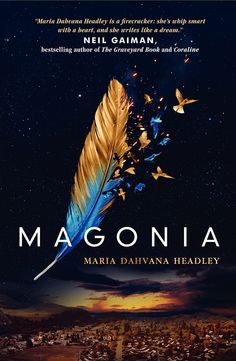 Media: Paperback
Progress: 13%
I'm ready to get to the more fantasy part of this book.  The author keeps teasing it in the "everyone thinks Aza is hallucinating" or "her visions are due to her illness" type of way, and I just want to see what this magical world (that I assume is called Magonia) is like.  So far Aza's witty for the sake of witty attitude hasn't become too grating, and I'm hoping it stays that way.
Title: The Ghost of Buxton Manor
Author: Jonathon L. Ferrara
Date Added: August 16, 2016
Date Started: October 17, 2016
I'm enjoying this so far.  The pacing is good, the main character Rupert is both intriguing and sympathetic, and the story presents a lot of plot coupons that need to be cashed in.  It's 400 pages, so I've got quite a ways to go!
---
Fanfictions Finished: 0

In Progress Fanfictions Read: 0

Fanfictions Currently Reading: 0

Fanfictions Added to TBR List: 0
It's on my to-do list to read the next chapter in my friend's story.  I should've done it last weekend, but things happen.
---
Books Added to Goodreads TBR List This Week: 6

Title: Mark of the Demon
Series Title: Kara Gillian
Author: Diana Rowland
Date Added: October 12, 2016
Besides the stellar review from Cupcakes and Machetes, the only other thing I needed to hear was:
"…an angelic creature named Rhyzkahl unexpectedly appeared during a routine summoning. Kara was hoping to use her occult skills to catch a serial killer, but never had she conjured anything like this unearthly beautiful and unspeakably powerful being whose very touch set off exquisite new dimensions of pleasure."
I'm already into this.  Unearthly beautiful?  Unspeakably powerful?  Angelic?  WHAT DO YOU WANT FROM ME?  I'M YOURS!
Title: Relic
Series Title: Pendergast
Authors: Douglas Preston & Lincoln Child
Date Added: October 12, 2016
There's a little bit of convolution with how I came about adding this one.  I read a review from my friend Kim at By Hook or By Book about a later story, The Obsidian Chamber, in the Pendergast series.  There's a sub-series started at book 5 called Diogenes.  I was initially going to start there since Obsidian is book 16.  I only skimmed through the review so I wouldn't be previously spoiled, and after a conversation in the comments decided I might as well just start from the beginning so here I am.
I'm more interesting in the plot of the later books, but the murder-mystery one in this seems intriguing enough to hold my attention.
Title: The Daemoniac
Series Title: A Dominion Mystery
Author: Kat Ross
Date Added: October 13
This was specifically recommended to me by Kim from By Hook or By Book through Goodreads!  I had a lovely recommendation message on my profile today.  I'd looked at this book before, but decided not to add it though now I'm not sure why.  It involves the (assuredly fictional) niece of Arthur Conan Doyle, the man who opened his heart and gave us Sherlock Holmes, looking for a grisly murderer who leaves taunting messages in backwards Latin.  I think because urban fantasy is not my normal fare, though oddly enough it's a genre I have story ideas for.
Title: Vassa in the Night
Author: Sarah Porter
Date Added: October 15, 2016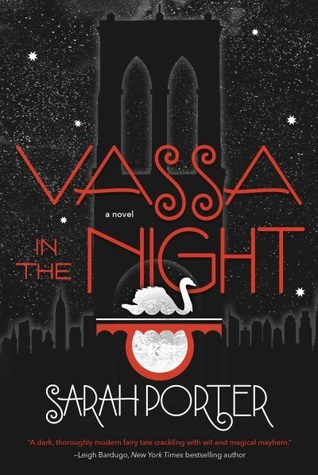 The reviews on this state either you'll love it for its weirdness or hate it for the same.  It fairy tale/magical realism set in the enchanted kingdom of Brooklyn where a simple errand to buy light bulbs could lead to decapitation.
Title: A Curious Beginning
Series Title: Veronica Speedwell
Author: Deanna Raybourn
Date Added: October 17, 2016
A long time friend I know on Facebook prompted this add.  I haven't done nearly enough reading in the Victorian England setting, so I think that needs to be remedied.
Title: The Rains
Series Title: Untitled
Author: Gregg Hurwitz
Date Added: October 17, 2016
Between the stellar review by Kim of By Hook and By Book and my intrigue for the blurb, this was an easy add.  When virulent spores turn everyone over 18 into what sound like zombies, two brothers have to figure out what's going on before the one's 18th birthday.  I am extremely curious about what's causing the change, why it waits until that particular age, and how (or if) it's going to be reversed.  The pacing is fast and the danger is real so I'm sold.
---
Total Books on Goodreads TBR List: 521
Change from Last Week: -38
I removed nearly every Discworld novel from my TBR list not because I have no interest in reading Discworld (I've read quite a few), but rather to just have the first one on the list so I can go from there.  I read a bunch out of order years ago (e.g. Thief of Time, Small Gods, Witches Abroad, Hogfather, Guards! Guards! to name a few), but I stopped at The Fifth Elephant.  I just couldn't get into that one for some reason.  I figured I'd start from the beginning with The Light Fantastic and go from there, adding books as I go.  It's similar to what I did with Piers Anthony's Xanth series and Jim Butcher's Dresden Files.  I was going to give Charles de Lint the same treatment, but I was too tired, and not all of his books are series related.  When I get the chance I'll do such with Newford.
---
Books Added to Goodreads To Be Reread List This Week: 0

---
Books Purchased This Week: 2
Title: The Ghost of Buxton Manor
Author: Jonathon L. Ferrara
Date Added: August 16, 2016
Date Posted: August 17, 2016
Date Purchased: October 15, 2015
Media Type: Kindle
I'm happy to purchase this book by author and fellow blogger Jonathon L. Ferrara of Husband & Husband fame.  Since this is a Kindle purchase, it will more than likely be added to my Currently Reading section no later than the start of next week.  I'm super excited to read and review this ♥
Title: Test Your Cat: The Cat IQ Test
Author: E.M. Bard
Date Added: October 11, 2016
Date Posted: October 12, 2016
Date Purchased: October 15, 2016
Media Type: Physical Copy
Your wish has been granted.  I bought the cat IQ book the same time I purchased my husband's birthday present.  Granted I'm not going to receive either of them until November (which is unfortunate for hubby since his birthday is October 29.  Oh well.  I'll just tell him that it's on the way).  Once I get it, I will immediately put this guy below to the test.
---
What are you currently reading and/or what's on your radar to read next?  What would you recommend based on my current and recently added?  As always I look forward to your comments and suggestions!
<–The State of the Reader: 10/12/16          The State of the Reader: 10/26/16–>
Save
Save
Save
Save
Save
Save