<–The State of the Reader: 11/9/16          The State of the Reader: 11/23/16–>
A weekly post updated every Wednesday detailing my current reading projects and where I am with them in addition to what new titles I've added to my to-read list.  Title links go to Goodreads to make it easier for interested parties to add any books that might strike their fancy.  I attempt to use the covers for the edition I'm reading, and I'll mention if this is not the case.  If you have a Goodreads account feel free to friend me!  I'd love to see what you're reading and/or planning to read.
---
Books Currently Reading: 4

Title: The Mabinogion Tetralogy
Author: Evangeline Walton
Date Added: August 24, 2014
Date Started: July 31, 2016
Medium: Paperback
Progress: 27%
Holy shit did we just have a major "all is lost moment" in this book.  I read a bit of the dialogue aloud, because it was that poignant.  I'm not sure what book is on my to-read list tonight, but I really hope it's this one.
Title: The World of Ice and Fire: The Untold History of Westeros and the Game of Thrones
Author: George R R Martin
Date Added: January 7, 2015
Date Started: February 8, 2015
I've finished the section on the Free Cities and am about to start the section on the lands beyond e.g. the Summer Isles, Yi Ti, Sothoryos, etc.  I'm almost finished this, and soon I'll have to pick a new reference to read.
Title: Magonia
Series Title: Magonia
Author: Maria Dahvana Headley
Date Added: January 31, 2016
Date Started: October 1, 2016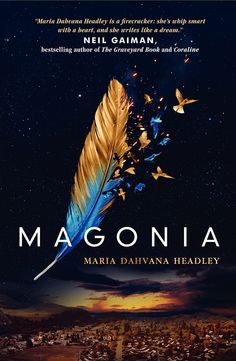 Media: Paperback
Progress: 50%
I'm exactly halfway through this book and I'm really losing steam. Ever since Aza woke in the world of Magonia, I've found more things to critique. I really don't like any of the Magonians *spoiler* including her birth mother *end spoiler* and I want her to go back to her world and Jason (since all of this is in the blurb, I don't feel like I'm giving anything away). It's like the author made these characters extremely unlikable, and that's a poor choice for the "torn between two worlds" paradigm.  If Aza is supposed to feel connected to this world so that there's some conflict when/if she gets the chance to return to her own, Ms. Headley needs to start portraying that better.  This seems more like it's an "escape at all costs," and I don't think that's what she was going for.
I'm debating whether to continue with this or not, but I want to see if the author can turn it around, and I am 50% through.
Title: The Ghost of Buxton Manor
Author: Jonathon L. Ferrara
Date Added: August 16, 2016
Date Started: October 17, 2016
This book keeps becoming more interesting as details about Rupert's life are slowly revealed.
---
Fanfictions Finished: 0

In Progress Fanfictions Read: 0

Fanfictions Currently Reading: 0

Fanfictions Added to TBR List: 0
I was supposed to read the next chapter of Darkness and Starlight, but I keep having to push it back.  I think it's on the schedule for tonight, and I may have to push it back again.  This week and the last have been really hard for me to keep up with anything 😦
---
Books Added to Goodreads TBR List This Week: 2

Title: Timekeeper
Series Title: Timekeeper
Author: Tara Sim
Date Added: November 11, 2016
This tale of an alternative Victorian world controlled by clock towers was brought my attention by the irrepressible Writing Hufflepuff.  I'm a bit of a closet fan of time travel, loops, and theory, which isn't too much of a shock if you delve into the stories I love.  They all have an eerie time factor involved with them.  This YA has that along with a lovely same sex romance done right (according to the WH), so I'm excited to add it to my TBR pile.
Title: The Moonborn
Author: D.F. Lovett
Date Added: November 15, 2016
This was one of those weird situations where I heard about one thing from two different sources in a short amount of time.  I received a Twitter DM from the author D.F. Lovett the other day asking if I wanted to read/review his book.  Due to me not having any time and currently embroiled in four other books, I had to politely decline, but since I know how hard it is to be a writer and readers are our lifeblood, I did ask him what the book's title was so I could add it to my TBR list.  Upon hearing the title, a memory sparked in my head, because I knew I'd heard the name recently, and after some rumination, I recalled that Pat Sponaugle had reviewed it here on his blog.
It's heralded as "Moby Dick on the moon."  Now I've never read Melville's door stopper, and I've never really had any interest in doing so, but that being said, the blurb for Mr. Lovett's book is enticing, and who knows?  After I read this, I may investigate the Cliff's Notes for Moby Dick. 
Update 11/17/16: Because I'm terrible at source information, I didn't realize I already follow D.F. Lovett's blog What Would Bale Do?  So here's the link to it so you can read more about his new book , follow, and support!
---
Total Books on Goodreads TBR List: 519
Change from Last Week: +2

---
Books Added to Goodreads To Be Reread List This Week: 0

---
Books Purchased This Week: 0

---
What are you currently reading and/or what's on your radar to read next?  What would you recommend based on my current and recently added?  As always I look forward to your comments and suggestions!
<–The State of the Reader: 11/9/16          The State of the Reader: 11/23/16–>
Save
Save
Save
Save
Save