<–The State of the Reader: 12/14/16          The State of the Reader: 12/28/16–>
A weekly post updated every Wednesday detailing my current reading projects and where I am with them in addition to what new titles I've added to my to-read list.  Title links go to Goodreads to make it easier for interested parties to add any books that might strike their fancy.  I attempt to use the covers for the edition I'm reading, and I'll mention if this is not the case.  If you have a Goodreads account feel free to friend me!  I'd love to see what you're reading and/or planning to read.
---
Books Currently Reading: 3

Title: The Mabinogion Tetralogy
Author: Evangeline Walton
Date Added: August 24, 2014
Date Started: July 31, 2016
Medium: Paperback
Progress: 45%
I didn't make any percentage progress, but I did read a chapter or so.  Since this book is so long, getting through only a few pages doesn't net me much quantifiable progress, but rest assured, this is not a book I'm going to be putting down.
Title: The Ghost of Buxton Manor
Author: Jonathon L. Ferrara
Date Added: August 16, 2016
Date Started: October 17, 2016
It's getting very interesting in Buxton Manor and its environs.  To say anymore would be to give a major part of the story away, and I want people to read this to not only enjoy a good tale, but to give the author support!
I also realized I'm a dumbass and never put a link to the author's blog.  I've remedied that under his name above.  It goes to a post about pre-ordering a physical copy (which it's too late to do now, since the book is out.  I have it on Kindle), but there are other links below for it.  You know what, I'll just link to the first sample chapter.  That seems to make the most sense, and I'll retain the link for as long as I'm reading it.  Hopefully Jonathon won't mind!
Title: A Court of Thorns and Roses
Series Title: A Court of Thorns and Roses
Author: Sarah J. Maas
Date Added: June 15, 2016
Date Started: November 20, 2016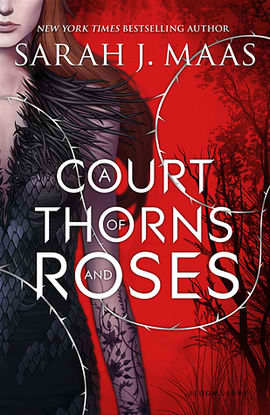 Media: Paperback
Progress: 42%
So I now have an ever bigger gripe than Feyre and Tamlin's insta-romance.  Suddenly, the story turned a bit rapey.  No rape happened, but there were some "I was looking for you" shenanigans, which is okay, but then it turned into what could be considered an (non-sexual) assault and then afterwards a "it's your own fault for not staying in your room."  Um, what the fuck?  Then later, an apology with flowers.  Um, yeah, that's par for the course to an abusive relationship.  Thorns/Roses is obviously better written than Twilight or Fifty Shades of Gray, but I'm not going to let that excuse things like this.  I'm still planning on finishing it, and I'm hoping something happens that'll redeem the story and that particular character a little, because right now I'm really not impressed with the latter, even though I'm enjoying the former.
I will say the Beauty and the Beast vibe is obviously stronger, and I can certainly see shades of the Scottish ballad about Tam Lin, as the titular character in that was changed into a beast (among other things), while his true love Janet forced herself to hold onto him for the time of 21 heartbeats.  I'm curious how Maas might weave this poetry in.
---
Fanfictions Finished: 0

In Progress Fanfictions Read: 1

Title: I'm the Darkness, You're the Starlight
Author: runicmagitek
Fandom: FFVI
Pairing: Celes Chere/Setzer Gabbiani
Still no update on this.  I may shoot the author a message on tumblr (if it isn't down as I've heard), not just to inquire about the story, but also to see how she's doing.
Fanfictions Currently Reading: 0

Fanfictions Added to TBR List: 0
---
Books Added to Goodreads TBR List This Week: 3

Title: A Lion Among Men
Series Title: The Wicked Years
Author: Gregory Maguire
Date Added: December 17, 2016
This was one of my husband's White Elephant presents.  I don't think he was overly interested in it, but I have Confessions of an Ugly Stepsister already on my TBR list, and this is the third book in the series.  I've always been a fan of retellings and have heard good things about Mr. Maguire's.  I'm hoping I do enjoy Wicked as I was sort of ruined from liking the musical by overzealous friends/fans.
This volume follows the exploits of the Cowardly Lion and what's really drawing me to it is how the animals of Oz are treated like second class citizens in the kingdom.  I'm really curious to see the interplay of that.
Ah okay, in looking up Confessions, that's apparently a standalone, and the book in question is in a different series entirely though they're both by the same author.
Title: Maresi
Series Title: The Red Abbey Chronicles
Author: Maria Turtschaninoff
Date Added: December 18, 2016
Don't let the "red abbey" part fool you, this is not a tale of Redwall.  It's a novel of a more realistic haven where women and girls can escape and heal from abuse and oppression.   The titular character, a 13 year old novice, arrived there in the winter, and now lives happily protected by the Mother and exploring the vast library.  She takes another girl, Jai, under her wing, and learns it will take more than books to fix the ills of society.
I'm trying to curb the amount of books I add to my TBR list, which is why the numbers have been lowered, but when I saw Kim review this, I knew I had to make an exception.  I'm going to (eventually) do another sample download to try to remove as many novels as possible if they don't strike my fancy, but this may very well not happen until after the holidays.
Title: Nemesis
Author: Brendan Reichs
Date Added: December 20, 2016
Again I'm really trying to curb the number of books I add to my TBR list, but meteors and serial murders are just too much for me to pass up.  Is Min dreaming of a past life or a future death, and how does Noah fit in with his nightmares of murder?  Is he Min's murderer?  And then we have the Anvil, a giant meteor/asteroid that could wipe out life on earth.  All you need do to pique my curiosity is entice my VII sense.
---
Total Books on Goodreads TBR List: 533
Change from Last Week: +3

---
Books Added to Goodreads To Be Reread List This Week: 0

---
Books Purchased This Week: 0

---
What are you currently reading and/or what's on your radar to read next?  What would you recommend based on my current and recently added?  As always I look forward to your comments and suggestions!
<–The State of the Reader: 12/14/16          The State of the Reader: 12/28/16–>
Save
Save
Save
Save
Save
Save