<–The State of the Reader: 12/28/16          The State of the Reader: 1/11/17–>
A weekly post updated every Wednesday detailing my current reading projects and where I am with them in addition to what new titles I've added to my to-read list.  Title links go to Goodreads to make it easier for interested parties to add any books that might strike their fancy.  I attempt to use the covers for the edition I'm reading, and I'll mention if this is not the case.  If you have a Goodreads account feel free to friend me!  I'd love to see what you're reading and/or planning to read.
---
Books Currently Reading: 4

Title: The Mabinogion Tetralogy
Author: Evangeline Walton
Date Added: August 24, 2014
Date Started: July 31, 2016
Medium: Paperback
Progress: 48%
I'm pretty sure I read a bit of this this week, but not enough to move the percentage needle.  I'm currently at a part where the greatest concern seems to be a false king and a secret paternity.  The prince of the new tribes believes his father to be one man, but he's actually someone else, and this particular individual (along with the prince) is one of seven survivors of the Welsh's war with the Irish.  Intriguing much.
Title: A Court of Thorns and Roses
Series Title: A Court of Thorns and Roses
Author: Sarah J. Maas
Date Added: June 15, 2016
Date Started: November 20, 2016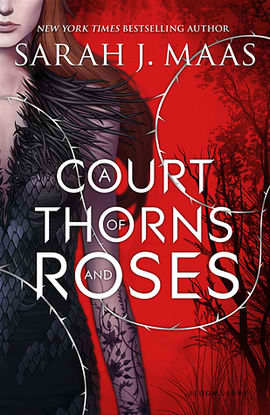 Media: Paperback
Progress: 61%
You know it's bad when the first sex scene between the characters does nothing for you, and their parting doesn't move your heart one bit.  I don't feel too bad giving this away, since it's a general staple of romance narratives.  They fuck and they part, though not necessarily in that order in every narrative.  My biggest issue with this story is how abruptly Feyre and Tamlin fell in love.  It went from her having no interest in him to being head over heels for the High Lord.  There was little to no progression in the feeling, nor was any attraction painting prior to Chapter 18.  The one good thing I can say about this (and it's kind of selfish but…) is I'm going to be extra diligent about such a paradigm when I reedit my own paranormal romance.  My biggest fear with stories like that is the romance doesn't seem authentic, and that's the problem I'm running into here, because there wasn't adequate build up in the beginning.  I'm more than halfway through and still curious about what's causing the blight.  The dialogue is at least well written and fairly witty, so there's that to its credit.
Title: The Raven Boys
Series Title: The Raven Cycle
Author: Maggie Stiefvater
Date Added: April 21, 2015
Date Started: January 1, 2016
I received a Kindle Fire for Christmas from my in-laws, and I absolutely adore it.  I was looking into purchasing one myself, since they're only around $50, which is more than fair for a tablet.  I don't see the need to drop $300-$500 on an iPad, when I'm really just paying for the name.  The Fire has 16G of space, and I've been using it to read and watch Let's Plays on YouTube.  I downloaded a few apps as well, and may get one of those games you can play with your cat, because I'm that kind of person.
I prefaced with this because the KF is how I'm reading the above book, and I absolutely love it.  The main character Blue is a non-psychic in a family of female clairvoyants, but she's always brought to a churchyard every year with her mother as the soon-to-be-dead march past.  She's apparently an amplifier, even though she can't see them herself. Well that changes (of course) this year when Maura (Blue's mom) is replaced by Neeve, Blue's aunt.  Blue sees a dying boy named Gansey who goes to the rich kid's school in their town of Henrietta.  She usually stays away from them, but of course now the young woman is drawn into their world.
I've always been a fan of Ms. Steifvater's writing ever since I read the first few chapters of Shiver.  It was a gift for a friend so I was never able to finish it (it, too, is on my extensive list).  The instant I read the sample for this, I knew I'd have to download it, and since I've taken to reading a chapter (or more) on my lunch break, I'm certain I'll finish soon.
Title: The Illustrated A Brief History of Time/The Universe in a Nutshell
Author: Stephen Hawking
Date Added: June 25, 2016
Date Started: January 2, 2016
Lately to escape how terrible things are (and going to be) down here on Earth, I've been watching/listening to YouTube videos about quantum physics, astrophysics, dark matter, dark energy, the origin of the universe, neutron stars, the end of everything, and the like.  It makes my brain waves flutter especially when I consider eternity and the fact that nothing really matters (but ironically within that everything does).  While I erroneously think I'm smart enough to study such things, I at least know I need a remedial crash course, and Mr. Hawking's Universe in a Nutshell is a fine beginning.  I actually started reading this book years ago, but like many things, put it to the side, and didn't pick it back up until now.  It's written in very rudimentary language for the average person to understand.  It's a good starting point if you're curious about life, the universe, and everything.  I'd also recommend reading Douglas Adams's Live, the Universe, and Everything, as well.
---
Fanfictions Finished: 0

Fanfictions Currently Reading: 1
Title: I'm the Darkness, You're the Starlight
Author: runicmagitek
Fandom: FFVI
Pairing: Celes Chere/Setzer Gabbiani
I'm seriously worried about my friend runicmagitek, and I sincerely hope that she's just been so busy with the holidays that she hasn't had time to check her tumblr.  It's the only way I have of contacting her (especially since AO3 doesn't have a messaging system).  This is what is a bit sucky and often terrible about online friendships.  If something happens to someone you only have the barest of information about, you'll never really know.  Not that I'm a stalker or a creeper, but I am a worrier.  Here's to hoping I hear something soon ;_;
Fanfictions Added to TBR List: 0
---
Books Added to Goodreads TBR List This Week: 6

Title: Dissonance
Series Title: Dissonance
Author: Erica O'Rourke
Date Added: December 30, 2016
This was a lucky find as I was scrolling through my Goodreads.  I'm fascinated by alternate universes and sort of subscribe to the multiverse theory.  I believe it's a possibility, and there's been some scientific evidence to support.  Until such a day when we have concrete proof, I shall take these inventive little tales about a heroine who can navigate between these realities, keeping the dimensions in harmony.
Title: Gilded Cage
Series Title: Dark Gifts
Author: Vic James
Date Added: December 30, 2016
The commons serving the elite is nothing new in story or reality.  The only difference in this tale is the elite's power is magical as well as monetary.  All commoners must serve them for ten years, and the protagonist, Abi, is in servitude to England's most powerful family.  In true Stockholm Syndrome fashion, she falls for one of the noble-born sons (ah hypergamy).  I'm not averse to stories with well used tropes.  I feel that messages can become more powerful in repeat.
Kim of By Hook or By Book brought up a decent critique about diversity in her review here (which is why I added this in the first place), but I'm hoping that won't detract too much from the overall message of the story.
Title: The Blackwell Family Secret: The Guardians of Sin
Author: Jonathan L. Ferrara
Date Added: January 1, 2017
After finishing The Ghost of Buxton Manor, I went to Mr. Ferrara's Goodreads' page, following him as an author and added his other book.  I also tweeted him my love of his story, followed his (and Aaron's) YouTube page (I already follow their WordPress), and discovered there's going to be a sequel to Ghost.  In the interim, I believe I'll read up on the true history of Rupert Buxton and Michael Davies, while I work on my Ghost review.
The Guardians of Sin appears to be another paranormal adventure involving spirits and secrets, also guardian angels, serpents, and the unleashing of the Seven Deadly Sins, so I'm now even more interested.
Title: The Count of Monte Cristo
Author: Alexander Dumas
Date Added: January 4, 2017
The most memorable reference I have for this book is from the movie V for Vendetta, where the titular character, played by Hugo Weaving, shows it to his "captive" Evey, played by Natalie Portman.  I know it has a happy ending (or at least the movie does), and I know from the blurb it's about a man falsely imprisoned.  The reason I added it now is because of a comment on Deviant Art about The Broken Rose.  One of my readers was wondering if the story was going to take a Monte Cristo angle to which I (internet) laughed and responded that I'd never read it, but I'd have to add it to my TBR list (huh…the abbreviation for "to be read" and The Broken Rose are exactly the same.  That's hilarious).  She replied that the novel was a bid stodgy, and I might want to entertain myself with the movie.  I figure I'll give the book a try though.  I could always use more classics for my list.
Title: The Lie Tree
Author: Frances Hardinge
Date Added: January 4, 2017
A tale of a tree that will give you truth for every lie, and the bigger the lie, the greater the truth.  I'm also interested in the incongruence of a main character named Faith who thirsts for science and secrets, and the secret of the tree is too great for her to resist.  Drawn into the search by her disgraced father's journals, Faith enters a world of lies, danger, and the truth that can unbind it all.
Title: The Bear and the Nightingale
Author: Katherine Arden
Date Added: January 4, 2017
The book channeled both a Cinderella vibe with the dead mother replaced with a cruel stepmother and ASOIAF with it's fairy tales about Frost, a blue-eyed winter demon.  It seems to spin itself like a meta-fairy tale.  There's an even deeper ASOIAF connection as Vasilisa and her siblings' nursemaid warned them to keep the old rituals and honor the spirits of house, yard, and forest in order to protect their home from evil and keep dark things at bay (e.g. Craster in Song), but the stepmother forbids it.  The family acquiesces, but Vasilisa seems to know that more hinges on the rituals than mere rote.  I'm a sucker for a good fairy tale, and I love stories that mix paradigms with others I already love.  I have a feeling the stepmother may be an agent of Frost or something like that or Frost may not be as terrible as he seems.
---
Total Books on Goodreads TBR List: +6
Change from Last Week: 540

---
Books Added to Goodreads To Be Reread List This Week: 0

---
Books Purchased This Week: 10
I received all of the books I ordered from Amazon in between last week's post and this week's.  I believe I usually do the full breakdown, but owing to the fact I have ten books to add, I'm just going to cite the title, author, brief comment, and a link to the SOTR where I included it, if available;  I'll just link to Goodreads if not.
---
What are you currently reading and/or what's on your radar to read next?  What would you recommend based on my current and recently added?  As always I look forward to your comments and suggestions!
<–The State of the Reader: 12/28/16          The State of the Reader: 1/11/17–>
Save
Save
Save
Save
Save
Save