<–The State of the Reader: 1/4/17          The State of the Reader: 1/18/17–>
A weekly post updated every Wednesday detailing my current reading projects and where I am with them in addition to what new titles I've added to my to-read list.  Title links go to Goodreads to make it easier for interested parties to add any books that might strike their fancy.  I attempt to use the covers for the edition I'm reading, and I'll mention if this is not the case.  If you have a Goodreads account feel free to friend me!  I'd love to see what you're reading and/or planning to read.
---
Books Currently Reading: 5

Title: Tuf Voyaging
Author: George R R Martin
Date Added: January 27, 2016
Date Started: January 5, 2017
Somewhere in my madness, I decided to pick up a fifth book to read.  What happened in actuality is not atypical for how I fall into things.  I don't even think I was on a site for such, but the written transcript of the FFVII Remake showed up somewhere in my periphery, and while I don't know it verbatim, I do recall it constitutes something about looking up at a fated star (I'm probably really off in this, and I don't feel like looking it up (…), because it lends the chance of falling down VII's many rabbit holes), but there was something about an ominous star, and that reminded me of a story by GRRM called "The Plague Star."  Internet perusing led me to Tuf Voyaging, a novel I've been wanting to read ever since I got a "Taste of Tuf" from Dreamsongs Volume II.  "The Plague Star" suggests some serious implications for ASOIAF insofar as the comet presented in the latter tale may be more than just astral debris as the original meteor in FFVII was.  So while I had every intention of reading more about Haviland Tuf, I was spurred along by that chance noticing of those particular words.
When I bought the Kindle copy and opened it up on a whim, it automatically updated my Goodreads to say I was currently reading it.  I'd set that up and forgotten about it, but since I was well drawn into the the fore mentioned story, I figured what the hell.  I'm currently reading quite a bit of this along with The Raven Boys during my lunch breaks at work, and as you can see I've made significant progress in just one week.  I finished "The Plague Star" and am currently on "Loaves and Fishes."  I've noticed that most if not all of Tuf's tales have some sort of Biblical reference, and in "Plague," he is the only really likable character.  He's a consummate cat lover so I'm already endeared.
Title: A Court of Thorns and Roses
Series Title: A Court of Thorns and Roses
Author: Sarah J. Maas
Date Added: June 15, 2016
Date Started: November 20, 2016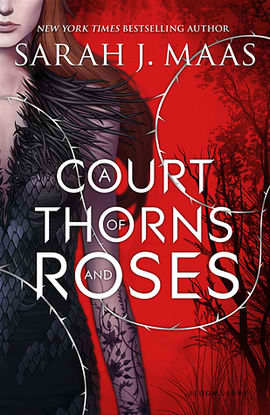 Media: Paperback
Progress: 70%
I am now entirely convinced that this is a retelling of Beauty and the Beast, which is a nice bait and switch, as I was expecting a retelling of Tamlin owing to the High Lord's name.  I'm coming down to the final climax of the novel, and something has been revealed that pushes this paradigm even further to the forefront.
I already have an idea what rating I'm going to give this book.  Is that something that normally happens to you?  You realize where a novel is going to fall even before you finish reading it?  Usually about halfway through I'm fairly set on a rating, though factors could still definitely change it.  This book would have to do something pretty miraculous to achieve higher than what I'm set on.
Title: The Illustrated A Brief History of Time/The Universe in a Nutshell
Author: Stephen Hawking
Date Added: June 25, 2016
Date Started: January 2, 2016
Media: Paperback
Progress: 17%
Absolute time used to be a believed concept, which is fascinating.  It's been rejected and rightly so, but still fascinating to think about.  Prior physicists also believe that the earth and other bodies must be moving through something called the ether, which is what accounted for certain factors, but this was ultimately rejected as well.
Title: The Raven Boys
Series Title: The Raven Cycle
Author: Maggie Stiefvater
Date Added: April 21, 2015
Date Started: January 1, 2016
What's amazing about this story is how little has happened and yet how utterly compelling it is.  There's only the promise of discovery for both readers and characters alike, but that promise as well as the lovely prose are more than enough.  Currently, all of the important people have now met, and I'm actually on the part of their meeting now.  I imagine I'll be finished this book either next week or soon afterwards.
Title: The Mabinogion Tetralogy
Author: Evangeline Walton
Date Added: August 24, 2014
Date Started: July 31, 2016
Medium: Paperback
Progress: 49%
I've kind of neglected this poor book.  It seems that the nights I skip reading tend to be the nights I'm supposed to read this and/or I only read a page or two.  It's not that I don't enjoy it; it's just that I'm so damn tired all the time.  I'm almost halfway finished…though it's been nearly six months since I started.  I do think I'll be finished before the year mark though.
---
Fanfictions Finished: 0

Fanfictions Currently Reading: 1
Title: I'm the Darkness, You're the Starlight
Author: runicmagitek
Fandom: FFVI
Pairing: Celes Chere/Setzer Gabbiani
Still hoping…
Fanfictions Added to TBR List: 0
---
Books Added to Goodreads TBR List This Week: 2

Title: Death Note, Vol. 1: Boredom
Series Title: Death Note
Author: Tsugumi Oba
Date Added: January 7, 2017
I just spent about ten minutes trying to figure out who the hell recently reviewed this.  I read it today, but it had to have been posted between 12/31 and 1/3, because my blog sub backlog is gigantic and only growing.  It was one of my frequently read blogger friends, and your review of it made me add it to my TBR list (I also commented the same).
I'd heard of this manga, but had no clue it was about something so interesting as a book that allows you to kill people by writing down their names.  Of course I'm not thinking of what I would do with such a device!  How dare you accuse?!  And of course I'm not thinking of writing down anyone's name that begins with the letter D.  What do you take me for?  Good day to you sir/madam! *stomps off in huff*
Anyway…I'm throwing more comic books/graphic novels/manga on my TBR list.  It's nice padding and quicker reads so I may be able to make if not surpass my 15 book goal.  I feel short of my 20 books of 2016 so lowered it.
Title: Flatland: A Romance of Many Dimensions
Author: Edwin A. Abbott
Date Added: January 9, 2017
Unless I'm mistaken (and there's a good chance I am), there was a movie made about this book.  I could also be thinking of the cartoon about the line and the circle, which could very well have been based on/inspired by this as well.  I could also be thinking of another film called The Point that I wanted to see when I was younger, but never was able to catch.
Either way, this is a sci-fi novel about a two-dimensional world where the main character is A. Square, a mathematician, who journeys to other dimensions beyond and less than his own.  It is a near turn of the century satire, published in 1884 (yes, that century, not the most recent one) where women, as thin straight lines, are considered the lowliest shape (not much has changed), and the more sides a man has, the higher his status.  There are some books that stand the test of time.  Even though this one is over a hundred years old, I have a feeling many of the themes will still be valid today.
---
Total Books on Goodreads TBR List: 541
Change from Last Week: +1

---
Books Added to Goodreads To Be Reread List This Week: 0

---
Books Purchased This Week: 3
The Bees by Laline Paul – Exactly what it says on the tin.  It's about bees and written in such a delightfully intriguing way that I knew I had to obtain it after reading the sample
Saga: Volume 1 by Brian K. Vaughn & Fiona Staples – Yasss finally!  To hell with that $50 hardback copy I saw at KOP's comic book story.  I flipped through the first few pages, and it…is…thrilling from the get go.  You are instantly thrown into the story, and it's no holds barred, not sugar coated.  I love it already.  I'm hoping to shoehorn it into my reading cycle soon.
The Legend of Zelda: Hyrule Historia by Various Authors – I was talking to a major Zelda fan this week who gave his approval on this compendium.  The pictures are gorgeous, and it was worth all 30 of my (GC) dollars.
---
What are you currently reading and/or what's on your radar to read next?  What would you recommend based on my current and recently added?  As always I look forward to your comments and suggestions!
<–The State of the Reader: 1/4/17          The State of the Reader: 1/18/17–>
Save
Save
Save
Save
Save
Save