<–The State of the Reader: 1/11/17          The State of the Reader: 1/25/17–>
A weekly post updated every Wednesday detailing my current reading projects and where I am with them in addition to what new titles I've added to my to-read list.  Title links go to Goodreads to make it easier for interested parties to add any books that might strike their fancy.  I attempt to use the covers for the edition I'm reading, and I'll mention if this is not the case.  If you have a Goodreads account feel free to friend me!  I'd love to see what you're reading and/or planning to read.
---
Books Finished This Week: 1

Title: Tuf Voyaging
Author: George R R Martin
Date Added: January 27, 2016
Date Started: January 5, 2017
Date Finished: January 17, 2017
Media: Kindle
While it may seem impressive that I went from 29% last week to finished this week (if you're keeping track of such things, which I in no way expect you to), I'd already read two of the stories: "A Beast for Norn" and "Guardians" in Dreamsongs Volume I.  The most interesting offerings in the Tuf anthology definitely center around the stories of S'uthlam.  Martin seems to enjoy playing with the trope of A God Am I, but not in the ways I've seen before; however, his methods draw into question the very fundamentals of what godhood is or may very well be.  I'll be writing a review for this this week, hopefully Friday, where I'll discuss all of this and more.
---
Books Currently Reading: 5
Title: In the House of the Worm
Author: George R R Martin
Date Added: June 21, 2013
Date Started: January 17, 2017
Finish one GRRM book and start another.  As I was going through the stories in Tuf Voyaging, I was listening to reviews/analyses of them by YouTuber Preston Jacobs.  His insights are pretty good, though he didn't say everything I would've, but conversely he said things I wouldn't know (I haven't read Plato's Republic yet, though it is on my TBR list).  He mentions Worm quite a bit in other reviews (in fact, I'm pretty sure he's spoiled the story already, but I don't quite remember, so it's okay), and I figured I should download it, and read it next.  It's brief at only 56 pages, so I imagine I should be able to knock it out in a week.  I'm pretty interested for various reasons.  One, Martin tends to write about the same thing over and over again.  His stories have similar themes, and this will give clues/insights to how Song might end, at least thematically.  Two, I'm interested for the story's sake alone.  It takes place on a world with a dying sun.  The people consider themselves "Children of the Worm" or yaga-la-hai, which sounds a bit like yog-shoggoth (at least in the first syllable), which puts me in the mind of Lovecraft (no, I will not post a picture of a yog-shoggoth.  They're eldtricthy; it's dark, and I'm home alone).  I do know that the true nature of the Worm is dark and terrifying, which definitely feeds the Lovecraftian vibe.
Title: A Court of Thorns and Roses
Series Title: A Court of Thorns and Roses
Author: Sarah J. Maas
Date Added: June 15, 2016
Date Started: November 20, 2016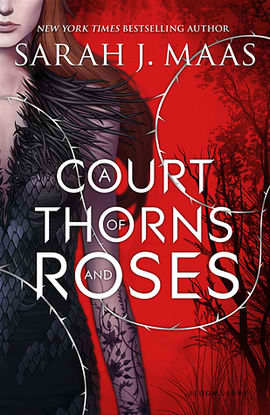 Media: Paperback
Progress: 83%
I'm hoping to finish this before next week.  I keep dandling the rating between a 3 and a 3.5, but if I give it a 3.5, I'll have to round up on Goodreads to a 4, and this is definitely not a 4 in my book.
What's odd is that it's a very compelling tale for the sake of getting to the ending.  I want the evil Faerie Queen to go down, that smarmy bitch, and Feyre is a very capable and likable character.  The issue is her main motivation for fighting is her love for Tamlin, and that just wasn't pulled off believably for me.  I don't like their relationship, so her whole motivation for enduring suffering is a bit tainted (though of course I understand doing such for the one you love).  I like the intrigue, the faerie court politics, and the stakes, but it's like one half of the story is silent.
Oddly enough, I'm just as torn on reading the sequel as I am the rating.  The world is interesting, and Maas is certainly setting up some compelling bits for the next part with the High Lord of the Night Court, but again, the relationship dilemma.  I think I'll finish this one up, and then make my decision.
Title: The Illustrated A Brief History of Time/The Universe in a Nutshell
Author: Stephen Hawking
Date Added: June 25, 2016
Date Started: January 2, 2016
Media: Paperback
Progress: 34%
I'm trying to plot out my reading of this as if it's a text book, and honestly, I'm not sure it isn't.  I might have had to buy this for some obscure class.  Even the price tag on it looks like one you'd find in a student book store.
I finished the chapter that outlined general relativity, which is the macrocosm.  The next part will focus on quantum theory, which is the microcosm, so from the very big to the very small.  I'm too tired to expound upon the fascinating facts this volume explains, but the terms it does so in are simple enough for the average mind to grasp.  Although if you asked me to explain what general relativity was, I'd stare at you slack-jawed.  Einstein had a pretty harsh observation for people who couldn't explain things simply.  To be blunt, it meant you didn't understand them well enough.  I am okay admitting that.
Title: The Raven Boys
Series Title: The Raven Cycle
Author: Maggie Stiefvater
Date Added: April 21, 2015
Date Started: January 1, 2016
What continues to fascinate me about this book is how it can burn so slow, yet be such a page turner.  For chapters and chapters, nothing really happened, only the promise of something, and now, the promise is being fulfilled.
Latin.  Speaking.  Trees.
I posted today on Facebook that I really need to teach myself Latin.  While I can always use Google Translate, I would like to have a knowledge base myself.  It is my favorite language to sing in after all.
Title: The Mabinogion Tetralogy
Author: Evangeline Walton
Date Added: August 24, 2014
Date Started: July 31, 2016
Medium: Paperback
Progress: 51%
After more than six months, I've finally read more than half of this.  I'm trying to read 1-2 chapters a session.  I still can't shake the haunting sadness of the last branch though, when the Children of Llyr were all but extinguished.  That was a part that was worthy to be read aloud.  Now only one remains, Manawyddan who is now wed to Rhiannon mother of Pryderi (Manawyddan is his birth father as well, but the prince believes otherwise), and I think this section is really just their long lingering.  I know from needing to see how many pages the compendium has that the book ends with Gwydion son of Don whose name I recognize as he's an integral character in The Chronicles of Prydain.  It will be interesting to see how the Mabinogion Gwydion compares to the Chronicles one.
---
Fanfictions Finished: 0

Fanfictions Currently Reading: 1
Title: I'm the Darkness, You're the Starlight
Author: runicmagitek
Fandom: FFVI
Pairing: Celes Chere/Setzer Gabbiani
I'm worried about my friend 😦
Fanfictions Added to TBR List: 0
---
Books Added to Goodreads TBR List This Week: 4

Title: The Borrowers
Series Title: The Borrowers
Author: Mary Norton
Date Added: January 12, 2017
Years ago, I read The Borrowers Afield as a part of huge haul of books my mother's employers gave her.  They were constantly doing that: giving her things for me and my brothers along with Christmas presents.  Now that I'm older, I have mixed thoughts about this (nothing scandalous or anything like that), but as a child, the more books the merrier.
I logicked out that there had to have been a prior Borrowers book since in this current one they were afield, but I never had access to it.  The Well-Red Mage reminded me of this series in his review of Studio Ghibli's The Secret World of Arriety, whom along with her parents Pod and Homily make up the eponymous Borrowers of the book series.  Now I must correct two egregious affronts: not reading the first book and not seeing the Studio Ghibli movie.
Title: Red Rising
Series Title: Red Rising
Author: Pierce Brown
Date Added: January 12, 2017
She wore me down.  I've been seeing this book floating around the blogosphere (and general webosphere) for a few months now.  The blurb was interesting, but as I've repeated ad naseaum (and will again, sorry!) I have a ton of books on my TBR list, but Cupcakes and Machetes' review, well, she got me.  It's obviously an amazing book, and I trust my friends, so it's another addition to my TBR list.  Also it has one red wing on the cover, so there's a little bit of tingling in my VII Sense, which is totally superficial…though it is a story about people who work and live below the surface so there's that.
Title: Lumberjanes, Vol 1: Beware the Kitten Holy
Series Title: Lumberjanes
Authors: Noelle Stevenson, Grace Ellis, Shannon Waters, and Brooke A. Allen
Date Added: January 13, 2017
With a motto like "Friendship to the Max!" this comes off as a human, more LGBTQ version of My Little Pony, and that along with so many other things makes this another comic/graphic novel I need to read.  I mean holy kittens look at that cover, the diversity is beautiful, and there are lesbian, bi, and trans characters set in a magical summer camp..  I don't need much more to tell me this is something I should read.  I owe the Writing Hufflepuff a great debt for introducing this to the world through her post!
Title: The Pendragon Protocol
Series Title: The Devices Trilogy
Author: Philip Purser-Hallard
Date Added: January 15, 2017
Despite my lack of official study, I am quite fond of and interested in Arthurian Legend.  I used to own a deck of the Arthurian Tarot, which was beautiful, but didn't really connect with me.  Either way, a modern day retelling of the legend is refreshing and a necessary deviation from the typical medieval fare.  I was put onto this by a review of the third book by Kim of By Hook and By Book, and conveniently, she had one for this.  It was highly rated, and so I thought it worthy for an add.
---
Total Books on Goodreads TBR List: 545
Change from Last Week: +4

---
Books Added to Goodreads To Be Reread List This Week: 0

---
Books Purchased This Week: 1

In the House of the Worm by George R R Martin – purchased and started this week.
---
What are you currently reading and/or what's on your radar to read next?  What would you recommend based on my current and recently added?  As always I look forward to your comments and suggestions!
<–The State of the Reader: 1/11/17          The State of the Reader: 1/25/17–>
Save
Save
Save
Save
Save
Save
Save
Save