Title: The Raven Boys
Series Title: The Raven Cycle
Author: Maggie Stiefvater
Date Added: April 21, 2015
Date Started: January 1, 2017
Date Finished: January 26, 2017
Reading Duration: 25 days
Genre: Fantasy, Paranormal/Supernatural, Young Adult (YA), Romance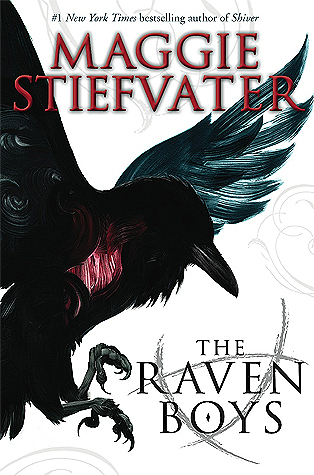 Pages: 468
Publication Date: September 1, 2012
Media: Kindle
Every year, Blue Sargent stands next to her clairvoyant mother as the soon-to-be dead walk past. Blue never sees them–until this year, when a boy emerges from the dark and speaks to her.
His name is Gansey, a rich student at Aglionby, the local private school. Blue has a policy of staying away from Aglionby boys. Known as Raven Boys, they can only mean trouble.
But Blue is drawn to Gansey, in a way she can't entirely explain. He is on a quest that has encompassed three other Raven Boys: Adam, the scholarship student who resents the privilege around him; Ronan, the fierce soul whose emotions range from anger to despair; and Noah, the taciturn watcher who notices many things but says very little.
For as long as she can remember, Blue has been warned that she will cause her true love to die. She doesn't believe in true love, and never thought this would be a problem. But as her life becomes caught up in the strange and sinister world of the Raven Boys, she's not so sure anymore.
---
Until I looked up the genre on Goodreads in order to update it, I never once thought that this book could be considered Young Adult, but it fits all the criteria.  I think it's because I constantly avow that I'm not a fan of YA (even though three of my favorite stories/series fall into that category), which leads me to believe I don't like YA that has all the stereotypical foibles of the genre.  The Raven Boys has absolutely none of these.
If you are searching for a poorly used cliche in this magnificent series opener, you will turn up empty handed.  Neither it nor the titular boys are anything what you would expect. In less deft hands, they would come off as snotty and pretentious, but Ms. Stiefvater's writing makes you interested in them and their issues from the acerbic, snarky Ronan to the determined Gansey on his quest for a sleeping king to Adam quiet in torment and to nearly invisible Noah. It's written to make you empathize with all of their plights, and their interest in the paranormal for various reasons helps separate them from typical rich boys.
Blue acts as a binding agent for both the them and the clairvoyant women of 300 Fox Way, but thankfully, the author doesn't just relegate her to the role of plot device.  Blue "makes things louder," a sort of psychic amplifier for reasons only touched upon in this first part of the series that will hopefully be elaborated upon before the end.
Since The Raven Boys is about more than one thing, it's hard to talk about the plot, and in truth, it's more character driven than plot driven.  Gansey's quest for Glendower is important, but so are the mysteries surrounding the death of Ronan's father, Adam's quiet stubbornness, Noah's shyness, and Blue's paternity.  Nor do all of these plot coupons jumble up the narrative.  Rather they all fit into the story as naturally as the ley line that runs through Henrietta, inherently entwined and more than likely all interconnected through that source.
5 stars.
Save
Save
Save
Save
Save
Save
Save