<–The State of the Reader: 2/8/17          The State of the Reader: 2/22/17–>
A weekly post updated every Wednesday detailing my current reading projects and where I am with them in addition to what new titles I've added to my to-read list.  Title links go to Goodreads to make it easier for interested parties to add any books that might strike their fancy.  I attempt to use the covers for the edition I'm reading, and I'll mention if this is not the case.  If you have a Goodreads account feel free to friend me!  I'd love to see what you're reading and/or planning to read.
---
DNF This Week: 1

Title: Vassa in the Night
Author: Sarah Porter
Date Added: October 15, 2016
Date Started: January 25, 2017
DNF Date: February 8, 2017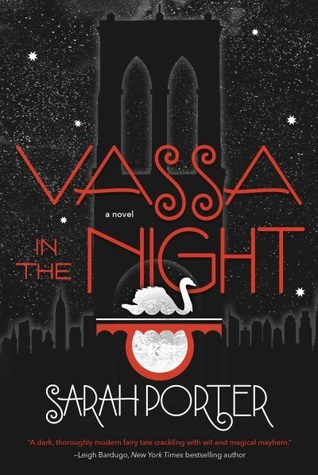 Media: Hardback
DNF Progress: 20%
I think the moment I say I'm probably going to declare something DNF is the moment I've decided it's going to happen.  It wasn't what I expected, which isn't always a bad thing…but it was in this case because this novel was not only urban fantasy, but young adult, the two (sub) genres I have the most trouble with.
I actually wrote the review for it last weekend, but I need to proofread it before I post.  I manage to go off on a tangent that includes both Shakespeare and FFVII, which considering that I'm a writer and an FFVII fanatic, is not that farfetched.
---
Books Purchased This Week: 5

Title: Dolor and Shadow
Series Title: Tales of the Drui
Author: Angela B. Chrysler
Date Added: June 16, 2016
Date Purchased: February 11, 2017
Media: Kindle
Price: $2.99
Every time I look at the title of this book, the words "Saevam iram, iram et dolorum…" run through my head like the merciless earworm they are.  Bonus points if you know where those words are from.
Title: Urchin of the Riding Stars
Series Title: The Mistmantle Chronicles
Author: Margaret McAllister
Date Added: May 17, 2016
Date Purchased: February 11, 2017
Media: Hardcover
Price: $0.01
When I find books on my TBR list for less than $1.00, I'm quick to scoop them up.  This looks like a re-purposed library book; I don't know yet, since I just ordered it from Amazon this weekend, and it's going to take a few weeks to get to me.  This one and the one below were recommended due to my love of Redwall (and looking at the covers, it's plain to see why).  Even if I don't like either of them, I paid more for the shipping than for the books, and I've wasted $5.00 on worse things.
Title: The Dark Portal
Series Title:The Deptford Mice
Author:Robin Jarvis
Date Added:May 13, 2016
Date Purchased: February 11, 2017
Media: Hardcover
Price: $0.01
Title: Prince Lestat and the Realms of Atlantis
Series Title: The Vampire Chronicles
Author: Anne Rice
Date Added: February 13, 2017
Date Purchased: February 12, 2017
This is one of those rare books that I bought before I added, and I had to put all the information into this post while trying not to read the blurb, because I haven't finished the prior book Prince Lestat.  I started it over a year ago, but I think my designated reading time for it was before jazzercise.  Since I haven't been there in more than a year, and since I didn't start scheduling my reading time until after I put it aside, I never got through the novel.  It's not a DNF though.  I full intend to finish it.
The reason I purchased the sequel was due to a tweet by Anne Rice herself, informing her followers that the book was only $0.99 on Amazon.  Like I said above in regards to Mistmantle and The Deptford Mice, I won't pass up a buy on any book on my list if it's under $1.00.  That would just be silly.
Title: Riddled With Senses
Author: Petra Jacob
Date Purchased: February 15, 2017
I made a promise to fellow blogger Inkbiotic that I would purchase her book after receiving my next paycheck, and I've gladly kept that vow.  If the samplings she's so graciously posted on her blog are any indication, I'm going to enjoy this greatly.  It's magical realism with a same sex relationship.  Yes and yes.
---
Books Currently Reading: 6

Title: Prospero Lost
Series Title: Prospero's Daughter
Author: L. Jagi Lamplighter
Date Added: June 19, 2016
Date Started: February 11, 2017
Since I declared Vassa in the Night DNF, it was necessary for me to pick another physical book to read the next time Vassa came up in my reading rotation (I'll have to tell you all about that some time…).  I actually wasn't entirely set on what to choose next, so I decided to read the first page in a few of the books in my pile and see what caught my fancy.
Prospero Lost was one of those books I judged by its title and cover first (so you see I wasn't lying in my Rapid Fire Book Tag post), and I judged it well.  I don't just buy books based on that though (I've been burned quite a few times before), but the blurb sparked by interest even more.  An ancient and immortal, magical family in the modern era who own a company that strives to do good in the world.  It was a tidy bit different from most mega-corporations in sci-fi and fantasy (and science fantasy), and since I have writing ideas for something similar, reading this book would also be a good learning experience.  The writing is good, and the plot coupons thus far presented are intriguing.
Then I came to this paragraph:
"I sat at a wrought-iron table next to the fountain, stirring my tea.  My hair, so pale as to appear silver, was piled atop my head in a Grecian style that had gone out of vogue more than a century ago.  My garment, a tea gown with a high lacy collar — the enchanted satin of which matched the emerald of my eyes…"
All I needed.
Title: The Missing Orchid
Series Title: Submissive Beth Mysteries
Author: Fia Black
Date Added: February 2, 2017
Date Started: February 8, 2017
I'm really hoping this case turns out differently from Beth's others.  She's investigated missing persons before, but they usually end up dead.  It's not that every story needs a happy ending, but I really hope this one ends in a happy reunion
Title: The Illustrated A Brief History of Time/The Universe in a Nutshell
Author: Stephen Hawking
Date Added: June 25, 2016
Date Started: January 2, 2016
Media: Paperback
Progress: 27%
I just finished the chapter about black holes, and the next chapter proclaims that black holes aren't actually black.  Astrophysics is amazing.
Title: The Dream Thieves
Series Title: The Raven Cycle
Author: Maggie Stiefvater
Date Added: January 23, 2017
Date Started: January 26, 2017
I'm tearing through this just as quickly as I ripped through the first.  Somehow Ms. Stiefvater managed to make a drug laden, dangerous teenage party with Molotov cocktails in a field seem poetic #talent
Title: The Mabinogion Tetralogy
Author: Evangeline Walton
Date Added: August 24, 2014
Date Started: July 31, 2016
Medium: Paperback
Progress: 63%
One of the many things I find interesting about this compendium is how it will return to prior characters that were main ones in another branch and have them be side characters or even antagonists.  Since the fourth branch focuses on Gwydion and his brother Gilvaethwy, it's from their point of view, and prior characters could be in positions set against them.
It's also fascinating to note that the Old Tribes don't really have a sense of fatherhood, but the New Tribes do.  The New have also introduced the idea of marriage, which many of the Old are quite against for good reason.  This fatherhood conundrum is a concept that I've read in both fiction/fantasy and historic or rather prehistoric fiction before.  You have to leave your presentism behind and remember that science and technology have not always been on the same level.  Women's bodies were (and still remain in many cases much to my annoyance) a complete mystery.  No one really understood how conception occurred and sex was seen as merely pleasure or relief.  The connection between it and babies wasn't a necessary fact, which meant that the idea of fatherhood was tenuous at best.  Even when it was mentioned, many scoffed at it since women aren't impregnated by each sexual encounter, though Gwydion does note that if a cow is put into a field alone or only with other cows, she remains barren; however, if you add a bull, she'll become pregnant.  Unfortunately, human pride stymies this comparison due to the idea of special creation (which I think is bunk) and not wanting to be compared to the beasts of the field.  Even in the present, this idea persists, which puts a damper on a great deal of progress and progressive thought.
Title: "Beta Reading"
Author: High School Friend/Fellow Author
Date Added: N/A
Date Started: February 14, 2017
Media: PDF/Kindle
Progress: 10%
What the hell is this? you ask.  Well an author friend of mine from high school whom I keep in touch with through the book of faces honored me the other day by asking me to beta read one of his novels.  I gladly accepted and figured out how to work it into the rotation.  He sent it as a PDF so I'm reading it on my Kindle during my lunch break along with the other two Kindle books.  He asked if I could have it finished by late February/early March, and I don't think that will be a problem.
Obviously due to it being an unpublished novel, I can't tell you anything about it or rather I'm erring on the side of discretion.  I'll post my progress on it, just because it's better for me to do so, since I'm more likely to make progress on reading, but alas, I shall have to keep details about the book hush hush until it's published.
---
Fanfictions Finished: 0

Fanfictions Currently Reading: 1
Title: I'm the Darkness, You're the Starlight
Author: runicmagitek
Fandom: FFVI
Pairing: Celes Chere/Setzer Gabbiani
She updated this week! I haven't had a chance to read the next chapter yet.  I'm hoping this weekend will allow it.
Fanfictions Added to TBR List: 0
---
Books Added to Goodreads TBR List This Week: 4

Title: Komarr
Series Title: Vorkosigan Saga
Author: Lois Bujold McMaster
Date Added: February 13, 2017
I replied to a comment on a body positivity site about bullying, and another commenter replied to me recommending this book.  Though the blurb appears to be in Swedish, Goodreads insists the book is in English, and though it's the 11th book of the series, I was informed this would be one I'd want to read.  The main character deals with bullying from all sources (family and schoolmates), which is something I grew up with, and like the MC, I was told to "ignore it and it'll go away," which is absolute bullshit.  I thanked the purveyor of the comment and added this to my TBR list.
Title: Prince Lestat and the Realms of Atlantis
Series Title: The Vampire Chronicles
Author: Anne Rice
Date Added: February 13, 2017
I talked about this above in the Purchased This Week section.
Title: One
Author: Sarah Crossan
Date Added: February 13, 2017
Thank you to The Writing Hufflepuff for throwing this into my sphere!  Apparently, it will rip my heart out.  I am so not ready D:
It's about conjoined twin sisters Tippi and Grace who are perfectly happy being two in one, but then something happens that forces them to make the choice they've always been avoiding, and I already have a feeling I know what's going to happen…
Title: Dweller
Author: Jeff Strand
Date Added: February 13, 2017
My Rapid Fire Book Tag (which I've already linked above) incited others to join in the fun, which is what such tags are about!  But there is a selfish side to the book tag phenomenon mwa ha ha, and that's the fact that I find out about more new books to add to my ever growing TBR list.  Wait…this may not be so advantageous after all noooooo.  Hehe, truly, while I'll never have time to finish them all, I'd hate to miss something I may very well love, and Ignited Moth almost casually mentioned this interesting horror gem (horror gem?  Horror gem?) in the Underrated Book section of the tag.
We've all heard stories about monsters in the forest and bogeymen in the woods.  They're usually the Big Bad of any tale, and initially the main character Toby is terrified when he sees the creature in question, but the next time he encounters it, he's lonely, unhappy teenager bereft of friends and overburdened with bullies.  The hungry creature provided a solution to both.  I just put this on my "Really Want To Read" list.
---
Total Books on Goodreads TBR List: 554
Change from Last Week: +3

---
Books Added to Goodreads To Be Reread List This Week: 0

---
What are you currently reading and/or what's on your radar to read next?  What would you recommend based on my current and recently added?  As always I look forward to your comments and suggestions!
<–The State of the Reader: 2/8/17          The State of the Reader: 2/22/17–>
Save
Save
Save
Save
Save
Save
Save
Save
Save