<–The Raven Boys (TRC #1)                                   Blue Lily, Lily Blue (TRC #3)–>
Title: The Dream Thieves
Series Title: The Raven Cycle
Author: Maggie Stiefvater
Date Added: January 23, 2017
Date Started: January 26, 2017
Date Finished: March 4, 2017
Reading Duration: 37 days
Genre: Fantasy, Paranormal/Supernatural, Young Adult (YA), Romance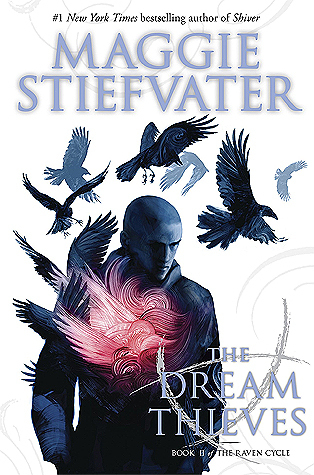 Pages: 453
Publisher: Scholastic Press
Publication Date: September 17, 2013
Media: Kindle
Shares Paradigms With: Sleeping Beauty, Final Fantasy VII, Final Fantasy X, Inception, The Golden Compass/Northern Lights
Now that the ley lines around Cabeswater have been woken, nothing for Ronan, Gansey, Blue, and Adam will be the same. Ronan, for one, is falling more and more deeply into his dreams, and his dreams are intruding more and more into waking life. Meanwhile, some very sinister people are looking for some of the same pieces of the Cabeswater puzzle that Gansey is after….
---
*******Spoilers for the first book The Raven Boys in the review*******
"It was as though he had dreamt of the Tree of Life and awoke with an apple in his hand."
–Northern Lights
I apologize for my blatant narcissism in using a quote from my own work in the beginning of this review, and I also apologize for seeming to steal the idea from the Well-Red Mage and co who come up with brilliant quotes for each of their entries.  I've always been a fan of quotes in the beginning of stories and chapters.  It's something I did both in Northern Lights and my original paranormal romance The Serpent's Tale.  All stories regardless of media are part of the zeitgeist, the spirit of the times that connects them all, and The Dream Thieves brought this quote and concept fiercely to the forefront, since it implies pulling things out of dreams, and that's exactly what Ronan can do.
Now that disclaimers and pleasantries are out of the way, the second book in Maggie Stiefvater's Raven Cycle is a bit slower than the first, probably because it has such a heavy focus on dreams.  The narrative still builds and lays the foundation for something truly epic in installments to come, but there's something fittingly raw in this story that focuses on Ronan, the most blatantly bitter member of Gansey's crew.
At the end of The Raven Boys, Ronan drops a bombshell that reverberates throughout the entire second book.  He discloses Chainsaw, his pet raven, was literally drawn from his dreams into this reality, *spoiler* and he inherited this ability from his murdered father, Niall Lynch, who pulled everything he both owns and holds dear from the dreamscape.  It is unknown whether or not either or Ronan's brothers, Matthew or Declan, also have this ability, *end spoiler* and throughout the novel he draws both horrors and wonders from the recesses of his mind with some of the living things being not a curious hatchling, but rather monstrous entities hellbent on tearing the raven boy apart.
One of the stipulations of Niall Lynch's (Ronan's father's) will was that none of his sons could ever return to the Barns, their eclectic and rustic home, at pain of losing their enormous inheritances.  But Ronan has never been one to follow the rules, and he wants to see his mother.
The Barns has a Sleeping Beauty vibe to it with all of the creatures on its grounds trapped in wakeless slumber, and most of the accoutrements within were pulled from Niall's dreams.  "Electronic" devices still function (without the need of any electricity), but any sentient creature is lost to the world of dreams they themselves were pulled from.  This is how Ronan's father made his fortune, *spoiler* and it's also how he found Aurora, his wife.  Ronan's mother is a dream, now catatonic in this reality that contains her husband's death.  As the Lynch boys often repeat, their mom "is nothing without dad."  This is not an exaggeration, but rather a statement of literal and heartrending truth. 
At the end of the story, when Ronan brings Aurora to Cabeswater, she awakens like the dawn.  She does share a name with the ephemeral, ethereal northern lights that have both fascinated and haunted mystics and dreamers for ages.  The lights that fade in the morning when sleepers revive. *end spoiler*
Unfortunately, Ronan's ability like his father before him, comes with a price.  Every time he pulls something from a dream, it (temporarily) depletes the power of Henrietta's ley line, which jeopardizes Gansey's main mission to locate Glendower, the sleeping Welsh king.  *spoiler* This also begs the question of whether or not Glendower is sleeping because he's the dream of someone who died long ago. *end spoiler*  However, Ronan isn't the only dream thief.  The other one happens to be his nemesis who couldn't care less about what his selfish deeds are doing to the ancient, mystical energy source and Cabeswater, the land out of time whose existence is dependent on it.
There's also the complication of Mr. Grey who's come to Henrietta in search of the greywaren, *spoiler* an "item" that can take things from dreams. *end spoiler*   I usually love a hot hit man, but it wasn't until Mr. Gray found his heart *spoiler* caused by dating Maura, Blue's mom *end spoiler* that I started to warm up to him (the link to TV Tropes literally has him an example under the Literature folder).  *spoiler* He did murder Naill Lynch per the orders of his employer Greenmantle, but by the time this is disclosed, your sympathy for the Gray Man is already set.  Though obviously Ronan and his fists have a lot to "say" about that. *end spoiler*
Magical people and creatures is a growing theme in this narrative, but magic comes with a price.  Ronan's dreaming saps the ley line so vital to Gansey's search for Glendower, and Adam has been forever changed by what he offered at the climax of The Raven Boys.  He became the embodiment of the Magician Major Arcana, but this not only alienated him from Gansey, it was also a factor in driving a nail in the coffin of any relationship he might have had with Blue.
All of the Raven Boys (including Blue who is now one of them by proxy) are magical creatures.  Blue's father, Artemus, is from the past, which has deep implications for Blue's nature and why she can amplify psychic energy so well.  Noah is a ghost, a revelation from the first book, and the energy of the ley line helps keep him visible and viable.  Adam, as fore mentioned, is the Magician, the one who uses the tools he has to create wonders.
Gansey's abilities seem more mundane.  He has the power of wealth, which people like Adam and Blue would certainly view as "magical,"  since they're without, but Gansey has also cheated death, or rather, he traded deaths with Noah, which may be a reason their spectral companion is still hanging around.  He may be waiting to witness the fruition of the debt he's owed.  Considering the catalyst for the entire series is Blue witnessing Gansey's foretold demise on the corpse road (a darker name for the ley line), things can only grow stranger and more interesting from here.  And without a doubt Noah's plight is one of the most interesting takes on a ghost story I've ever read.
Finally, Ronan, the focal point of the second book, *spoiler* son of the dream and son of the dreamer.  His father literally pulled the one who bore him and his brothers from an ethereal source *end spoiler* the bitter dreamer.  He is a difficult character to align with, because he so often does things without thinking of the consequences.  The Dream Thieves does at least present numerous reasons why he is this way, and The Raven Boys didn't do a terrible job of introducing the tightening tension between him and Declan, his older brother.  He seems more like their father.  Matthew is like their mother, and Ronan is the literal middle child, wavering somewhere in between.
"All that we see or seem is but a dream within a dream…"
–Edgar Allan Poe "A Dream Within a Dream"
4 stars.
<–The Raven Boys (TRC #1)                                   Blue Lily, Lily Blue (TRC #3)–>
Save
Save
Save
Save
Save
Save
Save
Save
Save
Save
Save
Save