<–The State of the Reader: 3/22/17          The State of the Reader: 4/5/17–>
A weekly post updated every Wednesday detailing my current reading projects and where I am with them in addition to what new titles I've added to my to-read list.  Title links go to Goodreads to make it easier for interested parties to add any books that might strike their fancy.  I attempt to use the covers for the edition I'm reading, and I'll mention if this is not the case.  If you have a Goodreads account feel free to friend me!  I'd love to see what you're reading and/or planning to read.
---
Samples Read This Week: 7

Picture Source: 2010118 by feimo
If You Find Me by Emily Murdoch: Kept (RWTR) – I'm noticing a pattern as I download and read through samples.  I almost know right from the first page if I'm going to keep it and if it's going to be in the "really want to read" category.  I also know if I'm going to pass on it.  This book "broke" an accent rule.  A recent writing tip I read stated that you shouldn't write out accents.  If You Find Me breaks it a little with having the narrator Carey speak in a way where she leaves off her "g's."  It makes sense though since she and her sister are living in the woods of Tennessee, and it draws you more into the story rather than out of it.  If I know I'm going to keep a book on my TBR list, I usually stop reading the sample so that I'm not going too far into the novel, but with this I read until the end and wished there was more.  There is something extremely heartbreaking about the plight of Carey and her little sister,, abandoned by their mentally ill, drug addicted mom and more than likely abused by their dad (which is probably why the mom left him ten years ago in the first place).  This is also not my typical fantasy fare, but it may be finding its way onto my Kindle very soon.
The Master and the Margarita by Mikhail Bulgakov: Kept (Library) – I really hate when samples have long introductions/forewords, and the sample ends before you really get out of those sections.  That's what happened with this book, so I really didn't get to read much of the story proper.  I decided to keep it, but put it onto my Library shelf, since I don't know enough about it to warrant spending money, but for the same reason, I still want to give it a chance.
Frostfire by Amanda Hocking: Kept (RWTR) – I already had this on my really-want-to-read list, and there it shall remain.  I was a little confused what kind of people these were when the main character said that they were allowed "human music and movies," but the blurb revealed they're trolls, and I thought it was cool that it seems to take place in a modern era where trolls (and probably other beings) coexist alongside humans.  I also totally called the villain of this story.  He was introduced in the sample and was portrayed as an attractive member of the elite guard that the main character looked up to.  Uh-huh.  I'm not going to give away what happened next, but I was very unsurprised.  This doesn't diminish me desire to read this book in the slightest though.  I'm too well versed in fantasy tropes to be consistently surprised, and I actually like when I'm right so long as the trope is used well.
---
Books Purchased This Week: 1

Title: Red Queen
Series: Red Queen
Author: Victoria Aveyard
Date Added: January 6, 2016
Date Purchased: March 24, 2017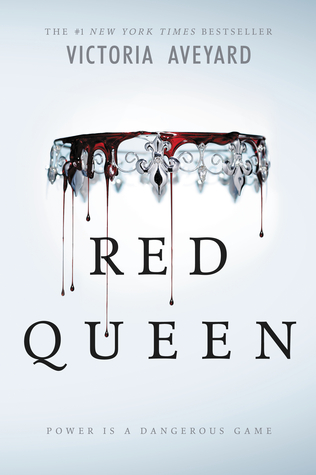 Media: Paperback
Price: $8.79
Retailer: Target
---
Books Currently Reading: 5

Title: Riddled With Senses
Author: Petra Jacob
Date Added: January 28, 2017
Date Started: March 19, 2017
Media: Paperback
Progress: 21%

There's a brilliant commentary on the paradox of not wanting to conform, but also not wanting to fall into the trap of the non-conformist, which is another type of conformity.  It's something very relevant to the age group Jitty, Hazel, and crew belong to, but the Era of Chaos has just begun.
Title: Blue Lily, Lily Blue
Series Title: The Raven Cycle
Author: Maggie Stiefvater
Date Added: March 4, 2017
Date Started: March 5, 2017
It happened.  The part in the book where the title is said, and the speaker of it is revealed.  I was not expecting those words to come from that source, and I actually went over my typical one chapter for the day because it ended right when something extremely interesting occurred.  I want to know what "Blue Lily…" has to do with Blue's character.  Is she the blue lily?  Is Lily going to be her secret middle name?  There's still nearly half a book left to get through.
Title: The Quantum Door
Author: Jonathon Ballagh
Illustrator: Ben J. Adams
Date Added: February 18, 2016
Date Started: March 3, 2017
The delineation of the typical three acts are quite sharp in this novel.  The first part is when the boys discover the eponymous door; the second is when they go through it; and the third is when they need to return something that came through to our world to the other.  There are obviously other considerations, but it's a rare few stories that so clearly define their three acts.
Hm, this is making me want to make a post about the three acts in other stories…
Title: The Illustrated A Brief History of Time/The Universe in a Nutshell
Author: Stephen Hawking
Date Added: June 25, 2016
Date Started: January 2, 2016
Media: Paperback
Progress: 47%
I think I'm one (or maybe two) chapters away from finishing the first part of this.  The chapter I'm on now is discussing string theory, and I…kind of get it.
Title: The Mabinogion Tetralogy
Author: Evangeline Walton
Date Added: August 24, 2014
Date Started: July 31, 2016
Medium: Paperback
Progress: 81%
I officially cannot stand any of the main characters in this section/branch.  All of them are terrible.  There's Gwydion who helped his brother assault his uncle's footholder (his uncle, the king) then he tricked the King of Dyved into giving up his swine herd, and when the rival king obviously sought retribution, him and all of his men were killed in what was considered "fair" battle, but really Gwydion just tricked him again.  He has no qualms about using his powers to manipulate people, and he's supposed to be the king after his uncle Math who is the only decent character in this part.  Then there's Arianrhod, Gwydion's sister.  She lied about having relations with men and attempted to be the king's new footholder (only virgins are allowed to do it…I could say a lot about the concept of virginity, but we'll let that slide), so when Math tested her, she not only failed, but actually gave birth right then and there (mythology is weird).  That child swam away, but somehow or another, Gwydion got another child from her prematurely and kept it in a box, but when he presented this son to Arianrhod, she utterly rejected her own child.  Oh, and this woman also blamed the footholder for getting her brothers in trouble #fuming  I suppose it's better that the reprehensible characters were saved for the end since I might have given up reading this had they been the forerunners.
---
Fanfictions Finished: 0

Fanfictions Currently Reading: 2

Title: I'm the Darkness, You're the Starlight
Author: runicmagitek
Fandom: FFVI
Pairing: Celes Chere/Setzer Gabbiani
No updates for this one.  I still need to check her tumblr.  I really haven't been on that site except to answer messages from people.
Title: I Will Call You Home: A Recounting of the Fifth Blight
Author: AtheneTseta
Fandom: Dragon Age
Pairing: Leilana/Various
I read two chapters last time I had a chance to do so, but I missed my Monday reading (I think I have this on my planner for Mondays and Thursdays).  They were hard to read due to some terrible things that happened (which means the writing is fantastic).  I abhor religious zealots.
Fanfictions Added to TBR List: 0
---
Books Added to Goodreads TBR List This Week: 5

Title: Bull
Author: David Elliott
Date Added: March 23, 2017
Recommended by: By Hook or By Book
Kim and I had a nice discussion about myth retellings in the comments of her review post.  Mary Renault's The King Must Die and its sequel The Bull from the Sea are probably my favorite ones.  I love the way she writes.  I've read The Last of the Wine, too, which is about two Athenian youths who are best friends, and Fire from Heaven, the first in her Alexander the Great series is on my TBR list.  Suffice it to say, I have a fondness for retellings.
With Bull, I love the implied crassness in the title.  Plus I'm a Taurus, so anything concerning bulls always has the opportunity for that parallel.  The novel is also written in verse, which puts me in the mind of Paradise Lost, but David Elliott's work is much more tongue-in-cheek.  Either way, it's worth a (sample) read.
Title: The Gathering
Series Title: Darkness Rising
Author: Kelley Armstrong
Date Added: March 23, 2017
Recommended by: By Hook or By Book
Because I passed on Anne Bishop's Written in Blood last week, Kim decided she was going to recommend some YA books I might enjoy.  I do enjoy some (in fact, I really should stop saying I don't; I'm just particular when it comes to writing style), but I'm always game for recommendations!  While the main character Maya claims she's ordinary, save for an odd paw print birthmark on her hip, the cover certainly has a mystical cast to it, an almost James Cameron Avatar vibe to be honest.  That's more than likely due to the blue that's supposed to imply night, but the dangling earring in her ear doesn't help diminish this assessment.
Title: Dead Witch Walking
Series Title: The Hollows
Author: Kim Harrison
Date Added: March 23, 2017
Recommended by: By Hook or By Book
I swore I already had Kim Harrison on my TBR list, but apparently I didn't.  Her name sounds really familiar, and I think my writer BFF has probably mentioned her a few times.  I know I've been in discussions about her writing before.  Anyway…this is the other YA book Kim from By Hook or By Book recommended.  It's also an urban fantasy so I'm cautiously optimistic.
Title: Waiting for Godot
Author: Samuel Beckett
Date Added: March 24, 2017
I should've added this years ago when I randomly read something about how Yuffie's father (from FFVII) was named after Godot, the absent character.  I think his name sounds close to it (is it Gogo?  Am I thinking of the mimic from FFVI or do they share a name?), but it's a minor detail I don't remember (it doesn't concern Sephiroth, so it probably was replaced by something else).  Either way, it's a play I should've read a long time ago, regardless of its connections with VII.
Title: The Spirit Within
Author: Sheila Renee Parker
Date Added: March 25, 2017
One of my recent follows is the author of this book.  I always try to check out my blog follower's pages to see if we've like minded interests in our posts, and I'm almost guaranteed to follow any author.  Though the book's title reminds me of the lackluster Final Fantasy movie, it seems anything but.  A tale of dealing with an abusive relationship with a supernatural twist, I'm quite excited to see what unfolds (yes, that was supposed to be a flower pun because of the cover).
---
Total Books on Goodreads TBR List: 443
Change from Last Week: +1

---
What are you currently reading and/or what's on your radar to read next?  What would you recommend based on my current and recently added?  As always I look forward to your comments and suggestions!
<–The State of the Reader: 3/22/17          The State of the Reader: 4/5/17–>
Save
Save
Save
Save
Save
Save
Save
Save
Save