<–The State of the Reader: 3/29/17          The State of the Reader: 4/12/17–>
A weekly post updated every Wednesday detailing my current reading projects and where I am with them in addition to what new titles I've added to my to-read list.  Title links go to Goodreads to make it easier for interested parties to add any books that might strike their fancy.  I attempt to use the covers for the edition I'm reading, and I'll mention if this is not the case.  If you have a Goodreads account feel free to friend me!  I'd love to see what you're reading and/or planning to read.
---
Samples Read This Week: 7

---
Books Purchased This Week: 1

Title: Melkorka
Series Title: The Kaelandur Series
Author: Joshua Robertson
Date Added: January 5, 2016
Date Purchased: April 4, 2017
Media: eBook/Kindle
Price: $0.00
Retailer: Amazon
Nothing cheaper than something free!  (Bonus points to whomever guesses where that's from, and you have to tell me who says it).
---
Books Finished This Week: 1

Title: The Quantum Door
Author: Jonathon Ballagh
Illustrator: Ben J. Adams
Date Added: February 18, 2016
Date Started: March 3, 2017
Date Finished: March 31, 2017
Reading Duration: 28 days
This was a decent mid-grade/YA novel.  The pacing was great, the action rarely ceased, and the main characters were relatable in numerous ways.  There were some issues such as the author not doing a good job of explaining that the story took place in the (near) future or even why he felt the need to set it there.  But besides that a few more minor details, it was a fun read, and I'd be interested in reading any sequels to it.
---
Books Currently Reading: 5

Title: The Descendents
Series Title: The Arete Series
Author: Rae Else
Date Added: March 5, 2017
Date Started: April 1, 20147
Recommended by: Rae Else
The author graciously sent me a copy of this to read before publication on April 12.  I was hoping to finish it before that date so I could give her some feedback, but alas, it is not to be so.  So far, I'm enjoying it immensely.  Ms. Else is doing a fine job juggling the multitude of characters and heightening the mystery around them.  I've read a number of books about people who are or claim to be descended from gods; this one is a little bit different in that the characters are descended from mythological beings such as Medusa.  The past is always the foundation of the future, but what the future holds is never clear.
Title: Riddled With Senses
Author: Petra Jacob
Date Added: January 28, 2017
Date Started: March 19, 2017
Media: Paperback
Progress: 36%

The book has drawn me in so thoroughly that when I went to note the page number I was on, I read a few more "chapters.  The stream of consciousness language mirrors some of my own shadowed thoughts, and while I don't have the controlled substances to fuel my madder moments, my own brain chemicals seem to be a doing a fine job of it on their own.
Title: Blue Lily, Lily Blue
Series Title: The Raven Cycle
Author: Maggie Stiefvater
Date Added: March 4, 2017
Date Started: March 5, 2017
This book and series just remains full of surprises with never a dull moment even when the characters are doing seemingly dull things.  It's like they're part of something so much greater than themselves, and they're just starting to realize it.  There's a definite fatalistic vibe to this story, and the villains in it are that too self-assured, elitist control freaks that you can't wait to see fall.
Title: The Illustrated A Brief History of Time/The Universe in a Nutshell
Author: Stephen Hawking
Date Added: June 25, 2016
Date Started: January 2, 2016
Media: Paperback
Progress: 47%
I think I read maybe three pages of this this week.  I need to be at a certain level of wakefulness to absorb what Professor Hawking is explaining.  I'm about a half a chapter away from the conclusion though (at least to the first part).
Title: The Mabinogion Tetralogy
Author: Evangeline Walton
Date Added: August 24, 2014
Date Started: July 31, 2016
Medium: Paperback
Progress: 82%
I know I'm reading this compendium at a slower crawl, because I don't like the main characters.  Really I just want to see them get their comeuppance, and I'm annoyed that it seems like only Arianrhod (the sister) is receiving any kind of penalty, and the only reason that's happening is because her brother, Gwydion, needs an heir, and the heir has to come from their mother's side.  So the next heir to the throne wouldn't be Gwydion's son, but rather the son of one of his sisters, just like Gwydion is the son of Math, the king's, sister.  The thing is Gwydion has like three other sisters!  Arianrhod may be a bitch, but if she's not cut out for motherhood, don't freaking force her to be a mother!  I get that she lied about being a virgin just for her own pride, and if she had lain with a man then it might have happened anyway, but the issue seems to be really forced.  Also there's a creepy, Lannister twins vibe going on between them, so yeah.
---
Fanfictions Finished: 0

Fanfictions Currently Reading: 2

Title: I'm the Darkness, You're the Starlight
Author: runicmagitek
Fandom: FFVI
Pairing: Celes Chere/Setzer Gabbiani
No update from my friend.
Title: I Will Call You Home: A Recounting of the Fifth Blight
Author: AtheneTseta
Fandom: Dragon Age
Pairing: Leilana/Various
I really wish I could read this faster.  Even though the lovely author keeps apologizing for not getting to the game quick enough, I'm enjoying everything I'm reading (maybe because I haven't played the game, so I can't really tell the difference hehe).  I just finished a chapter about Leilana who's being gaslit by the Chantry mother and her sisters.  I believe her when she says she received a message from the Maker, but then I'm kind of a godless heathen anyway.
Fanfictions Added to TBR List: 11

Title: Crystal
Author: The Angel and the Savior
Fandom: Final Fantasy VII/Final Fantasy XIII
Pairing: Sephiroth & Lightning (SephLight)
Title: Song for the Broken
Author: SolidChief
Fandom: FFVII/FFXIII
Pairing: SephLight
Title: Song for the Fallen
Author: SolidChief
Fandom: FFVII/FFXIII
Pairing: SephLight
Title: Song for the Shattered III
Author: RevenBodyguard
Fandom: FFVII/FFXIII
Pairing: SephLight
Title: Song for the Condemned IV
Author: RevenBodyguard
Fandom: FFVII/FFXIII
Pairing: SephLight
Title: The Undeniable Chemistry That Lies Between
Author: RevenBodyguard
Fandom: FFVII/FFXIII
Pairing: SephLight
Title: Shared Dreams
Author: ShadowAssault
Fandom: FFVII/FFXIII
Pairing: SephLight
Title: Distraction
Author: MistakenValkyrie
Fandom: FFVII/FFXIII
Pairing: SephLight
Title: One Winged l'Cie
Author: AbyssKeeper
Fandom: FFVII/FFXIII
Pairing: SephLight
Title: One Winged l'Cie: Legacy
Author: AbyssKeeper
Fandom: FFVII/FFXIII
Pairing: SephLight
Title: Chaos Rising
Author: AbyssKeeper
Fandom: FFVII/FFXIII
Pairing: SephLight
"Wtf is going on, Shameful Narcissist?!" I hear you say.  "Are you abandoning your Aeriseph pairing for this crossover?  WTF?"  No, come on.  A Deviant Art friend I hadn't heard from in a while sent me a note late last week, and we started talking about fanfictions and what not.  She mentioned that she was into SephLight, the Sephiroth/Lightning pairing, and even though I'm not usually into crossovers, I have thought about the dynamic between the Great General and other characters I consider to be the same/similar archetype.  Since I haven't played FFXIII yet, it's mostly been Celes who's my favorite FFVI character and my favorite female main.  Her and Seph have a similar background insofar as she was augmented with magic at a young age aka made human plus, and she was also a tool of an evil empire corporation.  Celes escaped madness and corruption, though not without great cost.  In describing Celes to a certain Lightning fan, we both realized that she and Lightning have some similar traits (I really can't wait for her to be introduced to the other general), and I would love to hear her opinion on these pieces, since she's the Lightning expert.
Sephiroth and Lightning are a vastly different dynamic from Sephiroth and Aeris.  While I don't think anyone is going to be his physical equal (he's super soldier extraordinaire whose strength can't even be described *swoon*), I would still love to see how he squares off against someone of more physical prowess and a much less "take shit" attitude.  This is not to say Aeris puts up with his nonsense, and it's also not to say she isn't strong, but she's more of the spiritual strength variety.  Like Aeris would be more equivalent to Sansa Stark whereas Lightning (and Celes) would be more like Brienne of Tarth.
So today (Wednesday) I receive a kudos message from AO3, and it's MistakenValkyrie lol (one of the authors I added above).  I don't think there's anyway she could know I added her stories to my TBR list since I didn't bookmark them yet on the site.  I wish I could message her this tidbit, but AO3 doesn't have that availability.  I'll probably mention it when I get around to reading one of her works if she doesn't leave a comment on mine first.
---
Books Added to Goodreads TBR List This Week: 3

Title: First Grave on the Right
Series Title: Charley Davidson
Author: Darynda Jones
Date Added: March 30, 2017
Recommended by: Kim (By Hook or By Book)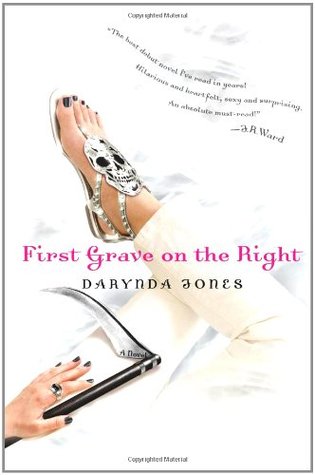 In her quest to convince me to read urban fantasy, Kim recommended this book, though I think she'll be quite proud that I added not one but two UFs to my really-want-to-read shelf.  This book's MC is literally the grim reaper, and while I've read books like that before, I'm always up for another romp with the reaper or a dance with the angel of death.
Title: Hounded
Series Title: The Iron Druid Chronicles
Author: Keven Hearne
Date Added: April 3, 2017
Recommended by: Cupcakes and Machetes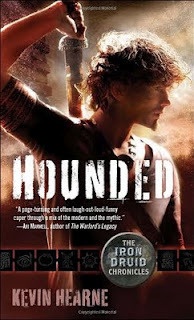 She got me through a comment conversation.  I couldn't resist.  This book sounds too delectable, and I'm a sucker for a bad pun.  The main character can shape-shift into a dog and he's being hunted by an angry Celtic god who wants his magic sword, hence the double entendre of the title.  Very clever indeed.
Title: The Raven King
Series Title: The Raven Cycle
Author: Maggie Stiefvater
Date Added: April 4, 2017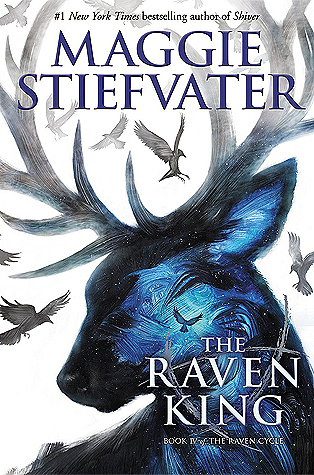 I had to add this without reading the blurb, since I'm still in the midst of the third book, but it just makes sense to add it.  It doesn't break my rule to have it on my TBR list since Blue Lily, Lily Blue is on my currently-reading one.
---
Total Books on Goodreads TBR List: 447
Change from Last Week: +4

The change is a bit deceptive.  I didn't realize until yesterday that my "to-read-next" shelf was exclusive, and I have five books on there.  I made it non-exclusive so it looks like I have more books on my TBR list.  *sigh* Semantics.
---
What are you currently reading and/or what's on your radar to read next?  What would you recommend based on my current and recently added?  As always I look forward to your comments and suggestions!
<–The State of the Reader: 3/29/17          The State of the Reader: 4/12/17–>
Save
Save
Save
Save
Save
Save