<–The State of the Reader: 4/5/17          The State of the Reader: 4/19/17–>
A weekly post updated every Wednesday detailing my current reading projects and where I am with them in addition to what new titles I've added to my to-read list.  Title links go to Goodreads to make it easier for interested parties to add any books that might strike their fancy.  I attempt to use the covers for the edition I'm reading, and I'll mention if this is not the case.  If you have a Goodreads account feel free to friend me!  I'd love to see what you're reading and/or planning to read.
---
Samples Read This Week: 12

---
Books Purchased This Week: 4

Title: The Raven King
Series Title: The Raven Cycle
Author: Maggie Stiefvater
Date Added: April 4, 2017
Date Purchased: April 7, 2017
Media: eBook/Kindle
Price: $11.99
Retailer: Amazon
Title: A Father's Protection
Author: K. J. Hawkins
Date Added: October 21, 2015
Date Purchased: April 8, 2017
Media: eBook/Kindle
Retailer: Amazon
Price: $0.99
Title: Through the Portal
Series Title: Through the Portal
Author: Riley J. Dennis
Date Added: November 29, 2015
Date Purchased: April 9, 2017
Media: ebook/Kindle
Retailer: Amazon
Price: $2.99
Title: Elijah Dart: Angel of Death
Author: Jonathan L. Ferrara
Date Added: November 2, 2015
Date Purchased: April 12, 2017
Media: eBook/Kindle
Retailer: Amazon
Price: $2.99
Total: $18.96
---
Books Finished This Week: 2

Title: Blue Lily, Lily Blue
Series Title: The Raven Cycle
Author: Maggie Stiefvater
Date Added: March 4, 2017
Date Started: March 5, 2017
Date Finished: April 7, 2017
Reading Duration: 34 days
The third book in the series was just as good as the first and the second.  I'll be working on a review sometime this week.  If I keep up this finishing one book a week, soon I'll surpass my 15 book goal, which is perfectly fine with me.
Title: The Illustrated A Brief History of Time/The Universe in a Nutshell
Author: Stephen Hawking
Date Added: June 25, 2016
Date Started: January 2, 2016
Date Finished: April 9, 2017
Reading Duration: 97 days
This was almost like reading an advanced science textbook, and I'm more than happy I don't have to take a test on it.  Oh, I'm sure I could regurgitate facts and figures, but if it was an essay exam on understanding the concepts, I'd be quite screwed.  I think I understood maybe 60% of it on a good day, and 30% on a bad one.  That averages out to 45% (right?), which I don't think is awful for someone who hasn't studied quantum physics or string theory et al.
I'll be writing a (brief) review of the first half of this.  As stated before, I'm taking a break before reading the second part, Universe/Nutshell.  My brain needs a rest from such esoteric science.
---
Books Currently Reading: 5

Title: The Legend of Zelda: Hyrule Historia
Authors: Patrick Thorpe, Various Others, and Translators
Date Added: October 30, 2016
Date Started: April 11, 2017
Media: Hardback
Progress:  15%
I finally started the fabled Hyrule Historia that I bought a few months ago.  It's more of an art book (at least the first part) than I realized, opening with Skyward Sword concepts and descriptions.  I discovered that loftwings were based on the real life birds known as shoebills, which makes perfect sense.
The pictures are beautiful, and I can't wait until I get to the History of Hyrule part.
Title: The Raven King
Series Title: The Raven Cycle
Author: Maggie Stiefvater
Date Added: April 4, 2017
Date Started: April 8, 2017
So a little bird told me that there's apparently going to be a TV series for this!  I'm cautiously excited, because there's always a chance they're going to fuck it up.  I definitely have concrete mental images of what the characters look like and their distinct personalities.  If they get it right, it will be magical; if they get it wrong, it could turn into a whiny, teenage soap opera, and I will be most displeased.
This is the final installment, when all will (hopefully) be laid bare.  The stakes have really never been higher, coming off of a highly spoilerific tragedy in the previous book.  The one thought that keeps circling through my head as I'm reading this is "Gansey is the king, and the king must die…"
Title: The Descendents
Series Title: The Arete Series
Author: Rae Else
Date Added: March 5, 2017
Date Started: April 1, 20147
Recommended by: Rae Else
The story got serious really quickly. Initially, I was as torn as El about what the Order's motivations were, but now I'm definitely leaning in a particular direction, unless Ms. Else is doing a phenomenal deflection, which I wouldn't put past her.  The thing that irks me is El knows nothing (like less than Jon Snow), yet she's being treated as if she was privy to all of the rules, and this goes for both sides: the Order and the resistance.  It was really hard to stop after my one chapter today, but I can look forward to reading the next at lunch tomorrow.
Title: Riddled With Senses
Author: Petra Jacob
Date Added: January 28, 2017
Date Started: March 19, 2017
Media: Paperback
Progress: 45%

It honestly feels like the author rooted through my mind, riddled through my thoughts, and drew some of the more convoluted ones forth.  I don't have the "benefit" of recreational drug use to excuse mine, just my mixed up brain chemicals.  I both have so much to say about this novel, and yet nothing, because it's not something you can really explain; you have to experience it for yourself.  I'm glad I follow Ms. Jacob on WordPress (under Inkbiotic), because I want to be privy to whatever else she's going to put out there as soon as it's made known.
Title: The Mabinogion Tetralogy
Author: Evangeline Walton
Date Added: August 24, 2014
Date Started: July 31, 2016
Medium: Paperback
Progress: 84%
I really wonder if Ms. Walton put the final branch where it is because she knew that people would probably not read the book if it were at the beginning.  It's been a struggle for me to get through a chapter a session, and I find myself groaning when I'm stuck on a long one.  The current has been read in parts (chapters still have chapter breaks), and while it's not wholly uninteresting, I don't have a good connection to the characters, so I'm not as hyped to read about them.  Ah well, I'll be finished eventually.  This is the book I've been reading the longest, since July 2016.
---
Fanfictions Finished: 0

Fanfictions Currently Reading: 2

Title: I'm the Darkness, You're the Starlight
Author: runicmagitek
Fandom: FFVI
Pairing: Celes Chere/Setzer Gabbiani
No update again.
Title: I Will Call You Home: A Recounting of the Fifth Blight
Author: AtheneTseta
Fandom: Dragon Age
Pairing: Leilana/Various
Ugh, I think I read one chapter last week, and I'm really annoyed about that.  This story is far more enjoyable than the part of The Mabinogion Tetralogy I'm stuck on, but with fanfictions, I typically read them after I've done a lot of the tasks on my day planner, whereas physical books are generally read as soon as I get home, and ones on my Kindle are done at lunch.  So a lot of times I'm too tired to read when I get to that point.  I'm trying to work out a better method, but I do always try to leave a comment on every chapter I read, since I know how wonderful it is to receive them myself.  I will say that reading this has proven to me it's very possible to read/enjoy a story for a game (or any other media) you didn't play (watch/read) yourself, as long as the writer has talent.
---
Books Added to Goodreads TBR List This Week: 7

Title: Defy the Stars
Series Title: Defy the Stars
Author: Claudia Gray
Date Added: April 6, 2017
Recommended by: Kim (By Hook or By Book)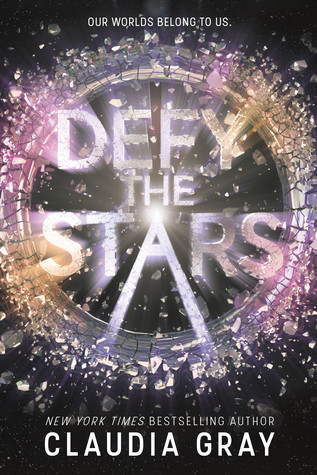 This is an interesting concept for a paranormal romance pairing a teenage (child) soldier with a sworn enemy in an interstellar war, but that enemy is of humanity's own making.  The blurb describes him as "a machine," which leads me to the assumption that he's an android, and I love the fact his name is Abel, the slayer of his brother.
Title: Planetfall
Series Title: Planetfall
Author: Emma Newman
Date Added: April 6, 2017
Recommended by: Bookish Muggle
It took me a long time to add this.  Probably because it's seems purely sci-fi, and my progression into that has been slow.  This takes place in a future where humans are forced to flee the earth, a future that doesn't seem too farfetched now for a number of reasons both fair and foul.  It would be nice to leave with the knowledge we have a home to come back to, but since we continue to spoil it, that seems less and less likely.
Title: Priestess: The Life and Magic of Dion Fortune
Author: Alan Richardson
Date Added: April 8, 2017
One of my most intelligent, well-read, and well-versed friends added this per my Goodreads newsfeed.  She was my BFF in high school, and though we've diverged from that path, we still remain friends on Facebook, and I highly respect her opinion on the esoteric, the religious/spiritual, and many other mysteries.  She knew about Dion Fortune long before I'd ever heard that name or of the Holy Sephiroth (I knew her when I was still obsessed with Final Fantasy VI).  While reading The Mystical Qabalah I certainly had some insights into the mind of Violet Firth, but the chance to find out more about the woman who became Dion Fortune is too much of a temptation to pass up.
Title: The Universe in a Nutshell
Author: Stephen Hawking
Date Added: April 9, 2017 (June 25, 2016)
Just keeping my promise about Professor Hawking's work as mentioned above.
Title: Dealing With Dragons
Series Title: Enchanted Forest Chronicles
Author: Patricia C. Wrede
Date Added: April 9, 2017
Recommended by: Hungry Goriya
I knew this author sounded familiar!  I have her Snow White and Rose Red on my read list.  I was lucky enough to catch HG's Twitch stream the other night (the second night in a row), and while the first evening's discussion was all about the best (and worst for you) food, last night the talk turned to books.  I think that might have been my fault in mentioning Daenerys for some reason.  Were we talking about dragons?  That would make sense owing to the book added.  Oh!  I remember.  A random blue dragon showed up, I did mention Dany because of that, and there we were.
I love when tropes are subverted, and this book does a great job of turning the princess captured by a dragon paradigm on its head.  The princess wants to be captured, since it keeps her from having to marry a prince against her will.  It sounds like a great plan to me.
Huh, now that I'm thinking about it, it kind of reminds me of Final Fantasy IX where Garnet wants to be kidnapped in order to escape Alexandria and her mother's erratic behavior in order to seek help from her Uncle Cid, the Regent of Lindblum.  I love FFIX, and just Final Fantasy in general is all about turning tropes on their head.
Title: Eating Robots
Author: Stephen Oram
Date Added: April 10, 2017
Recommended by: Orchid's Lantern
One of the issues I've found with short story collections is you never know how many stories within are going to be worth your time.  It's especially difficult when you download samples, because the entire volume is judged on the initial tale, so the organizer/editor better start out strong.  I've relegated quite a few short story collections to the "passed-based-on-sample" bin, which doesn't seem quite fair.  I could and should see if they're available at my local library to give a better judgment, but for now I stand by my decision.
According to the writer of Orchid's Lantern, this compendium doesn't suffer from that at all.  Some of the stories are one page or less, and they both eclectic and riveting.  Based on that glowing summation, I figured it was worth an add.  It also serves to expand my sci-fi horizons more, and I can't complain about that.
Title: Blood Rose
Series Title: Blood
Author: Danielle Rose
Date Added: April 12, 2017
It's dangerous to rummage around Amazon even if you're just there to download more samples.  They like to give you recommendations, because Amazon wants all your money.  I almost didn't add this, but I'm a sucker for a enemies to lovers story (I know, right, really?!), and it was the final part of the blurb about just that that was the hook.
Total Books on Goodreads TBR List: 449
Change from Last Week: +2
---
Books Added to Reread List This Week: 1
Title: Wolf of Shadows
Author: Whitley Strieber
Date Added: April 10, 2017
I was on an "checking/adding sci-fi" kick, because I wanted to throw some Asimov and Bradbury onto my list.  Turns out I had Asimov already, and I'd forgotten I'd read the latter's Fahrenheit 451 back in high school concurrently with the above book.  I remember this one guy in my class loved Fahrenheit and totally hated on Wolf of Shadows, which was the one I greatly preferred.  As an adult, I can better appreciate the message Mr. Bradbury was trying to get across (especially now.  Lord…), but I was really into animal-based fiction back in high school and loved the idea of humans who made friends with wolves, though it be for a dire cause.  The apocalyptic background actually disturbed me quite a bit (this was pre-FFVII), but that drifted to the background for my favored paradigm.  I'm curious if I'll feel the same about the book 20+ years later.
---
What are you currently reading and/or what's on your radar to read next?  What would you recommend based on my current and recently added?  As always I look forward to your comments and suggestions!
<–The State of the Reader: 4/5/17          The State of the Reader: 4/19/17–>
Save
Save
Save
Save
Save
Save
Save
Save
Save
Save
Save
Save