<–The State of the Reader: 4/26/17          The State of the Reader: 5/10/17–>
A weekly post updated every Wednesday detailing my current reading projects and where I am with them in addition to what new titles I've added to my to-read list.  Title links go to Goodreads to make it easier for interested parties to add any books that might strike their fancy.  I attempt to use the covers for the edition I'm reading, and I'll mention if this is not the case.  If you have a Goodreads account feel free to friend me!  I'd love to see what you're reading and/or planning to read.
---
Samples Read This Week: 11

Passed: 2
Kept: 9
---
Books Purchased This Week: 2

Title: Gardens of the Moon
Series Title: The Malazan Book of the Fallen
Author: Steven Erikson
Date Added: February 9, 2016
Date Purchased: April 27, 2017
Media: eBook/Kindle
Price: $2.99
Retailer: Amazon
Title: Krim Du Shaw
Author: Talia Haven
Date Added: February 16, 2016
Date Purchased: April 29, 2017
Media: eBook/Kindle
Price: $0.99
Retailer: Amazon
Total: $2.98
Average Price: $1.99
---
Books Finished This Week: 1

Title: Descendants
Series Title: The Arete Series
Date Added: March 5, 2017
Date Started: April 1, 2017
Date Finished: April 28, 2017
Reading Duration: 27 days
Review posted.  I had good things and bad things to say.  The premise is an interesting take on a familiar trope about people descended from gods, and I liked what Ms. Else did with that, but I did have some critiques about execution.
---
Books Currently Reading: 6

Title: A Court of Mist and Fury
Series Title: A Court of Thorns and Roses
Author: Sarah J. Maas
Date Added: January 26, 2017
Date Started: May 1, 2017
Media: Hardback (Library)
Progress: 5%
God bless the library.  It's a severely underused resource, and I should be ashamed.  I've lived in this area for seven years, and it took me that long to procure a library card and even a bit longer to borrow my first book.  Mist/Fury is an excellent candidate, too, since I was so unimpressed with the first one, but curious enough to read the second.  The only reason I'm giving it a chance is because I was told that certain issues I had with the first are rectified in this one, so we'll see.
Right off the bat I'm reminded how much I don't like Tamlin, and that really sucks when you're less than meh on one of the main characters in a romance novel.  I skipped the sex scene, since I don't like him, I don't want to read about sexy time (I also don't like the way its written so there's that, too).  This is going to sound nonsensical, but I don't like their relationship even though their relationship makes sense.  Like it makes sense that they should be together.  They were a unity of opposites from the get-go, the Faerie High Lord and the girl living on the outskirts of Prythian (the Fae lands) who hated them, but whose name is "Feyre," which sounds like "faerie.".  Now she *spoiler* is one of them and *end spoiler* lives among them, but I was really soured on him and therefore their relationship due to that victim blaming bullshit in the first book and the fact she just fell in love with him with no real lead up.
This book isn't doing much to help so far since they're both traumatized by what occured in the first book, but they're not talking about it even though it's effecting their relationship.  In fact I just finished a chapter where Tamlin's emissary Lucien encouraged Feyre to do so, and while yeah, I get things that harrowing can be hard to discuss, for fuck's sake, ignoring it isn't going to make it better, and since they were both there, it's something they could bond over.  In the same vein though, Feyre's PTSD is well shown, so I have to give Ms. Maas that.
Side note: I'm using my Frozen bookmark for this, since it's a library book and eventually I'll have to let it go *runs away gleefully*
Title: The Quantum Ghost
Author: Jonathan Ballagh
Date Added: April 14, 2017
Date Started: April 29, 2017
All of the minor issues I found in the first Quantum book are vanquished in this one.  The author doesn't waste any time jumping into the action, and it's immediately interesting and engaging.  I also like how Remi has some unknown illness that keeps her out of school, but Mr. Ballagh doesn't give away precisely what it is instead only dropping potential clues to leave readers with a mystery, and it may or may not be something we have today, since he specifically states in the beginning that this story takes place in the near future.  Some of the events of Door were mentioned to further ground you in the time period (this takes place afterwards), and it offers up some clues as to what's going on currently.
Title: The Legend of Zelda: Hyrule Historia
Authors: Patrick Thorpe, Various Others, and Translators
Date Added: October 30, 2016
Date Started: April 11, 2017
Media: Hardback
Progress:  40%
I think I've finished the "normal" timeline, and the next part is the alternative one.
Title: The Raven King
Series Title: The Raven Cycle
Author: Maggie Stiefvater
Date Added: April 4, 2017
Date Started: April 8, 2017
The build up in this book is so magnificent, and Ms. Stiefvater is utilizing characters she's never really tapped before.  Minor ones whom Gansey and boy crew have seen around Aglionby.  I was on the edge of my seat reading the last chapter, and each one that follows is just a rising crescendo.
Title: Riddled With Senses
Author: Petra Jacob
Date Added: January 28, 2017
Date Started: March 19, 2017
Media: Paperback
Progress: 78%

I was right about something happening, but I'm still clueless as to how this is going to end.  It has a "slice of life" feel about it where we're just getting a glimpse into the lives of these characters at a point in Hazel's where something unprecedented happens: she finds something to care about.  The major question is will this just get lost in the shuffle of her dire need to escape or will she remember it and use it to really escape?
Title: The Mabinogion Tetralogy
Author: Evangeline Walton
Date Added: August 24, 2014
Date Started: July 31, 2016
Medium: Paperback
Progress: 97%
So, so close to the end.  I might try to push and finish this weekend.  I have less than fifty pages left to read.
---
Fanfictions Finished: 0

Fanfictions Currently Reading: 2
Title: I'm the Darkness, You're the Starlight
Author: runicmagitek
Fandom: FFVI
Pairing: Celes Chere/Setzer Gabbiani
No updates.
Title: I Will Call You Home: A Recounting of the Fifth Blight
Author: AthenaTseta
Fandom: Dragon Age
Pairing: Leilana/Various
I'm worried about Renya and Alistair right now, but Duncan even more so.  Again, I haven't played Dragon Age, I've only watched a bit, so this is all fairly new to me.  I don't want this to be a last goodbye 😦
---
Books Added to Goodreads TBR List This Week: 2

Title: Rock and Riot
Author: Chelsey Furedi
Date Added: April 27, 2017
Recommended by: The Writing Hufflepuff
It's like LGBTQ Grease with less problematic concepts like "Did she put up a fight?"  Also there are different body types and no body shame o.O  I'm so all about this.
Title: Astrophysics for People in a Hurry
Author: Neil deGrasse Tyson
Date Added: May 3, 2017
Recommended by: Cupcakes and Machetes
All the yes to this.  I loved Dr. Tyson's revival of Carl Sagan's series Cosmos, though I'm pissed it only had one season (yet Duck Dynasty has what, 12??), and the fact that he's both a scientific and literal bad ass who doesn't take shit bumps him pretty high up on my "People to Spare" list.  Even though he's in the same category to me as Professor Hawking, the way Dr. Tyson explains things might be more accessible to my non-astrophysics mind, so I can't be mad at CaM for adding another book to my TBR list 😉
---
Books Added to Reread List This Week: 2

Title: Below the Root
Series Title: Green Sky
Author: Zilpha Keatley Syder
Date Added: May 2, 2017
I added this and the second book in the series (below) because I reached the third book in my sample project.  I didn't download a sample of the third, since I greatly enjoyed the first two, didn't know there was a third, and I intend to read it after I reread the others.  I put it on my "library" shelf, since I might as well.  I don't own the other two, so it either makes sense to buy all three (which I could do since I want to reread them) or just borrow the entire trilogy at once since they're mid-grade/YA and fairly short.
Title: And All Between
Series: Green Sky
Author: Zilpha Keatley Snyder
Date Added: May 2, 2017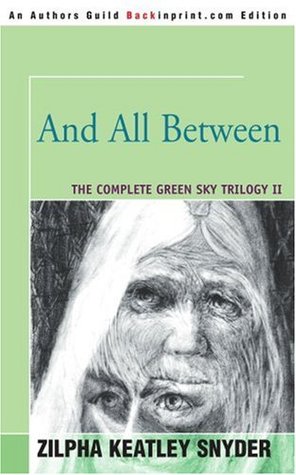 I should probably say something to what this series is about.  The Kindar live in the trees of this planet beneath a beautiful, green sky.  I believe gravity is lower than here on earth so they're able to use wind currents to glide.  I'm pretty sure I was thinking of this series when I first looked at Windhaven.  Anyway, the Kindar live above in the branches, but they rarely if ever go down to the forest floor, because there are supposedly monsters that live "below the root," which is where the first book gets its title.  Of course things are never what they seem.
---
What are you currently reading and/or what's on your radar to read next?  What would you recommend based on my current and recently added?  As always I look forward to your comments and suggestions!
<–The State of the Reader: 4/26/17          The State of the Reader: 5/10/17–>
Save
Save
Save
Save
Save
Save
Save
Save
Save