<–The State of the Reader: 5/3/17          The State of the Reader: 5/17/17–>
A weekly post updated every Wednesday detailing my current reading projects and where I am with them in addition to what new titles I've added to my to-read list.  Title links go to Goodreads to make it easier for interested parties to add any books that might strike their fancy.  I attempt to use the covers for the edition I'm reading, and I'll mention if this is not the case.  If you have a Goodreads account feel free to friend me!  I'd love to see what you're reading and/or planning to read.
---
Samples Read This Week

Passed: 0
Kept: 13
---
Books Purchased This Week: 3

Title: Foundation
Series Title: Foundation
Author: Isaac Asimov
Date Added: April 16, 2016
Date Purchased: May 5, 2017
Media: eBook/Kindle
Price: $1.99
Retailer: Amazon
Title: The Scorpion Rules
Series Title: Prisoners of Peace
Author: Erin Bow
Date Added: April 18, 2016
Date Purchased: May 6, 2017
Media: eBook/Kindle
Price: $2.99
Retailer: Amazon
Title: The Dream-Quest of Unknown Kadath
Author: H. P. Lovecraft
Date Added: May 25, 2016
Date Purchased: May 5, 2017
Media: eBook/Kindle
Price: $0.99
Retailer: Amazon
Total: $5.97
Average Price: $1.99
---
Books Finished This Week: 1

Title: The Mabinogion Tetralogy
Author: Evangeline Walton
Date Added: August 24, 2014
Date Started: July 31, 2016
Finally…after nearly a year, I've finished this book.  Granted the reason it took so long was because I didn't have a reading system down back then and now I do, but I'm pretty sure this is the longest it's ever taken me to read a book.  Harry Potter 5 and 6 are near as long, and I finished those in less than two days.  A Clash  of Kings could potentially be longer, and I probably read that in a week.  The Mab read more like a novel then any mythology collection I ever had where each "branch" told a particular story.  I'm happy I read it though.  I greatly enjoyed The Chronicles of Prydain and wanted to have more background on that.  While this was quite a bit different and more elaborate, I could see where some of that story originated.
I'll be working on a review for this this week.
---
Books Currently Reading: 6

Title: The Poetic Edda: Stories of the Norse Gods and Heroes
Author: Anonymous
Date Added: June 19, 2016
Date Started: May 8, 2017
This book is  prerequisite reading for a ton of my essays (as in I need to read it before I write them), and of course I had to get the one with the northern lights on the cover.  My two favorite stories heavily borrow/reference Norse mythology: Final Fantasy VII and A Song of Ice and Fire, and my second favorite villain, Loki as played by Tom Hiddleston, is from there as well.  The mythos of the Norsemen is arguably my favorite since they have their own version of the Tree of Life or World Tree, Yggdrasil.  The Song reference for it has to do with the bone white weirwoods and specifically the so-called demon tree Ygg, and Martin also has a subversion of one-eyed Odin with Blood Raven the sorcerer.  FFVII has the Tree of Life reference in Sephiroth, a major component of the .Qabalistic Tree of Life.  Once I read this, I'll have the background knowledge to start working on quite a few of my VII/Song comparative essays.  It's like I'm back in school again!
Title: A Court of Mist and Fury
Series Title: A Court of Thorns and Roses
Author: Sarah J. Maas
Date Added: January 26, 2017
Date Started: May 1, 2017
Media: Hardback (Library)
Progress: 22%
I am almost 100% certain the author is making Tamlin an asshole so that we're not supposed to like him anymore.  I didn't like him from the first book to begin with, but my guess is she's attempting to sway readers who more than likely did to realize what he's doing to Feyre.  These readers probably weren't all that fond of Rhysand, though truthfully I had major problems with both of them.  Currently, though, at least Rhys is telling Feyre what's going on, not keeping her in the dark, and not forcing her to stay in their house all the time.  I really hope the main character dumps the High Lord of the Spring Court not because I particularly want her to be with Rhys, but because Tamlin's a jackass…which I totally called from the first book :p
Title: The Quantum Ghost
Author: Jonathan Ballagh
Date Added: April 14, 2017
Date Started: April 29, 2017
All of the (mostly minor) issues I had with The Quantum Door are utterly nonexistent in this second novel.  To be honest, I'm picturing this as a movie, and I hope one day it gets to that point.  Door would make an excellent movie, too.  The action, while not overwhelming, is almost nonstop.
Title: The Legend of Zelda: Hyrule Historia
Authors: Patrick Thorpe, Various Others, and Translators
Date Added: October 30, 2016
Date Started: April 11, 2017
Media: Hardback
Progress:  45%
I think after I finish reading this, I'm going to watch all of the Zeldas….in order.  Oh!  I have to remember to look for the Zelda comics Mr. Panda told me about!  I had no idea these existed, and they have one for Twilight Princess o.O  I'll be hitting the bookstore this Friday!
Title: The Raven King
Series Title: The Raven Cycle
Author: Maggie Stiefvater
Date Added: April 4, 2017
Date Started: April 8, 2017
It's amazing how a story can be so cohesive even as it almost seems to consist of vignettes.  You never know what you're going to get with each chapter, and you never know which character is going to be the focus.  The author even puts the spotlight on seemingly minor characters.  As mentioned before it reminds me a bit of ASOIAF, because we're presented with one character's viewpoint and one character's thoughts.  I have absolutely no idea how this is going to end, but I have been thinking about what it would look like if they did make a TV series of it.
Title: Riddled With Senses
Author: Petra Jacob
Date Added: January 28, 2017
Date Started: March 19, 2017
Media: Paperback
Progress: 88%

I an also honestly say I have no idea how this is going to wrap up.  Initially, I thought it would be a glorious, drug induced, stream of consciousness ride, and while those have been the tools used, Riddled is so much more than that.  It's about both not conforming and yet questioning whether that state is just another type of conformity.  Wanting more, but not wanting to fall into the malaise of the gaping bystanders and gawking crowds.  This books asks questions I've always had, but never knew how to frame.
---
Fanfictions Finished: 1

Title: Breath Fades with the Light
Author: runicmagitek
Fandom: FFVI
Pairing: Celes Chere/Setzer Gabbiani
Life gets in the way of everything, so my fellow fanfiction writer friend hasn't had a chance to update the below (there may even be some writer's block involved), but she is writing again, little snippets involving the same couple.  I can't say I'm not appreciative.
Fanfictions Currently Reading: 2
Title: I'm the Darkness, You're the Starlight
Author: runicmagitek
Fandom: FFVI
Pairing: Celes Chere/Setzer Gabbiani
No update for this this week.
Title: I Will Call You Home: A Recounting of the Fifth Blight
Author: AthenaTseta
Fandom: Dragon Age
Pairing: Leilana/Various
I have this on my schedule to read twice a week, but I seem to only be able to manage once 😦  It's weird because Monday I don't have anything to post, yet I still never seen to have time.  I think it's because I check my email on Monday, and I have a bunch of blog subs to get through.  Anyway, Morrigan has joined Alistair and Renya at the "request" of Flemeth, her mother.
---
Books Added to Goodreads TBR List This Week: 6

Title: Uglies
Series Title: Uglies
Author: Scott Westerfield
Date Added: May 4, 2017
Recommended by: Athena | AmbiGaming
In a discussion with Athena one on of my posts (don't ask me to remember which one), we were talking about YA novels, and she mentioned she'd read a bunch at once so was a bit burned out on the genre.  I recommended she not read the final book in the Divergent series, and she recommended I give this one a try.  I'd seen it before, but didn't add it at that time.  After I did, because my Goodreads is tied to my Facebook, one of my IRL friends saw it and offered to lend me the trilogy.  I might take her up on that.
Title: Incognito: The Secret Lives of the Brain
Author: David Eagleman
Date Added: May 7, 2017
Recommended by: Cool Stuff with Chris
Nothing will make me add a reference book faster than telling me it's about the brain.  My undergraduate was in psychology, and physiological psych was my favorite class.  I loved learning how the areas of the brain connected to certain functions and behaviors.  It's been quite a few years since I graduated, and I could certainly use a refresher.
Title: Red Harvest
Series Title: Star Wars Legends
Author: Joe Schreiber
Date Added: May 7, 2017
Recommended by: Cool Stuff with Chris
Even though Disney declared any novels "legends" (so no longer canon), I've never been one to shy away from what would now be considered fanfiction.  Plus, my recommender said that this has some serious horror motifs, and after reading the blurb, I can confirm this appears to be true.
Title: Out of the Silent Planet
Series Title: Space Trilogy
Author: C. S. Lewis
Date Added: May 8, 2017
Recommended by: The Well-Red Mage
The title to this sounds so familiar that I'm surprised I didn't know it was by C. S. Lewis.  I'm not that shocked he wrote science fiction since that genre and fantasy are on a continuum.  Anyway, this came well RED-commended (I'm exhausted, and I still found place to pun), and since I'm trying to read more sci-fi, I think one of the most celebrated fantasy authors and theologians is a good place to land.
Title: The 5th Wave
Series Title: The 5th Wave
Author: Rick Yancey
Date Added: May 9, 2017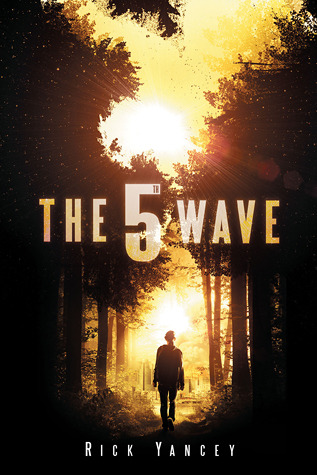 The addition of this came about due to a Facebook post I made concerning aliens.  I said something along the lines of how when I was growing up, I had no interest in aliens (in fact, the thought of extraterrestrial beings scared the hell out of me), but now all of my favorite characters are aliens at least in some part.  One of my high school friends who's also a writer suggested this book to me, but warned that it follows a sadly typical pattern with YA where the first book will be good/decent, then the second one slacks off, and the third isn't worth your time.  I figure I'll give the first a sample run and see what I think.  I'd looked at this book/series before, but it didn't spark my interest then.
Title: The Legend of Zelda: Ocarina of Time – Part 1
Series: Zelda
Author: Akira Himekawa
Date Added: May 10, 2017
Recommended by: Mr. Panda
It's a Zelda comic (that I mentioned above with Hyrule Historia).  Need I say more?  Apparently, Link speaks in it, too!  It's pretty highly rated on Goodreads, and Mr. P. says he saw a bunch in a bookstore, so the monthly trip is happening this Friday.
Total Books on Goodreads TBR List: 463
Change from Last Week: +3

---
Books Added to Reread List This Week: 0

---
What are you currently reading and/or what's on your radar to read next?  What would you recommend based on my current and recently added?  As always I look forward to your comments and suggestions!
<–The State of the Reader: 5/3/17          The State of the Reader: 5/17/17–>
Save
Save
Save
Save
Save
Save
Save
Save
Save