<–The State of the Reader: 6/21/17          The State of the Reader: 7/5/17–>
A weekly post updated every Wednesday detailing my current reading projects and where I am with them in addition to what new titles I've added to my to-read list.  Title links go to Goodreads to make it easier for interested parties to add any books that might strike their fancy.  I attempt to use the covers for the edition I'm reading, and I'll mention if this is not the case.  If you have a Goodreads account feel free to friend me!  I'd love to see what you're reading and/or planning to read.
---
Samples Read This Week
---
Books Purchased This Week: 0

---
Books Finished This Week: 2

Title: Saga, Volume 6
Series Title: Saga
Authors: Brian K. Vaughn & Fiona Staples
Date Added: June 11, 2017
Date Started: June 17, 2017
Date Finished: June 22, 2017
Reading Duration: 5 days
The epic continues, but I'm not sure how I will when I finished the 7th and last one that's currently out.  It's a long time until January 2018.
Title: An Ember in the Ashes
Series Title: An Ember in the Ashes
Author: Sabaa Tahir
Date Added: December 30, 2015
Date Started: May 17, 2017
Date Finished: June 28, 2017
Reading Duration: 42 days
Thank god I already bought the second book in this series.  It means I don't have to wait until I get to the bookstore to have it in my possession.  I do have a very short book to read in between, but I can probably finish that in less than an hour (it's a very short book) and move right into A Torch Against the Night. 
Needless to say, this book is phenomenal.  Five stars without hesitation, though now that I'm thinking about it, I might want to at least slow down on reading the next book, since I don't know if or when the third one will be out #SagaIssue
There's an untitled third and fourth book on Goodreads, so the future looks bright for this series.
---
DNF/Unfinished Books This Week: 1
Title: Elijah Dart: Angel of Death
Author: Jonathan L. Ferrara
Date Added: November 2, 2015
Date Started: June 19, 2017
Date DNF: June 28, 2017
Reading Duration: 9 days
Media: eBook/Kindle
Final Progress: 58%
I will usually finish a book if I've read more than half of it, but I decided I'd put this one aside today even though I'm slightly over that threshold.  I adore the author's whimsical writing style, but it was a little too heavy handed in the religious aspect for me.  I prefer my angels of death to reap more and proselytize less.  I was also a little offput by the "magic is evil" motif.
I think the story is cute, and I'd recommend it to the mid-grade/YA crowd.  I am planning on writing a nice review even though I didn't finish.
---
Books Currently Reading: 5

Title: Saga, Volume 7
Series Title: Saga
Authors: Brian K. Vaughn & Fiona Staples
Date Added: June 11, 2017
Date Started: June 24, 2017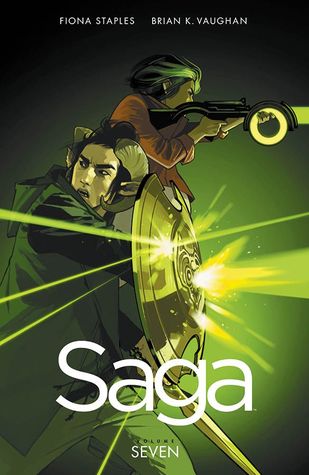 Media: Paperback
Progress: 50%
Gah!  I'm already halfway through this even though I'm desperately trying to space it out by only reading one chapter a session.  It's not slow enough, and the next one doesn't come out until January ;_;
Title: Nightshade City.
Series Title: Nightshade Chronicles
Author: Hilary Wagner
Date Added: May 17, 2016
Date Started: June 23, 2017
Media: Hardback (Library)
Progress: 24%
I almost, almost declared this one DNF today along with Elijah Dart: Angel of Death, but I decided to stick with it.  I'm happy I borrowed this from the library instead of spending money on it though.  It's similar to Redwall insofar as it has sentient animals, but in Brian Jacques's series, there are no humans, and the rats of the newly named Nightshade City have to contend with us, known as Topsiders, as well as their own ilk terrorizing them.
I'm really interesting in one young female Clover, who's been picked by the reprehensible High Minster Killdeer as his "chosen one."  You can probably guess what that entails.  Since this is a mid-grade/YA novel, it's merely implied and not stated, but old enough children reading this might ask some questions.
Title: A Court of Wings and Ruin
Series Title: A Court of Thorns and Roses
Author: Sarah J. Maas
Date Added: May 26, 2017
Date Started: June 12, 2017
The war preparations in this book remind me a little of Mass Effect 3, probably because I'm watching a Let's Play of Mass Effect 3.  Instead of the Reapers though, Feyre, Rhys, and crew are preparing to battle the King of Hybern, whom I keep wanting to call the King of Winter, because Hybernia…winter…you get it.  But there's already a High Lord of the Winter Court named Kallias, so that wouldn't be right.  Anyway Hybern wants to re-enslave humanity and bring back the elitist order where the High Fae continue to rule over the Lesser Fae, and since Rhysand used to be one of those Lesser Fae (as in Illyrian) and Feyre used to be human, you can guess how they feel about this.
Title: Talon
Series Title: Talon
Author: Julie Kagawa
Date Added: May 24, 2016
Date Started: June 10, 2017
Oh man, Ember and Garrett are in deep, as in love.  How is a dragon with a place forged in her society by higher powers and a soldier who's been hunting and killing her kind his entire life ever going to work out?  Well, one, by being honest with each other, though neither of them can be of course.  How is the truth going to be revealed?  Only time will tell.  What I find interesting is how both of them were brainwashed and are being used by their respective organizations.  Neither of them have ever been allowed to just be teenagers, and that's wholly unfair.
This is going to be one of those book series that I read, add, and buy just like The Raven Cycle.
Title: The Poetic Edda: Stories of the Norse Gods and Heroes
Author: Anonymous
Date Added: June 19, 2016
Date Started: May 8, 2017
Media: Paperback
Progress: 64%
I'll be happy when I finish this.  I wish the poems were more cohesive.  I'm going to read The Prose Edda at some point.  Not right after since I don't own it, but eventually.
---
Fanfictions Finished: 0

Fanfictions Currently Reading: 2
Title: I'm the Darkness, You're the Starlight
Author: runicmagitek
Fandom: FFVI
Pairing: Celes Chere/Setzer Gabbiani
No update this week, though she did just tag me in a tumblr post about fanfiction.  Curious.
Title: I Will Call You Home: A Recounting of the Fifth Blight
Author: AthenaTseta
Fandom: Dragon Age
Pairing: Leilana/Various
Templars make me grumpy.  If someone risks their life to save your village, they can damn well sleep where they please.
---
Books Added to Goodreads TBR List This Week: 3

Title: The Emperor's Blades
Series Title: Chronicle of the Unhewn Thrown
Author: Brian Staveley
Date Added: June 24, 2017
Recommended by: Cupcakes and Machetes
The blurb says fans of GRRM would enjoy this, and it comes highly recommended.  Court politics are always delicious and delightful, and current ones make me sad.
Title: Abstract Clarity
Author: B. W. Ginsburg
Date Added: June 27, 2017
Recommended by: B. W. Ginsburg
The author just published this short story compendium last week and posted about it on her blog.  I felt it only fitting to add it to my TBR list.
Title: Don't Close Your Eyes
Author: Holly Sedden
Date Added: June 28, 2017
Recommended by: By Hook or By Book
Another psychological thriller for my TBR list.  Here's hoping it delivers a bit better than the last one I read.  Not that Silent Child was terrible, but the ending felt a little flat.
Total Books on Goodreads TBR List: 469
Change from Last Week: 0

---
Books Added to Reread List This Week: 0

---
What are you currently reading and/or what's on your radar to read next?  What would you recommend based on my current and recently added?  As always I look forward to your comments and suggestions!
<–The State of the Reader: 6/21/17          The State of the Reader: 7/5/17–>
Save
Save
Save
Save
Save
Save