<–Saga: Volume 4                                                                               Saga: Volume 6–>
Title: Saga, Volume 5
Series Title: Saga
Authors: Brian K. Vaughn & Fiona Staples
Date Added: June 6, 2017
Date Started: June 12, 2017
Date Finished: June 15,, 2017
Reading Duration: 3 days
Genre: Graphic Novel/Comic, Fantasy, Science Fiction, Paranormal Romance, Space Opera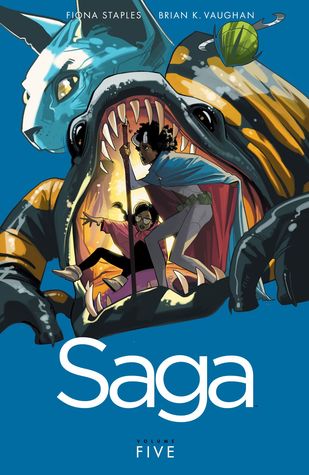 Pages: 152
Publication Date: September 9, 2015
Publisher: Image Comics
Media: Paperback
---
Multiple storylines collide in this cosmos-spanning new volume. While Gwendolyn and Lying Cat risk everything to find a cure for The Will, Marko makes an uneasy alliance with Prince Robot IV to find their missing children, who are trapped on a strange world with terrifying new enemies.
---
The volume reveals a Hunger Games vibe when it's discovered that Landfallian soldiers were originally chosen by lottery, but as the war raged on, it moved away from the original progenitors whose descendants never know its horrors, and the commentary here is brilliant.  How many super powers have started or ordered wars that will never touch them?  Also, it's never made clear (at least not yet) who started the conflict between Landfall and Wreath, and even if this knowledge is never revealed, it doesn't matter.
We don't know why the wings and the horns are at each other's throats besides the symbolic Paradise Lost/war of Heaven vs. Hell motif, which brings up some interesting questions about the narrative's take on that.  Obviously, the prevailing notion is that Heaven/God were right and Hell/Satan were wrong, but to look at it objectively, it was really a battle of free will vs. determinism; knowledge vs. belief (or if we want to be harsher, ignorance).  Having the Landfallians own the wings whereas their moon is populated by "horns" whom they'd dubbed the derogatory "moony," implies there might have been uprising and revolution on the satellite's part.
It's not like slavery, especially of the sexual sort, isn't tackled in the most horrific way in this series, and again, Saga blurs the lines between hero and villain.  The "heroes," Alana and Marko, don't always perform the most virtuous deeds, and the "villains," The Will and Prince Robot IV aren't always the most nefarious monsters in the room.  There is always someone or something far worse.
And it goes on…
<–Saga: Volume 4                                                                               Saga: Volume 6–>
Save
Save
Save
Save
Save