<–The State of the Writer: 7/9/17          The State of the Writer: 7/23/17–>
A weekly post updated every Sunday discussing my current writing projects and where I stand with them.  This will include any and all work(s) in progress (WIP) be they creative writing, essays/analyses, or reviews of any type.
---
Project: Story
Title: The Broken Rose
Genre: Paranormal Romance
Type: Fanfiction (FFVII) Novel
Current Word Count: 266,620
Prior Word Count: 266,387
Word Difference: +233
Status: Editing
Progress: Chapter 10 revisions
No use lying about what I'm doing.  I'm currently in a revision phase for this chapter right now.  I decided to change up a scene, and that's what I've been working on for the past week or so.  The story is filled with highlights and breaks.  It's a mess D:  Well, at least to my sensibilities it is.  I'll patch it up and put it back together, though I've been having a hell of a time, well, finding the time.  I need to prioritize my editing instead of trying to wedge it in at the end of the day.  The good thing is I have pretty much everything in my notes.  It's just a matter of putting it together.
Quote: "General?"
"Yes, little one?"  He kept his voice gentle.  "Is everything well, my Aeris?"
She shuddered at that, and her naked toes curled into thick, lustrous carpet.  Lifting her hands, she looked up at him, and the sight tore the threads of his heart.  "I-I…"  I ask him for so much.  Silver locks spilled on black garb.  He was so tall the Cetra's neck ached already from staring up.  Summer eyes flutter, and Aeris swayed hard before his immense strength closed around.  His embrace sealed her tight in his full protection, and the tiny Cetra sobbed.  
---
Project: Book Review
Title: Half a King
Series Title: Shattered Sea
Author: Joe Abercrombie
Status: Drafting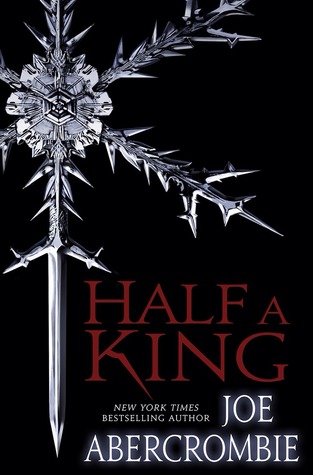 I only set up the preliminaries the other day.  I haven't had a chance to start the review.  I've started a new procedure where I go back and collect my weekly notes on the story in order to help get the gears turning.  Plus it's good to see what my impressions are.
---
Project: Book Reviews
Title: Various
Status: Planning
Guess who's even more backlogged with reviews?!  Your friendly neighborhood TSN 😀 D:
I'm now sitting at eleven reviews (including Half a King above).  Even though I posted Saga: Volume 5, I finished two more books this week, which means I added one.
Saga: Volume 6 by Brian K. Vaughn and Fiona Staples
Elijah Dart by Jonathan L. Ferrara (DNF)
An Ember in the Ashes by Sabaa Tahir
Nightshade City by Hilary Wagner (DNF)
Talon by Julie Kagawa
Saga: Volume 7 by Brian K. Vaughn & Fiona Staples
Stone & Iris by Jonathan Ballagh
Gaslight Hades by Grace Draven
A Court of Wings and Ruin by Sarah J. Maas
Locke & Key: Welcome to Lovecraft by Joe Hill and Gabriel Rodriguez
---
Project: Game Review
Title: SOMA
Developer:  Frictional Games
Let's Player: ChristopherOdd
Status: Planning
I'd meant to work on this review this weekend, but I spent about three or four hours setting up my State of the Reader post, so I pretty much got nothing else done (I did play some FFV, so the day wasn't completely lost).  Granted I kind of revamped that so it shouldn't take so long next time to set up, but still.
I want to listen to Christopher Odd's video discussion, which I'll probably do tomorrow at work.  I've honestly been avoiding things about this game, because it fucked me up so bad.  I had to find a lot of distractions so I'd be able to sleep, but I really want to review this and would love to have a discussion about it.  I have a few things I'll present for the masses in my next State of the Gamer post.  Just be sure to check the Miscellaneous section if you're curious 😉
---
What are you currently working on?  Is it a creative writing project, essay, review, or something else?  Have you just started something new or are you wrapping up a long term project?
<–The State of the Writer: 7/9/17          The State of the Writer: 7/23/17–>
Save
Save