<–The State of the Reader: 7/26/17          The State of the Reader: 8/9/17–>
A weekly post updated every Wednesday detailing my current reading projects and where I am with them in addition to what new titles I've added to my to-read list.  Title links go to Goodreads to make it easier for interested parties to add any books that might strike their fancy.  I attempt to use the covers for the edition I'm reading, and I'll mention if this is not the case.  If you have a Goodreads account feel free to friend me!  I'd love to see what you're reading and/or planning to read.
---
Samples Read This Week
---
Books Purchased This Week: 2

Title: The Moonborn: or, Moby-Dick on the Moon
Author: D.F. Lovett
Date Added: November 15, 2016
Date Purchased: July 27, 2017
Media: eBook/Kindle
Price: $4.99
Retailer: Amazon
Title: Never Never: Part Three
Series Title: Never Never
Authors: Colleen Hoover & Tarryn Fisher
Date Added: July 27, 2017
Date Purchased: July 27, 2017
Media: eBooks/Kindle
Price: $2.99
Retailer: Amazon
Total Price: $7.98
Average Price: $3.99
---
Books Finished This Week: 2

Title: Never Never: Part Two
Series Title: Never Never
Authors: Colleen Hoover & Tarryn Fisher
Date Added: July 23, 2017
Date Started: July 24, 2017
Date Finished: July 28, 2017
Reading Duration: 4 days
Media: eBook/Kindle
The two authors are excellent at keeping the tension high, giving you just drips and drops of information where most of it just confuses you (and Charlie and Silas) more.  It's a really good "second book in a trilogy" novel.  I'm not sure how I'm going to review these as in I don't know if I'm going to do them all at once as a series or one at a time.
Title: Never Never: Part Three
Series Title: Never Never
Authors: Colleen Hoover & Tarryn Fisher
Date Added: July 27, 2017
Date Started: July 28, 2017
Date Finished: July 30, 2017
Reading Duration: 2 days
Media: eBook/Kindle
I don't want to break the rule I was venting about in my last State of the Writer with respect to reviews, but I want to warn people away from this series if they're expecting a cohesive ending.  I was highly disappointed, because the authors presented numerous plot coupons and failed to cash any of them.  None of the loose ends were tied up, and the explanation for why Charlie and Silas were afflicted with mutual amnesia was amateurish at best.  There was so much potential in this story/series, and it fell completely flat in the end.
I had a feeling this was going to happen because the rating for the third part dropped dramatically from the over 4.00 ranking of the first two.  With books like this, the ending is paramount; the entire novel is building to that point, because we, the readers, want to be brought into the light of the characters' situation as much as they do.  You almost feel cheated, because while the first two parts were good, their quality is predicated on how everything they've presented ties together and resolves, and the resolution is not only unsatisfactory, it also completely destroys any suspension of belief needed for any fictional foray.
I'll obviously talk about this move when I review, and I'll also give away what happened behind spoiler tags.
---
Books Currently Reading: 7

Title: Shadows on Snow
Series Title: Flipped Fairy Tales
Author: Starla Huchton
Date Added: January 12, 2016
Date Started: July 30, 2017
Media: eBook/Kindle
Progress: 17%
So far I like the subverted roles of this Flipped Fairy Tale of Snow White.  There's an evil king/stepfather, a handsome/beautiful prince with the customary white skin, black hair, and red lips.  I recently saw a meme or tumblr post about how Snow White's appearance would be vampiric and terrifying with such features.  I was quite amused by that, because it's how the main characters of my paranormal romance (especially the male character who's a dark angel) look, and it borrows from Snow White, too, but I digress.  Finally, the seven "dwarves" are seven sisters trying to set things right in the prince's kingdom.  I'm enjoying it greatly so far.
Title: An Unattractive Vampire
Author: Jim McDoniel
Date Added: June 16, 2016
Date Started: July 27, 2017
Media: eBook/Kindle
Progress: 23%
Speaking of subverted tropes, this is actually a subversion of a subversion.  It takes the idea of beautiful, modern vampires and makes it absurd with the introduction of Yulric Bile who's been entombed beneath a garishly pink painted house for 300 years.  Of course in looking at the history of vampires, the beautiful type are absurd, but when a paradigm exists for a while it becomes the norm, so the idea of an ugly vampire is currently ridiculous.  I love how motifs can volley.  Yulric awakens and attempts to feed off the current renter, a young woman named Amanda, who is not having it.  She doesn't even believe he's a vampire, because he's quite ugly (I imagine how the Nosferatu clan look.  Just let my geek flag fly higher.  Yes, I used to play Vampire: The Masquerade.  I was a La Sombre then a Toreador, but I was never good at larping), and this makes even less sense to him when he watches TV and sees what "vampyrs" have been reduced to.  It's a delightfully tongue-in-cheek novel with a similar silliness and satire to The Hitchhiker's Guide to the Galaxy.
Title: Tales from the Arabian Nights
Author: Anonymous
Translator: Richard Francis Burton
Date Added: May 10, 2017
Date Started: July 24, 2017
I'm kind of plodding my way through this one.  I don't know if I'm going to finish it.  I'm okay with being with a book for a long time, but…eh, we'll see.
Title: The Legend of Zelda: Twilight Princess
Series Title: The Legend of Zelda: Twilight Princess
Author: Akira Himekawa
Date Added: May 12, 2017
Date Started: July 23, 2017
Media: Paperback
Progress: 74%
I'm really liking how this manga fleshes out the story and shows Link's life in Ordon Village.  It's actually really sad how he just wants to forget his past and forge a new future, but he's not going to be allowed.
Title: A Torch Against the Night
Series Title: An Ember in the Ashes
Author: Sabaa Tahir
Date Added: June 7, 2017
Date Started: July 12, 2017
The conflict between Helene and Elias is probably the most fascinated thing about this novel, and that's on top of all the other conflicts and obstacles to overcome.  It's heartbreaking to think about having to fight your oldest friend, and the situation Helene's been forced into is bitterly unfair.  Compelled to serve an emperor she has neither respect nor true loyalty for who's ordered her to bring her once best friend back for execution.  I can't wait to see how this resolves, though I doubt it will in the second novel.
Title: The Archived
Series Title: The Archived
Author: Victoria Schwab
Date Added: July 12, 2016
Date Started: July 11, 2017
Media: Hardback/Library
Progress: 43%
There is such a sorrow and loneliness to this book.  With the death of her Da (grandfather), Mackenzie has no one to share her secrets and secret life with.  He taught her how to lie as easily as breathing, passing on his work as a Keeper to her, and she is literally mired in Histories, restless spirits who leave the confines of the Archive to roam the narrows until someone like her can put them back.  This serves as a double entendre as Mac can literally not let go of her brother Ben's "History."  Dead too soon, she mourns him alone since no one in her family will even acknowledge the tragedy or talk to each other about it.
Title: Incognito: The Secret Lives of the Brain
Author: David Eagleman
Date Added: May 7, 2017
Date Started: July 2, 2017
Media: Paperback
Progress: 50%
I am glad I'm reading this as I work on my SOMA review.  I just read a part on consciousness and why it might exist at all.  I am finding I disagree with more than just Eagleman's take on attraction though.  I'm noticing he'll chalk many things up to "just the way we're wired" instead of taking socialization into consideration.  I consider that both nature and nurture play a part in shaping us, but the more I digest, the more I lean towards nurture having a far greater part (maybe 60/40 at most 75/25, but that's stretching it).
The author mentions unconscious biases at the end of the chapter, but he seems to think they come out of a vacuum, which I wholly disagree with.  There are reasons for our biases, because we're exposed to ideas about the way our world and society work from the day we're born.  Hell, the instant we come out of the womb, we're treated differently based on external genitalia, technically before if we consider "gender reveal" parties (ugh).  While these biases may be unconscious and a bit out of our control unless we employ methods to change them, they didn't just appear; they're ingrained from constant cultural absorption   The fact is we have absolutely no idea what someone would be like without this, because we live in a society where certain ideas are absorbed.  Even the very language we speak leads our brains to think about things in a particular way e.g. the word for "sky" and "heaven" is the same in French le ciel; therefore you can't talk about the sky without talking about heaven.
I could ramble about psychology all day and probably be only 10% right.  I do like the idea behind the next chapter's title that deals with blameworthiness as in whose fault is it when we have and act on these unconscious biases we've been taught?  Who should take the fall when certain people are considered "higher" and "better" than others?  We're all born into a world where privilege and oppression exist often at competing, enhancing, or detrimental intersections (which is where the "intersectional" in intersectional feminism comes from).  It's not our fault we exist in this system, but it is unfair, people suffer for and within it, and at some point we'll have to take the responsibility to fix it.  The blameworthiness question is one I traverse a great deal in my villain defenses, because you can't look at behavior out of context or discount the other factors involved.
Okay, I'm really done now :p
---
Books Added to Goodreads TBR List This Week: 3

Title: The Last Magician
Author: Lisa Maxwell
Date Added: July 27, 2017
Recommended By: By Hook or By Book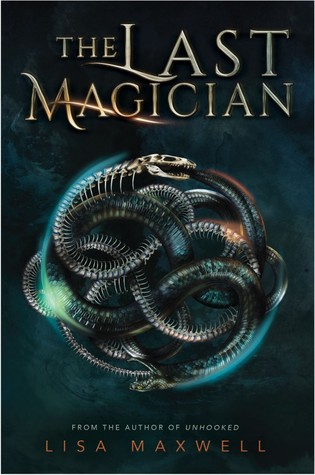 The symbol on the cover looks exactly like the auryn from The Neverending Story, except one of the snakes is skeletal.  If the book is worth its salt, I'm sure it will be a metaphor for something within.  The novel takes place in an alternative New York City where magic is all but extinct, and there's a dark energy barrier called the Brink that traps any remaining magic users on the island of Manhattan.  The main character is a thief raised to steal magical artifacts from the sadistic Order that created that very Brink, but her main job is to eventually travel back to the turn of the century (1902) in order to make a better past a la 12 Monkeys.
Title: Fever Dream
Author: Samantha Schweblin
Date Added: July 28, 2017
Recommended By: Orchid's Lantern
This is one of those "is it real?" stories.  A young woman lays dying in a hospital bed.  A boy who is not her son sits beside her.  Together they weave a haunting tale.
Title: Zodiac Starforce
Series Title: Zodiac Starforce
Authors: Kevin Panetta, Paulina Ganucheau, & Marguerite Sauvage
Date Added: July 29, 2017
Recommended By: The Writing Hufflepuff
Magical girls with powers based on their zodiac signs?  Yes please.  The authors and artists also sound French 🙂
Total Books on Goodreads TBR List: 479
Change from Last Week: +1

---
Books Added to Reread List This Week: 0

Total Books on Goodreads To Reread List: 68
Change from Last Week: 0

---
Fanfictions Finished This Week: 0

---
Fanfictions Currently Reading: 1

Title: I Will Call You Home: A Recounting of the Fifth Blight
Fandom: Dragon Age/Dragon Age: Origins
Pairing: Leliana & Various
Author: AthenaTseta
Date Started: March 16, 2017
Progress: Chapter 27
The mystery of why Reina was attacked remains open, though it is interesting how well elves can survive being stabbed/impaled through the middle ugh D:
---
Fanfictions On Hold: 2
Title: I'm the Darkness, You're the Starlight
Fandom: Final Fantasy VI
Pairing: Celes Chere & Setzer Gabbiani
Author: runicmagitek
Date Started: June 19, 2016
Last Update: February 18, 2017
Latest Chapter: Chapter 18
Title: The Broken Orrery
Fandom: Final Fantasy VII
Pairing: Sephiroth & Aeris
Author: CymbelinesHalo
Date Started:  April 1, 2015
Last Update: August 1, 2016
Latest Chapter: Chapter 39
---
Fanfictions Added to TBR List This Week: 0

---
What are you currently reading and/or what's on your radar to read next?  What would you recommend based on my current and recently added?  As always I look forward to your comments and suggestions!
<–The State of the Reader: 7/26/17          The State of the Reader: 8/9/17–>
Save
Save
Save
Save
Save
Save
Save
Save
Save