<–The State of the Writer: 8/13/17          The State of the Writer: 8/27/17–.
A weekly post updated every Sunday discussing my current writing projects and where I stand with them.  This will include any and all work(s) in progress (WIP) be they creative writing, essays/analyses, or reviews of any type.
---
Project: Story
Title: The Broken Rose
Genre: Paranormal Romance
Type: Fanfiction (FFVII) Novel
Current Word Count: 266,548
Prior Word Count: 266,752
Word Difference: -204
Status: Editing
Progress: Reviewing Chapter 11
This is the second "letter" chapter (with Chapter 5 being the first), but as I was doing my preliminaries last night, I ran into an integral question.  Is this chapter necessary?  With writing or more specifically editing, that's something you always want to ask.  Is this chapter/part necessary to the story?  Is it needed to further your and therefore the characters' goal(s)?
My idea with the letter chapters was to show the past, present, and future through Aeris's eyes.  The first letter is all about her horrible past and her struggles to reconcile it with the wonderful present.  There are ideas of worthiness and blame she has to wrestle with along with a sort of survivor's guilt.  She was saved from that horrendous existence, but she can't stop thinking about those who are still suffering, and that's tearing her up inside.  She wonders why she was worthy to be rescued when she could physically "take" the worst kinds of abuse, because she'd just come back, but others would actually die.
Of course this is unfathomable and debatable about whom it's worse for: the person who'll die from maltreatment and be (hopefully) released from the pain forever, meaning they'll also lose any hope of a better life (though…I suppose not in the world of FFVII where reincarnation most certainly exists so there's a caveat on that, though you don't come back as that same person), or the person who'll come back time and time again for more abuse.  It's not a question I really want to consider, but Aeris is forced to all the time.
So this chapter was supposed to focus on her present, but I realized quite quickly that many of the things she was saying (and I was writing) were redundant.  I'm currently now going through it and marking "new information" as it were.  Afterwards, I'll decide whether to keep this chapter or parse out what I think is necessary (or refuse to discard) and figure out where I can add it.
Quote: "Is everyone so innocent, my general?"
"No one's more innocent than you."
---
Project: Book Review
Title: Talon
Author: Julie Kagawa
Status: Drafting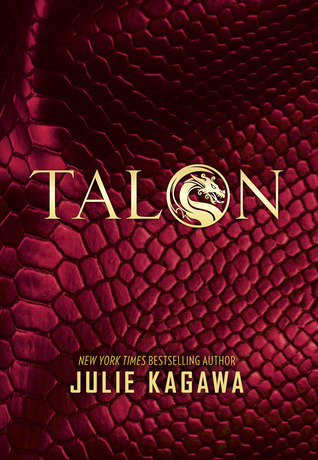 This is going to be one of my longer reviews, because the book brings up a lot of great ideas and philosophical debates.  Much more than some of the paranormal romance YA I've seen  Obviously we have our Hunger Games, Divergent, and more dystopian YAs that present such questions for pondering, but solely romance based YAs without that dystopian setting (especially those with the love triangle) are often vapid and shallow.  Though this one has all of the traits of a typical YA romance (and I was also a bit unsure about how it was going to go initially), there's a great deal of depth to it that needs to be explored.  So I'm going to take my time writing this.
Project: Book Reviews
Title: Various
Status: Upcoming
I'm just going to put the ones I've added instead of the full list.  I'm currently at 14 reviews to do (not including Talon above) with the two added since last week.
They're both fairy tale retellings: Shadows is a genderbent Snow White, and Red as Blood is a darker, more realistic version of Cinderella.  It's the first book I've ever read by Theodora Goss whose titular blog I follow. 
---
Project: Game Review
Title: SOMA
Developer:  Frictional Games
Let's Player: ChristopherOdd
Prior Word Count: 1738
Current Word Count: 2397
Word Difference: +659
Status: Drafting
I changed the title of the post to "Soma – An Analysis and Review," but that may change again later.  I'm still plugging away at the story summary, and I'm a bit shocked there aren't any comprehensive ones anywhere on the internet I can find.  I've been using Wikipedia, the Soma Wiki, and Christopher Odd's videos to augment my memory.  If I write a decent enough summary, I may update the ones on the two wikis (leaving out my analyses of course).  I'd say I'm about halfway through the summary then I can start on the analysis.
I would've worked on this today as well as yesterday, but I had to write up notes on my thoughts about The Last of Us, which took about an hour and is in my queue to review after this and Mass Effect.  I'm a very busy Narcissist.
Project: Game Reviews
Title: Various
Status: Upcoming
If I'm going to do it for books, I might as well do it for games, too.  These are my upcoming game reviews not including SOMA above.
Mass Effect – I'm just going to review the entire series as a whole since it's really just one story broken into three parts.  Like SOMA currently and the other two after, this is going to be more analysis than just plain review.
The Last of Us
Dear Esther – This is a review I've had on my list for a really long time.  I actually have a post drafted for it, but I don't think I got very far.  I really should review it before anything else, since I watched it more than a year (if not two) ago, but I want to get the other three out of the way.
---
What are you currently working on?  Is it a creative writing project, essay, review, or something else?  Have you just started something new or are you wrapping up a long term project?
<–The State of the Writer: 8/13/17          The State of the Writer: 8/27/17–.
Save
Save