<–Saga: Volume 6                                                                               Saga: Volume 8–>
*******Spoilers for all the volumes prior.*******
Title: Saga, Volume 7
Series Title: Saga
Authors: Brian K. Vaughn & Fiona Staples
Date Added: June 11, 2017
Date Started: June 24, 2017
Date Finished: July 2, 2017
Reading Duration: 8 days
Genre: Graphic Novel/Comic, Fantasy, Science Fiction, Paranormal Romance, Space Opera, LGBTQ+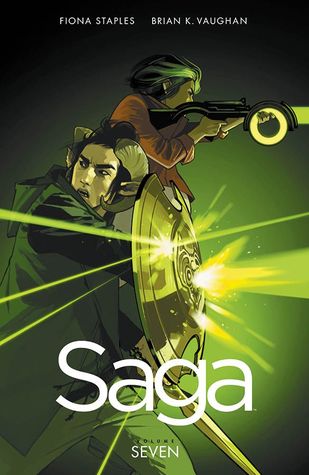 Pages: 152
Publication Date: April 4, 2017
Publisher: Image Comics
Media: Paperback
---
From the worldwide bestselling team of Fiona Staples and Brian K. Vaughan, "The War for Phang" is an epic, self-contained Saga event! Finally reunited with her ever-expanding family, Hazel travels to a war-torn comet that Wreath and Landfall have been battling over for ages. New friendships are forged and others are lost forever in this action-packed volume about families, combat and the refugee experience.
---
Be warned, this volume of Saga is absolutely devastating.  When I reached the final pages, I just sat there, turning them with my mouth agape and tears streaming from my unblinking eyes.  Image and word combined into heartbreaking artistry, and I'm thankful the author promised the next volume will be more upbeat.  I don't think I could take another story line like "The War for Phang."
Phang is a comet and the original home of Sophie (originally known only as Slave Girl), the child rescued from Sextillion by The Will.  During a flashback, if you pay close attention to one of the panels, you can see her being sold to that monster the freelancer took her from.  Phang is a battleground for Wreath and Landfall, and it's where Hazel, her family, and their strange array of allies find themselves.  Though some of the alliances are tenuous at best, the cadre does show "wings," "horns," ghosts, and androids can work together for a common goal.
The natives of Phang, or at least the little ferret like creatures the group befriends, have developed a fatalistic religious system, which makes sense given that their "planet" just wanders through space.  They're used to an apocalypse a day, giving them a "boy who cried wolf" philosophy where the end of the world is the wolf and they're the lackadaisical shepherds.  The greater powers' feud for their planet is as commonplace as strife in our world.  Phang is rich with fuel, so it's subjected to the equivalent "war for oil" by higher powers where the natives are left just as bereft.
The cleverness and intricacies that punctuate Saga continue to shine through with a brief flash of Sir Robot reading D. Oswald Heist (the author of the story that jump-started Alana and Marko's relationship and therefore the…saga itself) and a more detailed and disturbing sequence where Hazel and her friend Kurti (a Phang native) watch the dreams that play out on his screen.
Saga is unafraid to make vital statements and poignant comparisons.  The one that stood out for me in this volume involved Isabelle's conversation with Petrichor, the trans woman from Wreath, about how Hazel also had to hide her body.  It makes the little girl's reveal to her in the last volume all the more significant when this realization hits.  So many people want to exploit Hazel for what she is, and though she's only a child, she still has a fundamental understanding that her body is what it is, and it shouldn't have to be concealed.  As it stands, Miss Petri (as Hazel lovingly calls her) is the only living, non-familial character who knows Hazel's secret and has never tried to exploit her for it.
I might have mentioned it before, but this is probably the most inclusive narrative let alone graphic novel (though I haven't read that many of those) I've ever seen.  Most of the humans/humanoid characters are people of color with the only two who are definitely white being The Will and The Brand.  (quick side note: all freelance assassins seem to have an animal companion/familiar, though now I can't recall if The Stalk had one, too.  She was half-spider herself though…).  Marko, his family, Petrichor (and it seems all of the Wreathians) seem to be coded as Latinx (though of course I could be wrong about that), Alana, Gwendolyn, Sophie, and Heist are all black, as are some more side characters, and Saga's overwhelming success easily quashes the belief that inclusive narratives belong on the fringe (even were this the case, that would only imply a detriment in our culture and not in the stories themselves).
Though I guessed at some of the tragedy that would occur in this book, fore knowledge did nothing to lessen the blow.  Almost serving as a standalone  (though any new readers would be better served starting at the beginning), the "War for Phang" shows that reunions can end in tragedy and new friends can leave you as easily as old.
Now I wait for Volume 8…

5 stars.
<–Saga: Volume 6                                                                               Saga: Volume 8–>
Save
Save
Save
Save