<–The State of the Reader: 9/6/17          The State of the Reader: 9/20/17–>
A weekly post updated every Wednesday detailing my current reading projects and where I am with them in addition to what new titles I've added to my to-read list.  Title links go to Goodreads to make it easier for interested parties to add any books that might strike their fancy.  I attempt to use the covers for the edition I'm reading, and I'll mention if this is not the case.  If you have a Goodreads account feel free to friend me!  I'd love to see what you're reading and/or planning to read.
---
Samples Read This Week
---
---
Books Purchased This Week: 0

---
Books Finished This Week: 3

Title: Chobits, Vol. 1
Series Title: Chobits
Author: CLAMP
Translator: Shirley Kubo
Date Added: August 27, 2017
Date Started: August 28, 2017
Date Finished: September 10, 2017
Reading Duration: 13 days
Media: Physical/Paperback
Despite the flagrant sexism, there's something both endearing and mysterious about this story.  Where did Chi come from?  Why was she in the trash?  Why is she so drawn to that picture book The City With No People?  What did the book mean by "them?"  It has to have something to do with her origins.  I haven't quite surpassed where I stopped in the anime, but since manga is cheaper, I'm more than likely to find out through reading 😉
Title: The Winter's Tale
Author: William Shakespeare
Date Added: August 24, 2014
Date Started: August 14, 2017
Date Finished: September 11, 2017
Reading Duration: 28 days
Media: eBook/Kindle
I liked this much more than I thought I would given the "man is jealous" beginning, and I think I can hazard a guess why Mark Helprin decided to call back the title in his own Winter's Tale, though that very concept is what makes this one of Shakespeare's problem plays.  I'm going to have to research that more before I attempt any kind of review, because I can see how the big reveal at the end could have occurred.
Title: The City of Ember
Series Title: The Book of Ember
Author: Jeanne DuPrau
Date Added: June 28, 2016
Date Started: August 30, 2017
Date Finished: September 12, 2017
Reading Duration: 13 days
Media: eBook/Kindle (Library)
As I was thinking, "Why the hell isn't this a movie?," I discovered a cover that said "Now a Major Motion Picture."  If it wasn't a movie already, I don't see how they couldn't resist making it one, since YA novels are ripe fodder for such treatment.  I was even able to find a full version of the film on YouTube!  The ratings aren't that high, but I'm going to give it a chance.  Also, Ember looks a lot like Midgar in the movie.
On the cover above, I think it looks like a skull, which may or may not have been intentional to show that the city is dying.
This novel was wonderful, and I disagree with some of the critiques about over explanations and how Doon was a "flat character."  Since this is geared towards mid-grade even more than YA, additional explanation is understandable and acceptable. Plus, it's done in such a charming way.  It leaves burning, unanswered questions about what happened to make the Builders create Ember in the first place, the most integral one being "What happened 200 years ago that threatened to wipe out humanity?"  Was it a nuclear strike?  A meteor?  It had to be something that would necessitate humanity leaving the earth's surface due to it being uninhabitable, and it had to be that way for a long time.  I don't know if nuclear fallout would clear out in 200 years (if anyone knows feel free to mention it in the comments!), and I'm only guessing that the dust and ash thrown up by a meteor would dissipate in that time frame ending the long night 😉
I'll talk more about this in the review, and I have to figure out whether or not my Kindle notes will still remain when I return the book to the library.  I'm thinking I should copy them to OneNote just in case.
---
Books Currently Reading: 5

Title: Death Note, Vol. 1: Boredom
Series Title: Death Note
Author: Tsugumi Oba
Date Added: January 7, 2017
Date Started: September 11, 2017
Media: Paperback (Library)
Progress: 27%
There's an ironic poetry to a boy named Light having the power over life and death, and a destitute nihilism that the death god only dropped his Death Note due to boredom, and Light only wields death for the same.  With that said, I know exactly whose names I'd put in the book, and no I'm not going to say them here!
Title: Moon Called
Series Title: Mercy Thompson
Author: Patricia Briggs
Date Added: August 23, 2016
Date Started: September 6, 2017
Media: eBook/Kindle
Progress: 37%
The werewolf lore Briggs uses makes them automatic misogynists, and I don't blame Mercy for hightailing it out of there as soon as she could, though there was a major catalyst for her egress.  I do kind of hate the fact that none of the women like her.  It's not her fault, and it seems unnecessarily catty…which is not wolflike at all
Title: Hands, Kings, & City-States: Analyzing a World of Ice and Fire
Author: Steven Attewell
Date Added: May 12, 2016
Date Started: September 5, 2017
Media: eBook/Kindle
Percentage: 10%
I finished reading the chapters on the historical hands Bloodraven and Baelor in addition to the ones on Tywin Lannister, Jon Arryn, and Eddard Stark.  Attewell's opinion of Ned's Handship has much less to do with his "honorable failure" and more to with how he didn't use his position to the extent of its authority, thinking he was only there to serve as Robert's friend and advisor.  That makes so much more sense and removes the unfair pall over the idea of honor and Handship.  They can coexist, and while Ned's honor did play some part in his downfall (e.g. threatening to reveal the devious queen's indiscretions to the king while the king is out hunting and vulnerable without the plan to do so being in motion and/or a backup was not a wise move), it wasn't the entire story.
Next up is Tyrion, and I'm anxious to see what Attewell has to say about my favorite character.  Note favorite doesn't mean I think he's infallible.  That's just silly.
Title: Master of Crows
Series Title: Master of Crows
Author: Grace Draven
Date Added: May 12, 2016
Date Started: August 31, 2017
Media: eBook/Kindle
Percentage: 40%
The book has gotten more interesting since the main female character Martise discovered her gift, but it's still definitely the slowest of the works I've read by Draven.  She is doing a great job laying the sexual tension on thick.  I just want them to fuck already lol.
Title: Strange the Dreamer
Series Title: Strange the Dreamer
Author: Laini Taylor
Date Added: April 18, 2016
Date Started: August 26, 2017
Media: Physical/Hardback
Progress: 29%
More and more of the mystery is revealed as this book goes along.  There are now two major points of view the narrative bounces back between: Lazlo and another that would be too spoilerish to reveal.  Once more I wish I had more time and less tiredness to fully immerse myself in this for days on end.
---
Books Added to Goodreads TBR List This Week: 8

Title: The Bloody Chamber and Other Stories
Author: Angela Carter
Date Added: September 6, 2017
Recommended By: N/A
I added this due to the comparison with a book I added last week, Girls Made of Snow and Glass.  The blurb on that invoked both this and Frozen.  I've seen Frozen numerous times (and I really need to read The Snow Queen), but The Bloody Chamber is new to me.  I'd say it's a dark retelling of popular fairy tales, but fairy tales were always dark to begin with.
Title: The Art of War
Author: Niccolò Machiavelli
Translator: Ellis Farnsworth
Date Added: September 8, 2017
Recommended By: N/A
Another book brought to my attention by a prior book.  This time Attewell's Hands, Kings & City-States, which I'm currently reading.  He talks about Machiavelli and Machiavellian statesmen, and though I've obviously heard of Machiavelli, I've never read him, and I need to remedy that.  Note this is the second book I've recently added entitled The Art of War.  The other is by Sun Tzu.  I'll be a brilliant general once I read them, won't I? 😉
Title: Hyperbole and a Half: Unfortunate Situations, Flawed Coping Mechanisms, Mayhem, and Other Things That Happened
Author: Allie Brosh
Date Added: September 8, 2017
Recommended By: Cupcakes and Machetes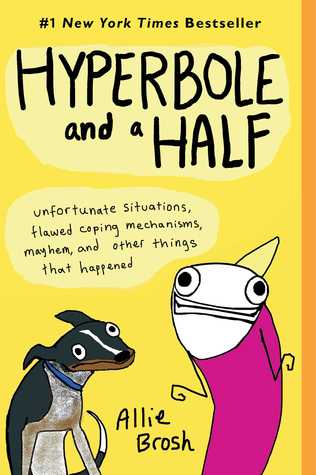 If you've spent any time on the internet, you should recognize the little doodly person on the cover of this book.  If you've been to the writer's website, you might also recognize the dog.  I think that's the "simple dog," but I could be wrong.  Anyway, I had no clue she'd written and published a book, but I'm ecstatic that I found out about this from my good friend C and M.  I can relate to a lot of Borsh's points of view, and I love the way she talks about her experiences.
Title: The Redwall Cookbook
Series Title: Redwall
Author: Brian Jacques & Christopher Denise
Date Added: September 8, 2017
Recommended By: N/A
Even though this wasn't technically recommended by anyone, I did think of the idea while doing the I Dare You Book Tag from Ignited Moth.  Question 17 asks if there's a book that's made you hungry, and I only had one answer to that.  Then I remembered that the gods smiled upon the world and gave us the gift of The Redwall Cookbook with actually recipes, which means everything the good creatures of the Abbey were eating was totally real!  Granted I knew about this cookbook for a while, but I'm glad I was reminded and added it to my list.
Title: Chobit, Vol. 2
Series Title: Chobits
Authors: CLAMP
Date Added: September 10, 2017
Recommended By: N/A
Read and add.  I'm debating whether or not I'm going to buy this or borrow it from the library.  If I already own a book in a series, I prefer to continue adding to the collection, but of course the library would be cheaper.
Title: The People of Sparks
Series Title: Book of Ember
Author: Jeanne DuPrau
Date Added: September 12, 2017
Recommended By: N/A
I want to know what happens to the people of Ember and how there were people living above ground before they emerged.  My theory is that there was more than one city like Ember, and the underground initiative was worldwide or at least in places that would be affected by the disaster.  These other places had better mayors or other officials who kept up with the secrets passed own so when their boxes opened with the instructions, they were prepared and reclaimed the surface at the appointed time.
I would've had this already, but even digital copies are in limited supply at the library, so I'm waiting for my notification that it's available.  I really want to know what happens next.
Title: Tree Magic
Author: Harriet Springbett
Date Added: September 12, 2017
Recommended By: Raven and Beez
Though per the review I read, the middle literally loses its magic, the beginning and end hopefully have enough of it to bleed bookend influence throughout.
Title: The Luster of Lost Things
Author: Sophie Chen Keller
Date Added: September 12, 2017
Recommended by: By Hook or By Book
Given that this came highly and directly recommended by Kim of By Hook or By Book, and given that I adore magical realism, this was an easy add.
---
Fanfictions Currently Reading: 1
Title: I Will Call You Home: A Recounting of the Fifth Blight
Fandom: Dragon Age/Dragon Age: Origins
Pairing: Leliana & Various
Author: AthenaTseta
Date Started: March 16, 2017
Progress: Chapter 32
I think the heroes have finally left the Fade behind for good, but I can't say they've completely shaken off its influence.
---
Fanfictions On Hold: 2
Title: I'm the Darkness, You're the Starlight
Fandom: Final Fantasy VI
Pairing: Celes Chere & Setzer Gabbiani
Author: runicmagitek
Date Started: June 19, 2016
Last Update: February 18, 2017
Latest Chapter: Chapter 18
Title: The Broken Orrery
Fandom: Final Fantasy VII
Pairing: Sephiroth & Aeris
Author: CymbelinesHalo
Date Started:  April 1, 2015
Last Update: August 1, 2016
Latest Chapter: Chapter 39
---
What are you currently reading and/or what's on your radar to read next?  What would you recommend based on my current and recently added?  As always I look forward to your comments and suggestions!
<–The State of the Reader: 9/6/17          The State of the Reader: 9/20/17–>
Save
Save
Save
Save
Save
Save
Save