<–The State of the Writer: 9/10/17          The State of the Writer: 9/24/17–>
A weekly post updated every Sunday discussing my current writing projects and where I stand with them.  This will include (but not be limited to) any and all work(s) in progress (WIPs) be they creative writing, essays/analyses, and reviews.  Additionally, this post will showcase what writing projects I've completed in the past week as a sort of weekly roundup, as I've seen other cooler bloggers do.
---
Finished This Week: 3
Project: Book Review
Title: Gaslight Hades
Author: Grace Draven
Date Posted: September 11, 2017
One book review finished out of many needed this past week, but I'm starting to look at the reviews as yet another long term project, especially if I'm going to finish three or so books a week.  This novel is in the running for my Book of the Year, and Grace Draven may very well be my new/current favorite author.
Project: Award
Title: Not Really Another Liebster Award
Author: Inkbiotic
As the title states, it's not really another Liebster award, but rather one I scooped up on Ms. Inkbiotic's blog as it was so offered.  It was a great deal of fun, and it roused her out of hiding to answer my questions in turn.  I call that a win 😀
Project: Final Fantasy Friday
Title: Final Fantasy Character Assessment
Name: Squall Leonhart
Game: Final Fantasy VIII
I made my second FF Assessment post within two months (give or take) of the first, so I'm pretty happy about that.  So far I've only done male protagonists who happen to be the main characters of their stories.  I'm thinking next is going to be a villain, and I have one in mind whose name begins with the letter "S," though not the one you're probably thinking I'm thinking of 😉  As always suggestions are open and welcome!
---
***Content Warning: Quote for the chapter has mentions of rape/rape flashbacks.***
Project: Story
Title: The Broken Rose
Genre: Paranormal Romance
Type: Fanfiction (FFVII) Novel
Current Word Count: 260,062
Prior Word Count: 261,408
Word Difference: -1346
Status: Editing
Progress: First edit of Chapter 11
There's currently a feather sitting in the middle of my living room floor.  It probably came from one of my many pairs of black wings.  I often use them as bookmarks, too 😉  I think I'll finish the first edit this week if not tonight.  I only have  few paragraphs left.  This edit was interesting, because I highlighted the beginning of every paragraph, and when I started editing it, I removed the highlight.  In that way, I know I'm going to finish the edit on that paragraph and then decide if I'm going to tackle the next.  I might adopt this editing method going forward.
I added some details to some parts, since this chapter is perfect to delve into Aeris's mind about some things, and, in the same vein, I've also deleted things that would be better served elsewhere.  I am excited that I realized I can talk about particular things in this chapter almost without impunity.
Quote: I don't mean to tempt him!  No not at all.  I don't want to force him to rape me!  His eyes turn true cold with shiver thin pupil, whenever I cry about that.  He's angry at *them*, the men who hurt me, who made me afraid of that.  "Rape is a choice," he says, "of the rapist, and the 'forcing' is theirs alone."
---
Project: Book Review
Title: A Court of Wings and Ruin
Author: Sarah J. Maas
Current Word Count: 651
Status: Drafting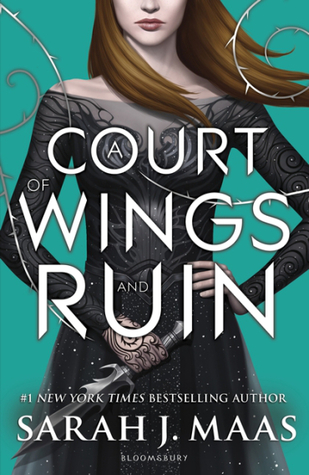 I was hoping to get this finished this past week, but I did get more written than I thought.  I think I've said the majority of what I have to say about this series in my review of the second book, but I want to have a decent denouement.  I have a few critiques about the finale and some trepidation about the fact that there are at least three more books slotted to release (per Goodreads), but all in all I'm very pleased with Ms. Mass's efforts, and more than willing to eat crow for my initial impressions of the first book.
Project: Book Reviews
Title: Various
Status: Upcoming
Three books have been added to my review pile.
Chobits, Vol. 1 by CLAMP – Delightfully fun and almost surprisingly intriguing.  Where did Chi come from?  Why was she in the trash?  What's her fascination with the picture book A City With No People?  There has to be some connection to her situation.  Was she left in such a place?  Of course I'll have to continue reading the series to find this out.
The Winter's Tale by William Shakespeare – I'll have to research why this was one of his problem plays.  The ending seemed fine to me, so I may just be an uncultured rube.  The thought!
The City of Ember by Jeanne DuPrau – I can't get this story out of my mind.  It may be my favorite mid-grade/YA book of the year.  I'm going to have to purchase it, and I don't think I can't wait to hear back from the library about a digital copy of the second book in the series.  I may just buy them all and be done with it.  In fact…let me check Amazon right now.  It's only $20.  Should I do it peeps?  Should I do it???  I did it…
---
Project: Game Review
Title: SOMA
Developer:  Frictional Games
Let's Player: ChristopherOdd
Current Word Count: 4957
Prior Word Count: 3118
Word Difference: +1839
Status: Drafting
I didn't finish this this week or the last as I would've liked, but I did make significant progress with it, almost reaching the end of the story summary.  Once all that is laid out, I can get to the meat of the post, which I've actually renamed "SOMA – An Analysis and Review."  This title is not set in stone though.  I'd like to indicate that it's not just a review of the game though and could possibly not even be considered that, since I'm more examining the deeper meaning and doing comparatives, though the fact that I'm going through all this trouble should tell you that this is a narrative of value.  If you're looking for how it plays as a game though, you might be best seeking other recourse.  This makes me question my gamer status once again, since I wonder if it's really that I just love good stories regardless of their medium, and I'm not willing to dismiss something just because it's not in a more "prestigious" form *rolls eyes*  Actually…nah, I'm a gamer.  I grew up on Coleco/Atari and Nintendo.  I loved Super Mario Bros., though I liked SMB2 better (because, true, I thought the story was cooler), but The Adventures of Lolo was my game, because I'm a puzzle master.  It's possible to wear many hats 🙂
---
Project: Vacation Essays, Reviews, Audio/Video, and Organization
So how did I do on my vacation projects, since I'm returning to work tomorrow?  Let's see…
Completed
Final Fantasy Character Assessments: Squall Leonhart

(Not Really Another) Liebster Award

Gaslight Hades (Book Review)

Audio/Video – I made a recording I'm actually happy with, and it happens to be of my Gaslight Hades review.  I'm going to work on editing that so I can add it to the post.  The research I did about improving the sound quality worked out really well, and I have YouTuber Gaming Careers to thank for that.  His video was easy to follow along with, and he very conveniently had the settings he used saved in a zip file that he gives you the link to.  If you're looking to improve your sound quality and you're a noob to microphones/recording, I'd highly recommend him!  I'm going to see what else he has to offer and more than likely give a follow.  Oh wow, I'm glad I did.  He offers tips for exactly what the channel is titled: Gaming Careers.  Now I'm not looking to do that, but I'm interesting in the info he offers about gear, filming/editing tutorials and whatnot.   It's never a bad plan to have a good source of information.
Blog updates/enhancements – Well…I now have a premium blog if you haven't noticed the website change.  It's http://www.theshamefulnarcissistspeaks.com.  I haven't had as much time as I'd like to play around with what I can do now, but in the upcoming weeks and months you should see the following:

Cleaning Up Menu Bar – though I didn't need to upgrade to do this, the menu should be cleaned up in a week or so.    FYI The Menu Bar sounds like a great name for a lounge like maybe where someone who's both a lounge singer and an assassin might perform #storydetails 😀

Archives – speaking of the menu, I'm going to add an Archived Section at some point to put things that are aged but still linked on the front page that really shouldn't be there.  I need to figure out how I'm going to do this, so that might take a bit longer.  There's something I really want to talk about with all your lovely people, too, but I think it's better to keep it hush hush until a later date.  One of you knows to what I'm referring, but I shall not divulge that either #crypticnarcissistiscryptic

Font Color – I've heard quite a few points of view on my font.  For right now I'm going to keep it white against black, but now that I can, I'm going to update the default to whatever color is best instead of writing a post then highlighting and changing all of the words to a specific color.  It's an okay workaround, but it requires an extra step if I include spoilers, plus I know there's a way to change the default.  I'm also going to throw out a suggestion/post soon about it, so be on the lookout for that!

Header – I'm going to make that translucent, which should make some of the banners that are covered acceptable again.  This is something along with the font I can update through the now available CSS.  I'm going to learn to code more!

Header Hook – speaking of which, I might be changing the hook, but i don't want to give out too many details since I'm not sure what I'm doing yet (tbh, I'm never sure what I'm doing, but who's surprised about that lol).

The Unfinished Seventh – An FFVII Essay  (Last Week)
Stone & Iris (Book Review) (Last Week)
I Dare You Book Tag (Blogger Tags and Awards) (Last Week)

Browser Bookmarks (Organization) (Last Week)

Blog Enhancements and Updates – Front Page Banner (Organization) (Last Week)

Audio/Video (Organization) (Last Week)
I didn't complete or even start the other two essays, but seeing as the one I did took a few days and I put at least eight hours into the day I posted it, I can definitely see why.  I don't want to sound too snobby/narcissistic, but I do take pride in what I write and put out there, and quality work takes time; essays take time; long-form and exploratory reviews take time; stories take time.  I have very high standards for myself, and I absolutely abhor when I find some amateur error in anything the public sees.  I know we all make mistakes, but it makes me feel inadequate, which I, of course, know comes from my need for validation and experience with rejection (I'm working on it peeps).  I'm trying to be kinder to myself, and that includes not beating myself up for "failing" to complete one project when I'm hard at work with numerous others.  Plus health shenanigans blah blah blah.  There may be a more promising insight to that, but we'll see #fingerscrossed.
All in all I'm pretty happy with what I've done these past two weeks, and this may surprise you, I'm looking forward to going back to work!  My job is a lot of problem solving and organization and those are two of my favorite songs.  It's weird, because I have the haphazard scattered brain that I hear many of my fellow creatives lament, but I'm also organized in my way.  My notes and whatnot are organized; my living space, ehhhh not so much hehe.  That's something I have to work on.
Since my husband is not only back to bowling, but bowling twice a week, I'll have more access to the PS4, which means I can play Type-0 more!  If I can finish that in the next month or so, I can move onto to other games on the PS4 and others and of course review them.  Gah!  This isn't the gaming post!  I'll talk about that more in Tuesday's update 🙂
FYI – This may just be because I've been super emotional lately, but I love all of you peeps.  You all really make a lot of this worthwhile along with just being all around good people.  I love reading your blogs and replying to comments, even though it takes a lot of time; it's time well spent!
Who the fuck was that??  What random entity entered into my house, usurped my brain and spilled EMOTIONS all over my post.  *grumble* Feel-o-copter out.
---
What are you currently working on?  Is it a creative writing project, essay, review, or something else?  Have you just started something new or are you wrapping up a long term project?
<–The State of the Writer: 9/10/17          The State of the Writer: 9/24/17–>
Save
Save