Title: Locke & Key, Vol 1: Welcome to Lovecraft
Series Title: Locke & Key
Author: Joe Hill
Illustrator: Gabriel Rodriguez
Date Added: September 28, 2016
Date Started: July 3, 2017
Date Finished: July 15, 2017
Reading Duration: 12 days
Genre: Fantasy, Horror, Supernatural/Paranormal, Graphic Novel
Recommended By: Cupcakes and Machetes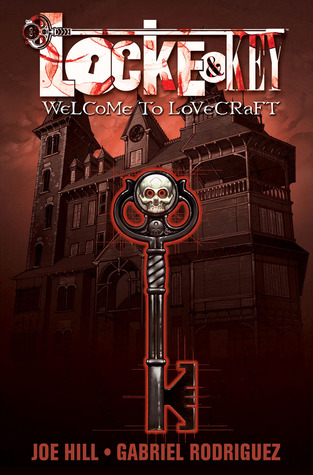 Pages: 168
Publication Date: September 29, 2008
Publisher: IDW Publishing
Media: Paperback
---
Locke & Key tells of Keyhouse, an unlikely New England mansion, with fantastic doors that transform all who dare to walk through them. Home to a hate-filled and relentless creature that will not rest until it forces open the most terrible door of them all…
---
 This book had some big shoes to fill since the last graphic novel series I finished was
Saga
(and I'm still impatiently waiting for
Volume 8
to come out in January).  Once I became used to the different art style though, I realized the excellent creepiness of the story.  The beginning is a bit confusing with how it jumps back and forth between the then and now, a very important distinction since the demarcation is a horrendously tragic event.  There's some obfuscation on who the central character of the story is going to be, and though there's a little bit of point of view switching, the protagonist is most decidedly Bode (whose name I'm not sure how to pronounce.  As is?  Boh-dee?) instead of his older brother who captures more of the focus at the beginning, but is much more of a minor character with Kinsey, the sister, filling a more important role in both the present and the past.
In showing just a few portals of the Keyhouse and their fantastic effect, the creators open up a myriad doors of possibility that can be explored in later volumes, and once more a fiction/fantasy proves that if a kid tells you something, fucking believe them.  Bode attempts to show Kinsey the "ghost door," and she just thinks he's messing around.  It's a well worn cliche that teenagers are jaded, but it would be a nice turnaround to have someone older who'd potentially have more influence and power believe a younger character.
The villainous threat is extremely creepy and made even more so when you realize one of them is merely mundane (though still not completely)  Nor has anything been completely vanquished by the end, though the arc of this first volume does have a satisfactory conclusion, the overarching theme of the Lovecraftian manse is just beginning.
4 stars.
Save
Save
Save
Save