<–The State of the Writer: 9/24/17          The State of the Writer: 10/8/17–>
A weekly post updated every Sunday discussing my current writing projects and where I stand with them.  This will include (but not be limited to) any and all work(s) in progress (WIPs) be they creative writing, essays/analyses, and reviews.  Additionally, this post will showcase what writing projects I've completed in the past week as a sort of weekly roundup, as I've seen other cooler bloggers do.
---
Finished This Week: 1
Project: Locke & Key, Vol 1: Welcome to Lovecraft
Author: Joe Hill
Illustrator: Gabriel Rodriguez
Date Posted: September 30, 2017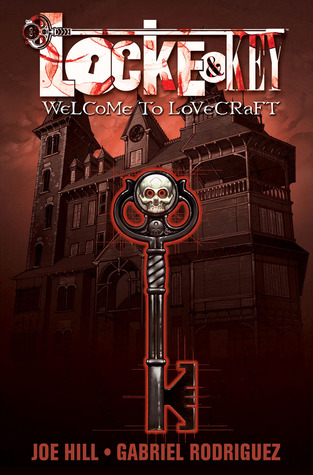 An easy review for an awesome graphic novel, and from what I'm hearing the later ones only get better.  I already have the second volume on my to-buy list.  I better bump it up!
---
Project: Story
Title: The Broken Rose
Genre: Paranormal Romance
Type: Fanfiction (FFVII) Novel
Current Word Count: 260,270
Prior Word Count: 260,329
Word Difference: -59
Status: Revising
Progress: Chapter 2
The most pressing question of the moment is what the hell pictures am I going to use for updates during my revision?  I don't want to repeat old ones, and I sure am hell am not going to go through much effort to find new ones for chapters I've already posted about, so there might be some weird stuff *shrug*
I managed to revise and review Chapter 1 fairly quickly, since it's a short chapter, though horrific in content.  Ugh, I always forget how horrendous I made it, so it's a shock no matter how many times I edit or reread.  The one major thing I changed was having Aeris speak to Sephiroth first.  Given her situation, I don't think she would do so, having been "taught," (ugh) to only speak when spoken to, but if a man directly asks you a question, you answer it.  After some general clean up, the first chapter's revision is done.  I'm not posting or reposting anything until I'm completely caught up though.  This is the downside of editing and posting chapter by chapter.  If you have to do some major macro fixes, it's going to require this kind of overhaul.
I'll talk more about writing shenanigans and blog updates further down, because there's going to be some changes during the month of November.
---
Project: Book Reviews
Title: Various
Status: Upcoming
Three reviews added this week bringing the total to 25:
---
Project: Game Review
Title: SOMA
Developer:  Frictional Games
Let's Player: ChristopherOdd
Current Word Count: 5694
Prior Word Count: 5694
Word Difference: 0
Status: Drafting
While I didn't add any more words to the count, I did start reading Peter Watts's Blindsight today, though, oddly enough, it reminded me of The Last of Us in its first paragraph's mention of Theseus and Fireflies (look up some of the theories about Part 2's trailer if you're curious about the former), but that was just the prologue.  I can already see the similar seeds to SOMA in this, but of course I'll reverse judgment until I've finished.
---
Blog Updates
Updates Finished This Past Week:
Review Pages – Removed direct links to reviews

Book Reviews – Menu only has "Book Reviews by Title" and "Book Reviews by Author" demarcation
When I finished updating the Review pages, I discovered that I have far less movie reviews than I thought.  I used to write for a blog called Caffeine Crew, which is now defunct.  The site was taken over by Next Level Radio Online, which is mostly dedicated to podcasts.  Even though you can still type in http://www.caffeinecrew.com, it'll take you to (the) Next Level (sorry…too easy).  I don't have any hard feelings towards this, and I thought I'd saved drafts of all my reviews from there prior to this happening, but apparently I did not, nor do I see any archives where they might be housed.  I'm more annoyed at myself for not double checking that I had this information, but be that as it may, I only have two film reviews, and I noticed a few of you retweeting the Fast & Furious 7 one I posted as of its original date.  I had no idea that would still show up on Twitter because I backdated it, but thank you for retweeting!  The style is a bit rougher than my current since it was written two years ago, and I think I've improved.  I wish I had more time to write movie reviews, but I think I'm going to stick with book and game unless there happens to be  film that just really strikes me.
Updates Planned for This Upcoming Week:
Make default font color d9d9d9

Update About the Shameful Narcissist
Update Contact
I was going to attempt the font this last night, but I have to delve into CSS for it, and I didn't have the brain power to mitigate that.  I'm currently fighting a head cold, which is sapping the limited energy I have in addition to making my eyes even more light sensitive.  I should seriously post a picture of myself…I look the vampire queen/queen of the night right now hehe.  I'm dressed in a long black dress with a black brocade coat, fingerless black gloves (skin issue shenanigans woot), and my typical mid-length silver hair.  I'd be more likely to yawn at or sneeze on you than to bite…which of course still carries its own pathogens >:)
---
NaNoWriMo 2017
I've mentioned this on and off for the past few months, but I am going to be participating in NaNoWriMo this year "for realz," as in I'm actually going to attempt to write 50k words in a month.  This breaks down to 1667 words a day since November has 30 of them.  As you can imagine, this is going to taken an immense amount of time and effort especially for a chronic sickie such as me.  As such, I'm going to be dramatically cutting down how often I post on here for the month. I…haven't quite figured out what's going to be put on hiatus yet.  That's something I'll figure out during October, and I'll let you know as I do.    It's all going to depend on what takes up the most time, and I'm already compiling a mental list of them.  I'm not going to disappear, and I'll still do my best to check all of your blogs and answer any comments that come my way, but I might be a bit of a ghost for the month.
October is going to be spent prepping for the project.  I have a lot of notes, but I need to figure out the intricacies of running a successful government (when/if I do, I'll share this direly needed information on Twitter for our top officials to use) and some other foundation info.
If you're doing NaNo this year, friend me!  I'm TheShamefulNarcissist on there, too 🙂
---
What are you currently working on?  Is it a creative writing project, essay, review, or something else?  Have you just started something new or are you wrapping up a long term project?
<–The State of the Writer: 9/24/17          The State of the Writer: 10/8/17–>
Save
Save
Save
Save
Save