<–The State of the Reader: 9/27/17          The State of the Reader: 10/11/17–>
A weekly post updated every Wednesday detailing my current reading projects and where I am with them in addition to what new titles I've added to my to-read list.  Title links go to Goodreads to make it easier for interested parties to add any books that might strike their fancy.  I attempt to use the covers for the edition I'm reading, and I'll mention if this is not the case.  If you have a Goodreads account feel free to friend me!  I'd love to see what you're reading and/or planning to read.
---
Samples Read This Week
---
Books Purchased This Week: 0

---
Books Finished This Week: 1

Title: The Diamond Tree
Author: Michael Matson
Date Added: January 26, 2016
Date Started: September 28, 2017
Date Finished: October 1, 2017
Reading Duration: 3 days
Media: eBook/Kindle
This was a cute, little fairy tale with all the proper elements, though I could've done with a bit of a shakeup from the typical enchanted princess/love at first sight Rescue Romance.
---
Books Currently Reading: 7

Title: Hunting for Spring
Series Title: Philadelphia Coven Chronicles
Author: Katherine McIntyre
Date Added: January 13, 2016
Recommended By: The Author
Media: eBook/Kindle
Progress: 12%
This is an urban fantasy written by one of my oldest and dearest friends Kat.  As you all know, I'm not big on urban fantasy and am very picky when it comes to the sub-genre (I really need to make a list of all of the urban fantasies I really enjoyed…), but if a friend writes something, I make it a point to read it.
Title: The Daemoniac
Series Title: A Dominion Mystery
Author: Kat Ross
Date Added: October 13, 2016
Date Started: September 28, 2017
Media: eBook/Kindle
Progress: 17%
I am loving this Sherlock Holmes inspired mystery where the main character isn't even the Holmes analogue, but rather is impersonating her sister Myrtle (who is) and doing a bang up job.  I'm only 17% in and Harry (yes, her name is Harry, short for Harrison.  Consider that Anne Rice's birth name is Howard and President Obama's mother's name was Stanley though coincidentally, she went by Ann, too) seems close to wrapping the case up, so I know something is going to happen to flip the script.
Title: Promethea, Vol. 1
Series Title: Promethea
Author: Alan Moore
Date Added: March 8, 2014
Date Started: September 24, 2017
Recommended By: N/A
Media: Paperback (Library)
Progress: 66%
Needless to say, I loved the introduction of the immateria.  I'm going to need to at least skim back through this book before I return it so I can see if there truly is a pattern to the sun insignia that appears on many of the pages.
Title: Blink Once
Author: Cylin Busby
Date Added: July 22, 2016
Date Started: September 15, 2017
Media: Hardback (Library)
Progress: 39%
I'm glad I'm invested enough in this story to just roll my eyes at some of the stereotypical teen thoughts.  What's annoying about it is, while I don't know a huge host of teenage boys, the ones I do aren't so blatantly shallow to judge every fucking girl they know or see as either hot or ugly…at least not aloud.  This of course could be a gambit by the author to show both West and us that his friend Mike isn't as great of a person as he initially believed, and indeed, West mentally defends Nurse Norris whom Mike dubs ugly, because she's the best nurse who takes care of him.  I'm really wondering why Olivia is only around when no one else is.  I know there's a reason for it, but I'm still not entirely sure what that reason is.
Title: The Metamorphosis and Other Stories
Author: Franz Kafka
Date Added: June 12, 2017
Date Started: September 14, 2017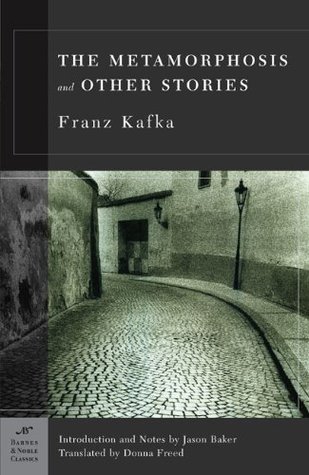 Media: Paperback
Progress: 21%
Kafka starts to use the sister's name, Grete, when she and the mother begin to remove the furniture from Gregor's room.  I'm not sure if this has some deeper meaning, but it is curious how the unfortunate Gregor's parents are only ever called the father or the mother.  It could be a symbol of the sister's agency in taking care of her transformed brother.  I didn't read any of this tonight (it's not the day for it), but in noting my progress, I also took notice of Grete talking about how they "need to get rid of him" in regards to Gregor or rather the insect and how she can't equate her brother with "that thing."  Hm.  Interesting to note that Kafka refused to have any illustration of the bug done.  The closest we come to a description of what type of creature Gregor turns into is the charwoman calling him an "old dung beetle," but she' hardly a reliable source.
Title: Hands, Kings, & City-States: Analyzing a World of Ice and Fire
Author: Steven Attewell
Date Added: May 12, 2016
Date Started: September 5, 2017
Media: eBook/Kindle
Percentage: 24%
This is one of those examinations of government that will help me in shaping my own in my upcoming NaNoWriMo story even though what I have in mind is a far cry from what ASOIAF mostly presents.  Ironic that crafting a (close to realistic) utopia (given the presented circumstances) can be as difficult as creating a dystopia, or I suppose I could say "normal" functioning government
Title: Strange the Dreamer
Series Title: Strange the Dreamer
Author: Laini Taylor
Date Added: April 18, 2016
Date Started: August 26, 2017
Media: Physical/Hardback
Progress: 42%
You wouldn't suspect it from the blurb or the narrative thus far, but I'm now wondering if there will be a paranormal romance element to this book, and if this is, holy god, I cannot wait to see how Taylor writes such.  It's merely a dream, but I'm already shipping them so hard.
---
Books Added to Goodreads TBR List This Week: 5

Title: We Have No Idea: A Guide to the Unknown Universe
Author: Jorge Cham
Date Added: September 28, 2017
Recommended By: N/A
This is what happens when I don't note down where I hear or read book recommendations; I don't remember where I heard or read them.  I think it was on one of the many YouTube videos I've been listening to at work.  Now that I'm thinking about it, it was probably one of the quantum physics videos, but anyway, I'm fond of books that talk about how much we don't know by discussing how little we do.
Title: The Collected Tales of Nicolai Gogol
Author: Nikolai Gogol
Date Added: September 29, 2017
Recommended By: Professional Moron
I was promised by the recommender that this collection of stories as absurd and profound as the Kafka work I'm currently reading.  I had no idea I'd like The Metamorphosis as much as I do, and Kafka may very well wind up being my favorite classic writer of the year.
Title: Mr. Penumbra's 24-Hour Bookstore
Series Title: Mr. Penumbra's 24-Hour Bookstore
Author: Robin Sloan
Date Added: October 2, 2017
Recommended By: Touch My Spine Book Reviews
I love bookstores.  I love everything about them.  I love the way they smell.  I love the energy they give off.  I love how just going into one recharges me almost immediately, and I would definitely read a book about a bookstore in a bookstore, because I'm meta like that.  This was an instant add the moment I learned it was about a 24-hour bookstore (why don't those exist yet btw? I've had plans to write about one for years though) and the adventures found therein.
Title: The Last Namsara
Series Title: Iskari
Author: Kristen Ciccarelli
Date Added: October 2, 2017
Recommended By: Pretty Deadly Blog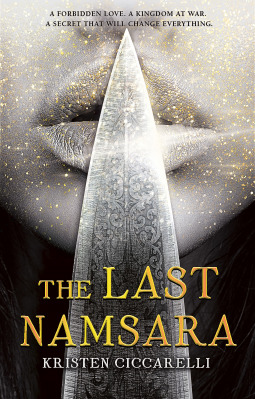 The main character of this is the "dark one" instead of the child of light that's usually the focal point of these type of stories.  She's a dragon slayer until some point of faith changes everything.
Title: Branded
Series Title: Fall of Angels
Author: Keary Taylor
Date Added: October 4, 2017
Recommended By: Touch My Spine Book Reviews
Seeing the series title only made me more interested.  The (fallen) angels better be hot *grumble*
Total Books on Goodreads TBR List: 530
Difference from Last Week: +3
---
Fanfictions Currently Reading: 1
Title: I Will Call You Home: A Recounting of the Fifth Blight
Fandom: Dragon Age/Dragon Age: Origins
Pairing: Leliana & Various
Author: AthenaTseta
Date Started: March 16, 2017
Progress: Chapter 36
At first I was worried that Wynne the busybody disapproved of Reyna and Leilana spending time together, because she was being an old homophobe, but that fear was allayed by the end of Chapter 36.  Dialogue is really the author's most shining talent, not to say world-building isn't, which might sound odd considering this is a fanfiction and the world is already built, but that's a shallow assessment.  True, Dragon Age has a world well built by BioWare, but that's through a visual/video game media.  It's far different to do it through words even though anyone who's played will have the devs' image in their heads already.  It's the polar opposite of watching a movie or TV show based on a book where you have your mental image first and have to compare that to the visual rendering.   Also, every writer will have includes their own nuances and touches, leaving an imprint on the world as they saw it when they played. 
Detractors never think about this in regards to fanfiction, but consider even writing your "traditional" fantasy, which is almost always based on medieval Europe or rewriting a fairy tale (which is…the same).  Both settings draw from a ubiquitous well of ideas that everyone dips into in order to craft their own unique (or not so unique) concoctions.  The only difference is fanfiction is blatant in what it takes from, whereas "traditional" fantasy and fiction is more covert.  It's a thin veil, though, for those of us versed in paradigms ,tropes, and motifs, and I suppose this is where the layperson's or non-writer/author's derision stems, though unfortunately, there are quite a number of well-known authors with huge platforms who either don't realize this or don't see it in a similar light.  I don't want to call them hypocritical, because much of their opinion stems from worrying about the people who will legitimately steal their ideas and try to profit off of them without permission, which is not cool in the least. 
True fanfiction writers are doing it because they love the fandom and are wholly passionate about the stories they can garner from it.  They are connoisseurs of the "what if?" which drives all stories.  If they are going to try to publish anything, it would be in a legitimate way e.g. Kindle Worlds or within a fandom  that allows such like the Star Wars one used to do and (I think) the Star Trek one still does.  Also considering the fine line between appropriation and inspiration.  Where does one end and the other begin?  If you write characters and/or settings inspired by pre-established ones (see above with fantasy and fairy tales) or if you change pre-established characters/settings enough that they're unrecognizable to anyone not in the know, what really is the difference?   I, myself, have done the latter.  Anyone who knows me and reads The Serpent's Tale would see the blatant similarities, references, and nods to a particular numbered narrative, yet anyone who either doesn't know me or is unfamiliar with the sibilant sounding source would be none the wiser.  This is multiplied by the fact that I also wrote a shorter and fairy tale version of it.
Holy fuck…this was a long ramble lol.  The fanfiction validity topic is a huge sticking point with me (plus I'm The Shameful Narcissist, so I can't ever resist talking about myself), and I'm constantly reviewing and refining my argument, since I seem to be called to present it far more often than I'd wish.
---
Fanfictions Added This Week: 0

---
Fanfictions On Hold: 2
Title: I'm the Darkness, You're the Starlight
Fandom: Final Fantasy VI
Pairing: Celes Chere & Setzer Gabbiani
Author: runicmagitek
Date Started: June 19, 2016
Last Update: February 18, 2017
Latest Chapter: Chapter 18
Title: The Broken Orrery
Fandom: Final Fantasy VII
Pairing: Sephiroth & Aeris
Author: CymbelinesHalo
Date Started:  April 1, 2015
Last Update: August 1, 2016
Latest Chapter: Chapter 39
---
What are you currently reading and/or what's on your radar to read next?  What would you recommend based on my current and recently added?  As always I look forward to your comments and suggestions!
<–The State of the Reader: 9/27/17          The State of the Reader: 10/11/17–>
Save
Save
Save
Save
Save
Save
Save
Save