<–The State of the Reader: 10/25/17          The State of the Reader: 12/20/17–>
---
Do people like reading news/updates in the beginning or end of regular posts?  I think I like the beginning so I immediately know what's going on, but I'm sure some of you might prefer just reading the weekly, and then dealing with any news.  Well, as mentioned in my End of Hiatus post, I'm not going to be doing this weekly anymore, but rather biweekly.  I'm also cutting down on the number of books I read at once.  Instead of two Kindles, I'll be reading one and only on on weekdays during my lunch break if I'm at work.  Instead of reading a classic and a non-fiction/reference, I'll alternate between the two.  Since I just finished reading a classic and I'm already in the midst of a reference, the latter's reading days will be moved to the former's.  Once I finish the  non-fiction, I'll read another classic and so on.  Then I'll read one physical fiction/fantasy, which could be a book borrowed from the library; however, I'm not necessarily going to read an additional book from the library anymore.  I was going to keep it at three, but graphic novels/manga are really easy to breeze through.  Cutting down from seven books to four is going to help tremendously (it already has), especially considering I have a shit ton of reviews to catch up on.  So that's my update.  Biweekly SOTR posts and less books at a time.
---
Books Purchased This Month: 0

---
---
Books Finished This Month: 5

Title: The Bonesetter's Daughter
Author: Amy Tan
Date Added: August 16, 2012
Date Started: October 19, 2017
Date Finished: November 12, 2017
Reading Duration: 24 days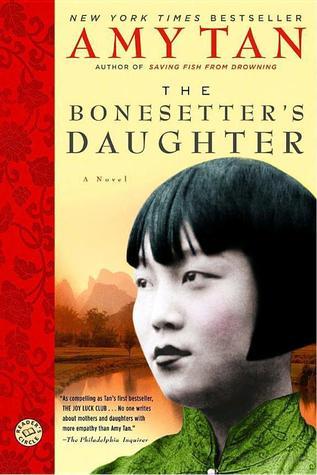 Media: eBook/Kindle
I think I might have read this book before, but forgot I'd finished it, so didn't include it on my Read shelf.  Regardless, like Amy Tan's other books, I adored it.  She tends to write about mother-daughter relationships using some of the most eloquent language possible, and I've been reading her novels since high school.
I skimmed through the review/comment section since the Goodreads rating is more than a point less than my own, and the biggest complaint seems to center around the main character Ruth.  I connected with Ruth's sense of duty and her anxiety about not being able to accomplish everything and/or please everyone, while at the same time, she neglected her own needs.  Critiques said she was whiny *rolls eyes*  She was dealing with an overbearing mother who was slipping into or possibly always had a portion of dementia along with balancing work and regular home life.   Sometimes reading comments on novels tells you much more about people in our culture/society much more than the story in question.  Add to the fact there's some varying degrees of abuse in the story, and I'm pretty appalled (but sadly not surprised) that some reviewers are such assholes.  I'll be writing my own for this novel (eventually) where I'll elaborate more.
Title: Death Note, Vol. 3: Hard Run
Series Title: Death Note
Author: Tsugumi Obata
Illustrator: Takeshi Obata
Date Added: October 25, 2017
Date Started: November 12, 2017
Date Finished: November 16, 2017
Reading Duration: 4 days
Media: Paperback (Library)
I have this on my review list along with the next one (below), but I'm not sure how or if I will do so.  Maybe I'll review the entire series as a whole when I finish. That seems to make much more sense.
Title: Death Note, Vol. 4: Love
Series Title: Death Note
Author: Tsugumi Obata
Illustrator: Takeshi Obata
Date Added: November 13, 2017
Date Started: November 22, 2017
Date Finished: November 24, 2017
Reading Duration: 2 days
Media: Paperback (Library)
The girl on the cover (whose name I forget now) is annoying as hell, but her presence does serve to show how emotionless Light really is.  Yet, there's still a decent sized part of me that doesn't want him to get caught.  This is fighting the part of me that also wants L to succeed, and it creates this gigantic dilemma since both of those things cannot happen.  The end of this installment sort of brings things to an odd stalemate, and I can't wait to read the next.  I borrowed 5 and 6 from the library.
Title: Gyo
Series Title: Gyo
Author: Junji Ito
Date Added: September 14, 2017
Date Started: November 26, 2017
Date Finished: November 30, 2017
Reading Duration: 4 days
Media: Hardback (Library)
I'm not sure how to rate this one.  It was indisputably fucked up, and I'm still thinking about the final scene even now, but Tadashi was a little bit hard to like in the beginning, though he does redeem himself with his later actions,  The reason behind the horror is still a mystery, but what isn't is what some people do with it, which is the most disturbing aspect.  I'll be reviewing this one eventually, too.
Title: The Metamorphosis and Other Stories
Author: Franz Kafka
Date Added: June 12, 2017
Date Started: September 14, 2017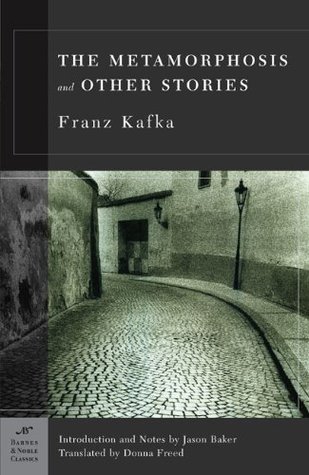 Media: Paperback
This is my favorite classic of the year, and I'm glad I was reading Kafka while I was writing about Kefka :p  I always thought the names sounded similar, and I had to look up the author while I was working on an essay that included the demented clown.  The themes of each of his stories center around hopelessness, futility, and foolish consistency.  I'm going to have fun reviewing/analyzing this one.
---
Books Currently Reading: 4

Title: Parellel
Author: Anthony Vicino
Date Added: May 9, 2015
Date Started: November 19, 2017
Media: eBook/Kindle
Progress: 59%
I do or did follow the author of this book's blog.  I added it a long time ago, and I'm trying to read books now in reverse order so I can mark the oldest ones added as "read."  I highly recommend this.  I wasn't completely sure in the beginning, but it's a fantastic sci-fi story so far.
Title: The Lies of Locke Lamora
Series Title: Gentleman Bastard
Author: Scott Lynch
Date Added: October 11, 2012
Date Started: October 26, 2017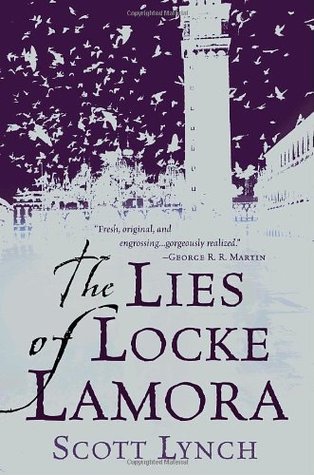 Media: eBook/Kindle
Progress: 30%
I'm finding it hard to figure out what I feel about Locke and his gang of Gentlemen Bastards.  The setting is brilliant and vibrant among its squalor, the language can be both poetic and crass, and the writing is engaging.  But…I'm wondering why I should sympathize with a band of thieves.  While I'm not entirely opposed to them relieving the filthy rich of their money (because any system that has uber wealthy alongside pitifully poor is unfair), this activity has made them as rich if not richer than the people they're attempting to rob.  I'm hoping the author goes into more depth with what the grand, master plan is (and I hope there is one), because the world of Camorr is fascinating with an angle similar to A Song of Ice and Fire (GRRM even has a recommendation quote on the cover) in terms of there being some unsettling mysteries of its origin.  The city is clearly built on top of an ancient civilization that was populated by some long gone elder race.  There's even something called Elderglass that men can neither fathom nor fashion.  I really, really hope Lynch eventually reveals this world's secrets.
Title: Hands, Kings, & City-States: Analyzing a World of Ice and Fire
Author: Steven Attewell
Date Added: May 12, 2016
Date Started: September 5, 2017
Media: eBook/Kindle
Percentage: 42%
I'm currently on a chapter where Attewell discusses the different types of government and how they're exemplified in Essos.  One of the Free Cities, I think Volantis (though you could hardly call such a city "free" when it participates in slavery) calls its leaders "archons," and I'm so happy it reminded me of that term.  Also, as mentioned before, any work that talks about government/governing is ripe for mining since even bad/corrupt examples allow me to ruminate on what I'll do different for my WIP (though let's be honest…it's not like I don't have plenty of fodder for corruption in real life).
Title: Strange the Dreamer
Series Title: Strange the Dreamer
Author: Laini Taylor
Date Added: April 18, 2016
Date Started: August 26, 2017
Media: Physical/Hardback
Progress: 83%
Since it's been a month between updates, I've read quite a bit more and a lot has happened.  This is one of those stories where you (the reader) know what you want to happen, but you have no idea how it's going to turn out that way.  Also the prologue explicitly describes what's going to occur soon (I reread parts of it to make sure), and it is not good.
---
Books Added to Goodreads TBR List This Week
Total Books on Goodreads TBR List: 548
Difference from Last Week: +7
---
Fanfictions Currently Reading: 2

Title: I Will Call You Home: A Recounting of the Fifth Blight
Fandom: Dragon Age/Dragon Age: Origins
Pairing: Leliana & Various
Author: AthenaTseta
Date Started: March 16, 2017
Progress: Chapter 40
I love Reyna's reactions to "human fledglings," though the reasons many of them are drawn to her is quite oppressive and messed up.  Many humans have elf servants who care for their children.  There's a disturbing real world parallel to this
Title: I'm the Darkness, You're the Starlight
Fandom: Final Fantasy VI
Pairing: Celes Chere & Setzer Gabbiani
Author: runicmagitek
Date Started: June 19, 2016
Progress: Chapter 19
I used to ship Locke and Celes (no clue what their ship name is), since I played FFVI when I was a teenager and just went along with the canon ship, but my OTP now is definitely Celes and Setzer.  They just…work better in my opinion.  I feel like I've mentioned this before, but Celes and Locke is like Leia and Han, the princess and the rogue.  Celes is a general, not a princess (though Leia does have that title in The Force Awakens.  RIP Carrie Fisher ;_;), but the difference in status remains the same.  Now, I'm not that much of an asshole, so this is not a "she can't date him because he's below her;" it's more involved than that.  Locke is still hung up on Rachael to the point that his life's goal is to find the Phoenix summon to try to revive her (not even Cloud was that delusional…) whereas Setzer has a lost love, too, in Darill, but one that he's laid to rest.  He still mourns her, but he's moved on.  Locke also has that "need to rescue" complex, which was certainly useful to Celes when she was branded a traitor and locked in chains, but just because someone rescues you, it doesn't mean you own them anything.  I actually like the idea of breaking the Rescue Romance trope in this case, especially considering how Setzer's involvement subverts it even more since Locke seemingly has to rescue Celes from him, as well.  It would be awesome to have the gambler and the general end up together, forcing Locke to reexamine is M.O when it comes to women and relationships 😉
---
---
Fanfictions Added This Week: 0
---
Fanfictions On Hold: 1
Title: The Broken Orrery
Fandom: Final Fantasy VII
Pairing: Sephiroth & Aeris
Author: CymbelinesHalo
Date Started:  April 1, 2015
Last Update: August 1, 2016
Latest Chapter: Chapter 39
---
What are you currently reading and/or what's on your radar to read next?  What would you recommend based on my current and recently added?  As always I look forward to your comments and suggestions!
<–The State of the Reader: 10/25/17          The State of the Reader: 12/20/17–>
Save
Save