<–The State of the Reader: 12/6/17          The State of the Reader: 1/3/18–>
---
Books Purchased: 2

All the Crooked Saints by Maggie Stiefvater – $15.19 @ Target: I couldn't resist the hype train for this one, plus it's impossible to go into Target and only pick up what you went to Target for…especially when it comes to me and books.  I'm just thankful I resisted the video game section, but then I'm more likely to pick up a book anyway.  Not only because it's cheaper, but also because I'm less likely to receive it for Christmas.  I already had her Scorpio Races on my TBR list, but the blurb for this (which you can find at the end of the link) was just too compelling to pass up.  Definitely something I'd expect from the author of The Raven Cycle.
Sins of the Father by Anthony Vicino – $0.99 @ Amazon: I'd just finished reading Mr. Vicino's novella Parallel, which I'll talk more about below, so I added and bought this one when I saw how cheap it was.  Supporting indie authors is part of life.  This book is about a murderer who has no idea why he killed his grandmother.  The lack of motive presents a psychological conundrum.
---
Books Finished: 2

Title: Parellel
Author: Anthony Vicino
Date Added: May 9, 2015
Date Started: November 19, 2017
Date Finished: December 12, 2017
Reading Duration: 23 days
Media: eBook/Kindle
This story did not turn out as I expected, and that's an excellent thing.  I like when novels do something different with tropes, and Parallel (ironically, in a titular sense) could have gone a number of different ways.  It's a sci-fi that even non-sci-fi aficionados can appreciate, the elements serve to support the metaphor and message without overriding it.  The story is also realistic as well as bittersweet.  It's only $0.99 on Kindle and less than 100 pages, so if you're interested in a poignant sci-fi and would like to support an independent author, I'd pick this one up 🙂
Title: Death Note, Vol. 5: Whiteout
Series Title: Death Note
Author: Tsugumi Oba
Illustrator: Takeshi Obata
Date Added: November 24, 2017
Date Started: December 7, 2017
Date Finished: December 17, 2017
Reading Duration: 10 days
Media: Paperback (Library)
I announced this on my Twitter (@ash1rose), but I'm going to start reviewing manga and graphic novels as series instead of individual books.  It just makes sense since they're less individual stories in each volume and more one overarching plot.  It will cut down on my book reviews, and save me time, too.
Yes, this volume was excellent.  Yes, I gave it five stars on Goodreads, and yes, this is the best manga series I've ever read.  I can't wait to start the 6th volume, which I borrowed from the library along with the 5th so I can get right to it!
---
Books Currently Reading: 3

Title: The Lies of Locke Lamora
Series Title: Gentleman Bastard
Author: Scott Lynch
Date Added: October 11, 2012
Date Started: October 26, 2017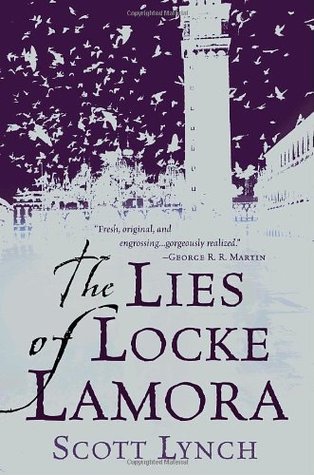 Media: eBook/Kindle
Progress: 44%
Cutting down to one Kindle was one of the wisest decisions I've made this year.  Now instead of worrying about how much of one book I can read or fretting if a chapter is too long, I can just keep going until my lunch break is over (…which is kind of an arbitrary concept anyway).  I should have done this sooner.
As for the book, it has gotten way more interesting.  Locke's lacks in likability are more than made up for with the shit situations he's currently found himself in, and despite myself, I'm not rooting for him to fail.  It's strangely similar to Death Note in that I'm on the edge of my seat with how the balance is going to be kept and the game of cat and mouse played.  With Lies another cat has come onto the scene per se, not only more cunning than the one Locke and crew were used to, but also making his presence known to the head "cat" in the deadliest of ways.
Title: Hands, Kings, & City-States: Analyzing a World of Ice and Fire
Author: Steven Attewell
Date Added: May 12, 2016
Date Started: September 5, 2017
Media: eBook/Kindle
Percentage: 43%
I barely read any of this in the time between, but I did manage to finish the chapter on types of government.  Unfortunately, since I read my Kindle daily on my lunch break, and also because I have this book scheduled on busier days, it's usually the first to be swept aside.
Title: Strange the Dreamer
Series Title: Strange the Dreamer
Author: Laini Taylor
Date Added: April 18, 2016
Date Started: August 26, 2017
Media: Physical/Hardback
Progress: 90%
I can't wait to see how this ends, though I've heard rumblings that it's a huge cliffhanger.
---
Books Added to Goodreads TBR List
Total Books on Goodreads TBR List: 550
Difference from Last Week: +2
---
Fanfictions Currently Reading: 2

Title: I Will Call You Home: A Recounting of the Fifth Blight
Fandom: Dragon Age/Dragon Age: Origins
Pairing: Leliana & Various
Author: AthenaTseta
Date Started: March 16, 2017
Progress: Chapter 41
I've been falling behind in this.  LightningEllen who started reading long after me has already finished all 100+ chapters o.O  I blame the holiday season for sapping my time the way a desire demon saps…well you know.
Title: I'm the Darkness, You're the Starlight
Fandom: Final Fantasy VI
Pairing: Celes Chere & Setzer Gabbiani
Author: runicmagitek
Date Started: June 19, 2016
Progress: Chapter 21
I cant imagine I'm too far from the end since the crew has beaten Kefka, and that's the end of the game.  Of course the story's romance angle focus has to tie up in some satisfying manner before we get to The End.
---
Fanfictions Added This Week: 0
---
What are you currently reading and/or what's on your radar to read next?  What would you recommend based on my current and recently added?  As always I look forward to your comments and suggestions!
<–The State of the Reader: 12/6/17          The State of the Reader: 1/3/18–>