<–The State of the Reader: 12/20/17          The Final State of the Reader–>
---
Books Purchased: 0

---
Books DNF: 1
Title: The Prophet of Yonwood
Series Title: Book of Ember
Author: Jeanne DuPrau
Media: Paperback
Percentage Finished: 21%
Not nearly as engaging as the other books.  This prequel wasn't compelling in the least, and it's disappointing since the lead up to what caused the existence of Ember could've been a rousing tale.  We could've found out if there were other underground cities and/or how the rest of humanity survived, but the author choose to focus on prophecy and proselytizing instead of that.  I still have the final Book of Ember to read, which I'm looking forward to, as it involves Lina and Doon's return.
Books Finished: 3

Title: Strange the Dreamer
Series Title: Strange the Dreamer
Author: Laini Taylor
Date Added: April 18, 2016
Date Started: August 26, 2017
Media: Physical/Hardback
Oh my god this book was so good.  I don't know how I'm going to review it, since I can't say much without spoiling, but it took so many familiar tropes, cliches even, and yet they didn't come off as trite.  While I figured it out about a chapter or two before the reveal, I still covered my face with my hands.  All the pieces just fell together beautifully, and I think it worked because it's not like the author doesn't give away an integral part in the very prologue.  I kept going back and forth from there to my current place just to make sure all of the ends matched up.  They did…to tragic effect.  I hope the sequel comes out sooner rather than later sometime this year.
Title: Death Note , Vol. 6: Give-and-Take
Series Title: Death Note
Author: Tsugumi Oba
Illustrator: Takeshi Obata
Date Added: December 7, 2017
Date Started: December 21, 2017
Date Finished: December 31, 2017
Reading Duration: 10 days
Media: Paperback (Library)
With the completion of this, I'm officially halfway done with the series.  It's interesting seeing the two sides of Light.  I really want to pick up the box set of this series at some point.  I'm not rushed on it, since I can borrow all of the volumes from the library.
---
Books Currently Reading: 3

Title: The Vagrant
Series Title: The Vagrant
Author: Peter Newman
Date Added: March 20, 2017
Date Started: December 30, 2017
While I love my Kindle and am of course enjoying Death Note, the books I most want to read are piled by my bookshelf.  Ones I'm willing to physically purchase are normally the ones I'm most excited about, and The Vagrant is neither an exception nor has it disappointed so far.  With each subsequent chapter, I only want to know more.  Like a good storyteller, Newman dangles information like life affirming drops.  There is only an idea of who the titular character is and what he's doing, but never a confirmation from the silent sword-bearer himself.  The true answers to these questions remain to be seen.
Title: The Lies of Locke Lamora
Series Title: Gentleman Bastard
Author: Scott Lynch
Date Added: October 11, 2012
Date Started: October 26, 2017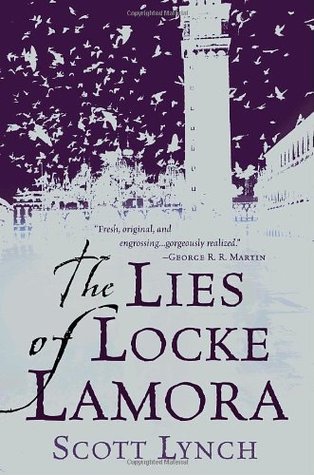 Media: eBook/Kindle
Progress: 66%
The Gentlemen Bastards have grown on me.  I am fully invested now.  The stakes have never been higher and Lynch's format of alternating between past and present is captivating.  You think you're going to rush through the past chapter, because you want to know what's going on now, but then it's just as interesting to witness the foundation as it is to observe the peak.  Then sometimes a "present" chapter doesn't even focus on Locke and crew, which just happened at a critically vital moment, but what occurred was so integral to the overall plot that I couldn't even be mad.  I also can't emphasize enough how much better it is to just be reading one Kindle.  I can get through one chapter a session, and not just a few sub-chapters.
Title: Hands, Kings, & City-States: Analyzing a World of Ice and Fire
Author: Steven Attewell
Date Added: May 12, 2016
Date Started: September 5, 2017
Media: eBook/Kindle
Percentage: 45%
I'm on a section about Old Ghis and it's government, politics, and conquests.  You'd think reading about fictional empires would do nothing to teach you about true history, but you would be wrong.  Writers only take what's there, reconstitute it, and re-present it.  The wise will decipher (or make a passable attempt) at what they meant to impart.
---
Books Added to Goodreads TBR List
Total Books on Goodreads TBR List: 556
Difference from Last Week: +6
---
I need to work on my Best of posts for books (as well as games).  I'd like to get to that (them) no later than next week.  I have another three day weekend coming up, and ideally, I want to have them both completed by then.
You may have noticed I've omitted the fanfiction section.  This is not because I've stopped reading fanfiction (perish the thought), but more because I'm pretty good at keeping up with the writers in the comments of their works, and while I have no problem talking about fanfiction on my blog, nor do I think it's less worthy than any other literature, it again boils down to a time thing.  I do have fanfiction reviews planned like everything (with some even long overdue), so it's not like you won't see me talk about such works by other writers on this blog, but in my quest to truncate as much as possible, I've decided to let the section go.  I hope no one will be too upset 😦
---
What are you currently reading and/or what's on your radar to read next?  What would you recommend based on my current and recently added?  As always I look forward to your comments and suggestions!
<–The State of the Reader: 12/20/17          The Final State of the Reader–>