<–The State of the Reader: 1/31/18          The State of the Reader: 2/28/18–>
---
Books Purchased: 1
---
Books DNF: 1
Shadow Stalker Part 1 by Renee Scattergood – I knew the main character was going to be a "chosen one" paradigm, and I'm fine with that, but after finishing the first part, I'm going to leave it there.  I think what got under my skin was her foster father/trainer told her she can't stop him when he messes with her mind to calm her down, and that really rubs me the wrong way.  Mental meddling is an invasion, and if someone doesn't want you to do it then you respect that.  Also the fact that he's been doing it her entire life without telling her (leaving her to figure it out) bugs me, too.  I get why he's doing it, but it's still troublesome.  There was a character named Sephir, so…that was pretty cool.
---
Finished: 2
Title: Saga, Vol. 8
Series: Saga
Author: Brian K. Vaughn
Illustrator: Fiona Staples
Date Added: July 2, 2017
Date Started: February 4, 2018
Date Finished: February 8, 2018
Reading Duration: 4 days
Media: Paperback
Do you even have to ask if it was good at this point?  Saga is quite possibly the best graphic novel series I've ever read.  It's amazing how something that can take place in space involving aliens can be so "human" and relatable.  The ending to this volume is almost literally the polar opposite to the ending of 7.
Title: Krim Du Shaw
Author: Talia Haven
Date Added: February 16, 2016
Date Started: February 14, 2018
Date Finished: February 14, 2018
Reading Duration: 1 day
Media: eBook/Kindle
One of the most original stories about unicorns I've read.  No light and fluffy to be found here; it was short, sweet, and brutal.  For six pages and $0.99 it has an impact you feel in retrospect.
---
Currently Reading: 3
Title: All's Well That Ends Well
Author: William Shakespeare
Date Added: September 15, 2017
Date Started: January 26, 2018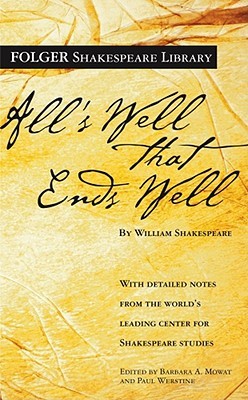 Media: eBook/Kindle
Progress: ?
Just plodding along.  The scene I read was short, and I don't recall anything of great import happening therein.
Title: The Diamond of Darkhold
Series Title: The Book of Ember
Author: Jeanne DuPrau
Date Added: September 17, 2017
Date Started: January 14, 2018
Media: Paperback
Progress: 48%
I just read a chapter before updating this.  it's not that it's not interesting; it's more that I don't have this book on my to-do list, which means I save the reading of it when I have some spare time, so you can guess how that goes.  I'm hoping we find out what the titular "Diamond" is soon.
Title: The Vagrant
Series Title: The Vagrant
Author: Peter Newman
Date Added: March 20, 2017
Date Started: December 30, 2017
Media: Paperback
Progress: 52%
I was this close to declaring this DNF more than once, but then something pulls me back in.  I want to know what happens when the titular character and his burdens reach the Shining City, if they ever do.  If worse comes to worse, I'll just skip to the end to satisfy my impatient curiosity, and I won't count the book as read.
---
I hope you all have a happy Valentine's Day.  I'm not particularly fond of the Hallmark Holiday in good circumstances, and mine this year were less than ideal.  My Twitter and Facebook peeps know this, but we had to put my one kitty cat down last night.  He became sick very quickly, as in he was seemingly healthy at Christmas then sometime in January he became lethargic and his stomach swelled up.  I took him to the vet and then an oncologist where he received chemo and a prednisone prescription.  Unfortunately, his appetite never returned, he looked consistently miserable, and last night he threw up on his food when I presented it.  He looked like he couldn't get comfortable, nor could he walk more than a few steps, and he was wheezing.  I planned to call the vet today for an appointment. 
When my husband got home from bowling and I was laying in bed, I heard him underneath it, vomiting and struggling to breathe.  I called my husband to help me get him out, and we laid him in the bathtub, utterly listless while I called the emergency vet.  I was borderline hysterical by this point since I had an appointment early today that I couldn't reschedule, though this fact did and does nothing to alleviate my current guilt.  So I helped load him into his carrier bag and of course couldn't sleep anyway. 
The call came not too long after.  The tumor in his stomach was too big.  He was struggling to breathe, and his heart was failing.  It would've been selfish to let him suffer, and I had a feeling yesterday when I came home.  Back when he was healthy, I would sometimes pick him up and say, "Hey Kin-mei, you gotta promise me you're never going to die."  Of course he never answered, and while I of course knew this day would come, I still dreaded it. 
When my husband got home, I went nonverbal for a bit.  It was just easier not to talk (I'm weird…I don't know if that's an INFJ thing, but when something tragic happens, I need to process it on my own.  I…could probably write a whole post explaining why I just stop talking, but I don't feel like it right now).  While at work, it was easier to be distracted (though I received a ton of notifications from wonderful people expressing their condolences), but now that I'm sitting in my apartment without him here, it's pretty fucking terrible. 
I'm sorry I'm shitting on my State of the Reader post.  You didn't come here to read about my dead cat.  I'm angry I didn't get to say goodbye.  I'm angry that I didn't go when I should've have.  I should've been there with him, and there's nothing I can do to take that back or change it.  I'm angry I can't explain to Cid (my other cat) what happened.  I'm angry that he's probably wondering where Kin-mei is, and I can neither tell him, nor would he understand even if I could.  I'm angry he died covered in his own vomit and with a messy bottom.  He didn't deserve that.  He was so fastidious about being clean.  I'm angry that it doesn't matter what one "deserves" and that the universe seems completely devoid of meaning.  I'm angry that even though his existence obviously meant so much to me, in the grand scheme it means nothing.  He was SUCH a good kitty, but in less than a hundred years, he'll be forgotten, and I'm angry that no matter how upset I am about this nihilistic fact, it doesn't matter.  It doesn't change anything.  I'm angry that I can't just fucking believe in something that would make this pain go away.  I'm angry that I can't believe in any of the "rainbow bridge" or "heaven" stuff that so many kind people have mentioned, even though I want to believe it so goddamn badly.  I'm angry that so many humans are complete wastes of air and pieces of shit, and even the ones who aren't still contribute to the destruction of the planet, but we have the potential to live 5-6 times longer than creatures who will love us unconditionally, and we do not fucking deserve it.   He was my first kitty, my grumpy old man, my bishie baby, the king of the house, smarter than some people, and I miss him so much it hurts.
Next time I promise a regularly scheduled State of the Reader post without the sads.  I would love to talk about books or whatever for a distraction.
<–The State of the Reader: 1/31/18          The State of the Reader: 2/28/18–>