<–An Ember in the Ashes                                                                               A Reaper at the Gates–>
Title: A Torch Against the Night
Series: An Ember in the Ashes
Author: Sabaa Tahir
Date Added: June 7, 2017
Date Started: July 12, 2017
Date Ended: August 23, 2017
Reading Duration: 42 days
Genre: Fantasy, Dystopian, Young Adult (YA), Romance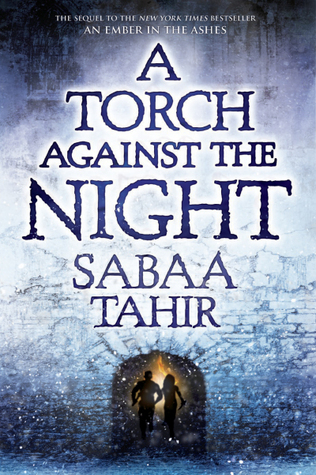 Pages: 452
Publication Date: August 30, 2016
Publisher: Razorbill
Media: Paperback
---
Elias and Laia are running for their lives. After the events of the Fourth Trial, Martial soldiers hunt the two fugitives as they flee the city of Serra and undertake a perilous journey through the heart of the Empire.
Laia is determined to break into Kauf—the Empire's most secure and dangerous prison—to save her brother, who is the key to the Scholars' survival. And Elias is determined to help Laia succeed, even if it means giving up his last chance at freedom.
But dark forces, human and otherworldly, work against Laia and Elias. The pair must fight every step of the way to outsmart their enemies: the bloodthirsty Emperor Marcus, the merciless Commandant, the sadistic Warden of Kauf, and, most heartbreaking of all, Helene—Elias's former friend and the Empire's newest Blood Shrike.
Bound to Marcus's will, Helene faces a torturous mission of her own—one that might destroy her: find the traitor Elias Veturius and the Scholar slave who helped him escape…and kill them both.
---
"So long as you fight the darkness,
You stand in the light."
The second installment of Elias and Laia's saga is just as compelling as the first.  The stakes are even higher, the perils more vast, and not even once believed allies can be trusted.  The soldier and the scholar are joined in their point of view chapters by Helene, whose duties as Blood Shrike threaten to rip her apart as they cannot coexist with her loyalties to her once best friend and brother-in-arms.
While there are love entanglements in this series, they in no way diminish the narrative nor seem shoehorned in for the sake of its YA status.  Laia develops feelings for Keenan due to their mutual goals in the resistance, while Elias and Helene have always had their odd relationship due to being friends forever behind their Masks.  Oddly the strongest bond is the most star-crossed in Elias and Laia, which forces Helene to acknowledge her feelings for him in dealing with her jealousy.
Every character in this story is tested and tried beyond the limits of what they can endure, even ones with absolutely no redeeming qualities like Keris, who was impregnated with Elias through rape.  It is understandable she'd be enraged by her helplessness at such a heinous act, but regardless the horror of his conception, it is not her son's fault.  Neither of Elias's parents are good people, yet he is (this is the same paradigm found with Brishen in Wrath Kings).  It is interesting to note that Elias's real mother is Mamie Rila who didn't give birth to him but raised him, and his birth mother Keris is a hateful bitch, showing that blood doesn't always mean family.
A Torch Against the Night continues to uphold the famed dichotomy of light vs. darkness within its pages in dramatic and often ironic ways, as in the case of Kauf Prison, which sits beneath the northern lights.  How a place of such horror and misery can dwell beneath such beauty is shamefully obscene, and it could reveal the realist's view that heaven is indifferent to human endeavors.
The amount of grief, loss, and torture in this book is monumental.  It does not mince words nor soften the blow despite its YA status, and in many areas is even more graphic than The Hunger Games.  Despite its Ancient Rome like setting, the political climate is grievously similar to what we are facing today: a highly unqualified, dangerously unstable child who is (more than likely) being controlled by a malevolent entity, and what makes this most eerie is Ms. Tahir wrote this before November 2016.  There are three potential torches against the night, but fire needs fuel to burn, and the light can only break the darkness if they all burn as one.
5 stars.