Title: The Bonesetter's Daughter
Author: Amy Tan
Date Added: August 16, 2012
Date Started: September 19, 2017
Date Finished: November 12, 2017
Reading Duration: 24 days
Genre: Cultural/Historical Fiction, Women's Literature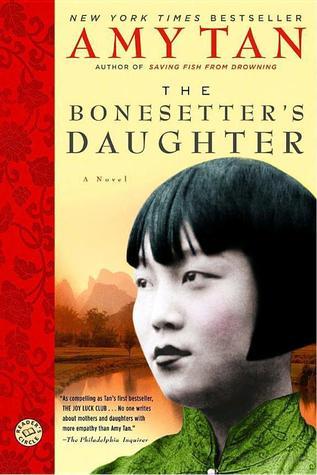 Pages: 378
Publication Date: February 19, 2001
Publisher: G. P. Putnam's Sons
Media: eBook/Kindle
---
In memories that rise like wisps of ghosts, LuLing Young searches for the name of her mother, the daughter of the Famous Bonesetter from the Mouth of the Mountain. Trying to hold on to the evaporating past, she begins to write all that she can remember of her life as a girl in China. Meanwhile, her daughter Ruth, a ghostwriter for authors of self-help books, is losing the ability to speak up for herself in front of the man she lives with and his two teenage daughters. None of her professional sound bites and pat homilies works for her personal life; she knows only how to translate what others want to say.
Ruth starts suspecting that something is terribly wrong with her mother. As a child, Ruth had been constantly subjected to her mother's disturbing notions about curses and ghosts, and to her repeated threats to kill herself, and was even forced by her mother to try to communicate with ghosts. But now LuLing seems less argumentative, even happy, far from her usual disagreeable and dissatisfied self.
While tending to her ailing mother, Ruth discovers the pages LuLing wrote in Chinese, the story of her tumultuous and star-crossed life, and is transported to a backwoods village known as Immortal Heart. There she learns of secrets passed along by a mute nursemaid, Precious Auntie; of a cave where dragon bones are mined, some of which may prove to be the teeth of Peking Man; of the crumbling ravine known as the End of the World, where Precious Auntie's scattered bones lie, and of the curse that LuLing believes she released through betrayal.
Like layers of sediment being removed, each page reveals secrets of a larger mystery: What became of Peking Man? What was the name of the Bonesetter's Daughter? And who was Precious Auntie, whose suicide changed the path of LuLing's life? Within LuLing's calligraphed pages awaits the truth about a mother's heart, what she cannot tell her daughter yet hopes she will never forget.
Set in contemporary San Francisco and in a Chinese village where Peking Man is being unearthed, The Bonesetter's Daughter is an excavation of the human spirit: the past, its deepest wounds, its most profound hopes. The story conjures the pain of broken dreams, the power of myths, and the strength of love that enables us to recover in memory what we have lost in grief. Over the course of one fog-shrouded year, between one season of falling stars and the next, mother and daughter find what they share in their bones through heredity, history, and inexpressible qualities of love.
---
What is the past but what we choose to remember?
Amy Tan has been one of my favorite authors since high school.  I've read The Joy Luck Club, The Kitchen God's Wife, and The Hundred Secret Senses quite a few times, and when I finished The Bonesetter's Daughter, I realized I'd read it before, too.  Miss Tan specializes in the relationships between mothers and daughters, how fraught they can be, how fragile, and, in this novel, how there's more than one way for them to be broken.
Every year around the middle of August, Ruth Young, a ghostwriter juggling a myriad of other responsibilities, loses her voice for eight days.  It's happened long enough that she no longer questions it, instead choosing to enjoy the quiet time where she now has what she considers a valid excuse to work on what doesn't require speech.  Living with her boyfriend and his two teenage (or near enough daughters) while simultaneously worrying over her aging mother who's recently developed strange mental ailments.
Ruth has a great deal to stress about.  She worries about everything and is constantly terrified she's missing some integral piece that keeps her from making the right decision.  This, among other things,  are clear signs of anxiety, and every factor in Ruth's life adds to it.  She worries she's "too Chinese" for Art and his daughters, as well as his parents who seem to get along better with his ex wife and mother of his children.  This is blatantly shown during a cross family dinner where Ruth can't help but notice the establishment of a "Chinese table" and the younger children's disgust with some of her favorite childhood foods.  The cultural divide in Ruth's life puts a layer of dysphoria beneath an already troubled foundation.
The other side of the story belongs to LuLing, Ruth's mother with her words bookending the novel, which serves as a meta-encompassing for the importance therein.  There is a stark contrast between how LuLing is portrayed through Ruth's parts and her own with the former focusing on the past and centered around LuLing's nursemaid, known only as Bao Bomu or Precious Auntie who is the titular character (and more than likely the beautiful woman gracing the cover). She was disfigured with her face half-burned, missing teeth, and a tongue too scorched for speech.  But even more tragic, her name has been forgotten by the one person who needs to remember.
When LuLing begins to insist things Ruth's always known are not true such as her Auntie Gal (LuLing's sister GaoLing) isn't really her aunt and messing up her age/date of birth, Ruth takes her to a doctor where her fears of her mother's declining mental state are confirmed.  It adds yet another ball for her to juggle loaded down with guilt.  Their relationship has always been tumultuous even as Ruth tries to maintain it and her own sanity through cultivation and attempting to translate LuLing's memoir with her own imperfect Chinese and her mother's muddled memories.  Complicating this is LuLing's guilt-trip for Ruth not knowing enough of the language to do it easily, and whenever her ghostwriter daughter asks her a question, she finds a way to wind away from a direct answer.
Eventually, the secrets locked in LuLing's memory are revealed to both us and Ruth when the words are translated.  The tale is both heartbreaking and hopeful, beginning in a small Chinese village near where the remains of Peking Man were located.  This ties intricately with the title, since such bones are of such importance that of course they will be kept, laying the foundation for the more recent history of LuLing's (and by extension Ruth's) bonekeeper legacy.
The major theme of this novel is silence.  It began with Precious Auntie who lost her tongue to flames and grief and later on manifests in Ruth who loses her voice every August.  It manifests in LuLing whose words are scattered by dementia to be revealed only when her muted, ghostwriter daughter translates them, nor is this the first time LuLing is influenced by a voiceless ghost.  When Ruth was a little girl, she broke her arm on a slide.  Afterwards, for the first time, LuLing pays attention to her daughter instead of talking over or gaslighting her, and in the wake of the injury, Ruth goes completely silent.  Initially, it was in shock, but then when she saw how much better her mother was acting, she was encouraged to maintain her muteness.  It was only when she was voiceless did LuLing finally "listen."  Ruth learned to become silent at times when her mother's behavior became unbearable, even using Precious Auntie's ghost as a cover for it.  LuLing was emotionally abusive, often threatening suicide if her daughter didn't do what she wanted, and Ruth realized her silences were the only escape.
It would seem shocking that despite all of this, The Bonesetter's Daughter is a beautiful story about family, finding where you come from, and knowing your past.  While it doesn't excuse LuLing's treatment of her daughter, she herself suffered horrendous abuse and hardship in China, and many of the things Ruth thought she knew about her mother were complicated at best and wrong at worst.
The novel is rated about one star less than I gave on Goodreads, and skimming through the comments section, most of the harshest critiques center around Ruth.   I connected with her sense of duty and anxiety about not being able to accomplish everything and/or please everyone, while at the same time neglecting her own needs.  She worries about everything and is terrified of making the wrong decision.
Some reviewers either didn't realize this or didn't care, choosing to label her "whiny."
Ruth was dealing with an overbearing, emotionally abusive mother who was slipping into or possibly always had a portion of dementia (and certainly had other mental health concerns), while trying to achieve the near impossible work-life balance with a stressful home life.  Reading the comments on a novel often tells you more about the culture/society of the people commenting than the novel itself.  It reveals how mental health is still too often sidelined, brushed off, ridiculed, and ignored.  Ruth literally endures forced silence once a year, unable to verbally articulate her needs, which paralleled how she felt her entire childhood, and yet she found a way to make her silence empowering.
There were varying degrees of abuse in this story, *spoiler* including Ruth being molested by her neighbor, followed by her mother not believing her, which is horrific, *end spoiler* and I'm honestly appalled (though not really surprised) that some reviewers are such assholes.  Of course people are entitled to their informed opinions, but disliking an abuse survivor who literally goes mute once a year in connection with this past is just fucking cruel.
The Bonesetter's Daughter was a beautiful story about family, finding where you come from, and knowing your past.  In the end, Ruth no longer loses her voice because she discovers the strength of its source.
5 stars.