<–The State of the Reader: 8/1/18          The State of the Reader: 8/29/18–>
---
Books Purchased: 2
---
Books DNF: 1
Title: The Paper Magician
Series Title: The Paper Magician
Author: Charlie N. Holmber
Date Added: June 17, 2016
Date Started: August 9, 2018
Date DNF: August 9, 2018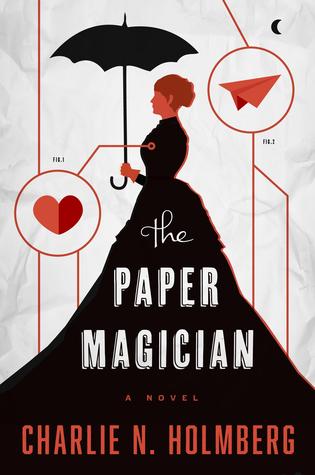 Media: eBook/Kindle
I wish I'd just passed on this based on the sample, but I probably didn't read enough of it and what I read at the time was enough of a draw.  It's a hard balance.  I want to read enough to know if I'm going to like it, but I don't want to read too much because I don't see the point in reading it twice (I wish I could make this make more sense, but I'm too tired to explain it any better…)
I didn't have much of a sense of Ceony the main character except she's a good student and wanted to work with metal not paper.  Usually students can choose what they want, but since there's been a dearth of paper magicians or Folders, she was pushed in that direction, and once you bond with a material that's it.
Reading the blurb on Goodreads I'm glad I called it quits.  There was a slight romance thing between her and her teacher, which I could've dealt with, but I'm just not sure how this is going to differentiate from other stories where the main character's best laid life plans go awry.  Not that I wouldn't read a story like that, but I'd have to be more invested in the characters.
---
Books Finished: 5
Title: Black Butler, Vol. 1
Series Title: Black Butler
Author: Yana Toboso
Date Added: January 8, 2018
Date Started: July 26. 2018
Date Finished: August 2, 2018
Reading Duration: 7 days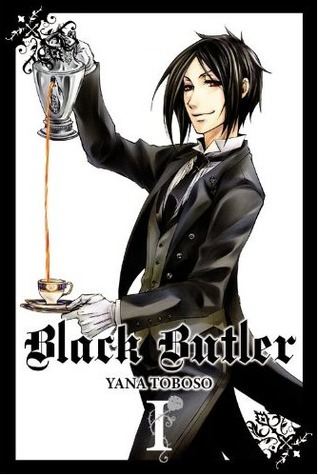 Media: Paperback (Library)
I wished I'd liked this more than I did, but unfortunately I hated all of the characters except for Ciel and Sebastian, and they're just not enough for me to continue the series.  Hard pass.
Title: A Reaper at the Gates
Series Title: An Ember in the Ashes
Author: Sabaa Tahir
Dated Added: August 23, 2017
Date Started: July 2, 2018
Date Finished: August 4, 2018
Reading Duration: 33 days
Media: Hardback
This series is fantastic, and this may be the best book I've read all year.  Granted Muse of Nightmares, the sequel to Strange the Dreamer hasn't come out yet, but so far it's only between Reaper and one other novel.  Tahir knows how to raise the stakes and put her characters in legitimate danger as they experience soul crushing loss.  Sadly, I don't see any information about the final book in the quartet, but I signed up for the author's newsletter, so I'm hoping for information soon.
Title: The Wicked + The Divine, Vol. 1: The Faust Act
Series Title: The Wicked + The Divine
Author: Kieron Gillen
Artist: Jamie McKelvie et al
Date Added: June 6, 2017
Date Started: August 2, 2018
Date Finished: August 7, 2018
Reading Duration: 5 days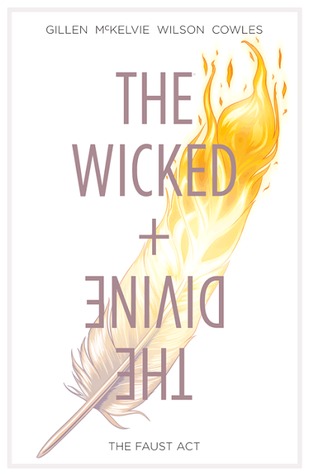 Media: Paperback (Library)
The artwork in this is gorgeous, but that's really all the praise I can give it.  The story is vapid, which I suppose could be considered meta for incarnated gods that are treated like celebrities.  The thing is though when you want to show that something is vacuous, the presentation can't be, and the presentation unfortunately is.  Usually when you want to show how pervasive a negative trait is, you give the readers a character they can relate to.  It's possible I'm the wrong age demographic, because this series receives a lot of praise, but I can get into the mindset of a teenager obsessed with celebrity gods.  This falls flat because the characters are one-dimensional.  I'll have more to say when I review.
Title: Dolor and Shadow
Series Title: Tales of the Drui
Author: Angela B. Chrysler
Date Added: June 16, 2016
Date Started: July 4, 2018
Date Finished: August 8, 2018
Reading Duration: 35 days
Media: eBook/Kindle
I actually stopped reading this at 84%, but I think I read enough of it to count towards my challenge.  I skimmed the end.  I just couldn't take it anymore.   Chrysler obviously knows her mythology (both Celtic and Norse), but I don't think she understands how to apply it properly to the narrative of a story.  She winds up having Heimdall show up at the end for no discernible reason, because Kallan needs to have an image of him for the plot's sake.  It seems like the author was trying to mimic Tolkien (which is not a slight against her) in terms of writing a novel to showcase her knowledge of something, but LOTR is a cohesive story where the characters and their motivations make sense (he also wrote LOTR in order to use the Elven languages he created, so…there's that).
There are so many things about Kallan that don't compute if she's queen of Lorlenalin.  There are things she should know that she doesn't, and also the major dispute between her and Rune could be resolved by one conversation.  I hate when novels do that for no given reason.  I might have been more forgiving of this is the characters had had chemistry and there weren't other glaring issues.  The odd thing is prior to the second half before Kallan and Rune are traveling together, the story is really good.  I think Chrysler wanted to draw that part out, and that's where the issues arise.  I'll discuss this more in my eventual review.
Title: Two Hearts
Series Title: The Last Unicorn
Author: Peter S. Beagle
Date Added: August 24, 2014
Date Started: July 27. 2018
Date Finished: August 10, 2018
Reading Duration: 14 days
Media: Online
This is exactly what I would've expected from a sequel to The Last Unicorn.  It captures the mien and magic of the original tale, while showing us what's happened to its original characters.  Even though I knew how it was going to end, it was still wholly satisfying and went exactly as it should have.
---
Currently Reading
Title: The Graveyard Book
Author: Neil Gaiman
Date Added: April 13, 2013
Date Started: August 9, 2018
Media: Paperback
Progress: 19%
I added another book to my rotation since I can zip through graphic novels so quickly.  I seem to find Neil Gaiman either hit or miss.  The last thing I tried to read by him was his Sandman graphic novel, which I found extremely pretentious, but I'm loving this one.  Nobody Owens' family was murdered for an unknown reason by a sinister man in black.  They mystery around their murder is enough to keep me reading, and Bod's life in the graveyard is eerily enchanting.
Title: The Crow Box
Series Title: Shadow and Ink
Author: Nikki Rae
Date Added: July 8, 2016
Date Started: August 9, 2018
Media: eBook/Kindle
Progress: 41 %
This novel makes you wonder whether or not the main character Corbin is having similar mental issues as her mother or if she's really talking to an actual entity.  She started hearing it before her mom gave her the titular box, so I'm not sure how that's going to tie together unless she manages to trap it inside.
Title: Monstress, Vol. 2: The Blood
Series Title: Monstress
Author: Marjorie Liu
Artist: Sana Takeda
Date Added: August 21, 2017
Date Started: August 9, 2018
Media: Paperback (Library)
Progress: 38%
I really want to like this series.  The artwork is gorgeous and the story should be compelling.  I think my issue is the main character isn't that likable.  I get why she has a chip on her shoulder, but there's nothing that really endears me to her, and usually characters looking for information about their dead mother is an immediate draw for me, but in this case eh.
Title: The Strange and Beautiful Sorrows of Ava Lavender
Author: Leslye Walton
Date Added: August 2, 2016
Date Started: August 6, 2018
Media: Paperback
Progress: 39%
Ava was spectacularly born with wings, and this is her story.  I love the winding, poetic way its written in a world of magical realism.  It's been a while since I've read that (sub)genre, and I forgot how much I love it.
Title: Ireland's Immortals: A History of the Gods of Irish Myth
Author: Mark Williams
Date Added: October 5, 2017
Date Started: July 6, 2018
Reading this is like taking a class.  This is not a complaint.  I love studying things, and even though my reading sessions are time consuming and require a lot of concentration and energy, I feel like I'm absorbing more information in the way I'm taking notes.
---
I either loved or had serious critiques for the books I finished this week.  I'm not usually that polarized with my opinions.  I wish I'd like three out of the five instead of two, but it is what it is.
What's your biggest pet peeve in a story?
---
<–The State of the Reader: 8/1/18          The State of the Reader: 8/29/18–>