<–The State of the Reader: 8/29/18          The State of the Reader: 9/26/18–>
---
Books Purchased: 4
---
Books DNF: 1
Title: The Riddle of the Wren
Author: Charles de Lint
Date Added: August 24, 2014
Date Started: August 26, 2018
Date DNF: September 5, 2018
Reading Duration: 10 days
Media: Physical (Library)
This is one of those books I would've devoured in high school.  It's an old school fantasy (published in 1984) by one of my favorite authors back then.  This was actually his first published work…and it shows.  It's not bad, but you can see where the cracks haven't been smoothed over.  When I'm less concerned  with how a story gets to where it's going and more about how the characters resolve it, I know it's not something I'll enjoy reading, and I'll usually just flip to the end to see how it all plays out.  I didn't bother doing that with this one.
Charles de Lint has a ton of books I haven't read yet though, so I'm sure there will be others I enjoy.
---
Books Finished: 1
Title: The Strange and Beautiful Sorrows of Ava Lavender
Author: Leslye Walton
Date Added: August 2, 2016
Date Started: August 6, 2018
Date Finished: September 3, 2018
Reading Duration: 28 days
Media: Paperback
I'm glad I have time before I review this book so I can think about it.  It is beautifully written, but I think I would've known what was going to happen had I not been warned about it (not in a spoiler way, just…warned).  I like that the author put discussion questions at the end (something I've thought of doing myself).  There's something…off, but I can't put my finger on it.  It all depends on how the ending is supposed to be interpreted.  Like most good stories it could go a number of ways.
---
Currently Reading
Title: Gone Girl
Author: Gillian Flynn
Date Added: June 14, 2013
Date Started: September 8, 2018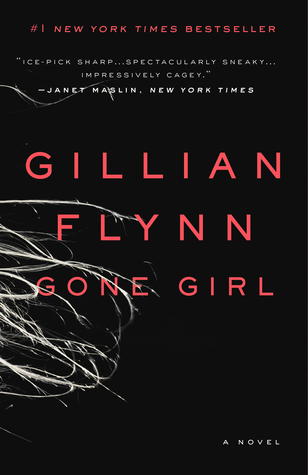 Media: Paperback
Progress: 10%
The first thing I noticed about this book was there's something off about both Nick and Amy.  Weirdness is happening the morning of her disappearance, and there's something Nick has to tell her (maybe he wants a divorce?).  The narrative foregoes their alleged confrontation though (for now), skipping ahead to Nick at the bar he co-owns with his twin sister Margo (Go).  As for Amy, she's the kind of person who would wear me out after five seconds.  I can't take that kind of intensity.   I'm excited to see where this goes.
Title: The First Fifteen Lives of Harry August
Author: Claire North
Date Added: September 15, 2017
Date Started: August 23, 2018
Media: eBook/Kindle
Progress: 66%
I could write a philosophical dissertation about this book if I only had the time.
Title: The Graveyard Book
Author: Neil Gaiman
Date Added: April 13, 2013
Date Started: August 9, 2018
Media: Paperback
Progress: 90%
One chapter left to.  The Jungle Book similarities aren't completely one off, but you can tell Gaiman used Kipling's work as his template.
Title: Ireland's Immortals: A History of the Gods of Irish Myth
Author: Mark Williams
Date Added: October 5, 2017
Date Started: July 6, 2018
Chapter 2 gave me cause to reflect on Milton's Paradise Lost and that's never a bad thing.  I have lots of opinions about fallen angels…
---
I just picked up Childhood's End by Arthur C. Clarke from the library today.  This will be my first Clarke book, and I've heard nothing but great things.  Reading the blurb also reminds me I have notes for a parody about the very same, so the idea has long been in the zeitgeist.  Side note, but my library generously tells you how much money you save every time you check out a book…except this time *headdesk*  Well last time it was around $400 total with near $220 of that being this year.
Do you use your local library?  If so what for?  I once rented Rime from there and they have quite a selection of games I should peruse more often.
---
<–The State of the Reader: 8/29/18          The State of the Reader: 9/26/18–>