Title: The Lies of Locke Lamora
Series Title: Gentleman Bastard
Author: Scott Lynch
Date Added: October 11, 2012
Date Started: October 26, 2017
Date Finished: January 19, 2018
Reading Duration: 85 days
Genre: Fantasy, Thriller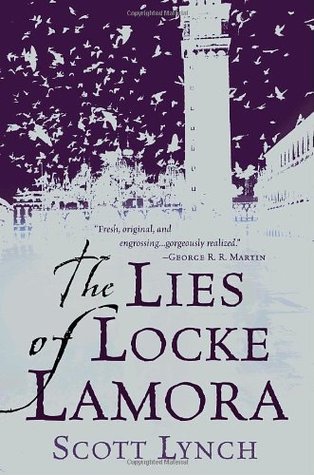 Pages: 499
Publication Date: June 27, 2006
Publisher: Bantam Spectra
Media: eBook/Kindle
---
In this stunning debut, author Scott Lynch delivers the wonderfully thrilling tale of an audacious criminal and his band of confidence tricksters. Set in a fantastic city pulsing with the lives of decadent nobles and daring thieves, here is a story of adventure, loyalty, and survival that is one part "Robin Hood", one part Ocean's Eleven, and entirely enthralling… 
An orphan's life is harsh — and often short — in the island city of Camorr, built on the ruins of a mysterious alien race. But born with a quick wit and a gift for thieving, Locke Lamora has dodged both death and slavery, only to fall into the hands of an eyeless priest known as Chains — a man who is neither blind nor a priest.
A con artist of extraordinary talent, Chains passes his skills on to his carefully selected "family" of orphans — a group known as the Gentlemen Bastards. Under his tutelage, Locke grows to lead the Bastards, delightedly pulling off one outrageous confidence game after another. Soon he is infamous as the Thorn of Camorr, and no wealthy noble is safe from his sting.
Passing themselves off as petty thieves, the brilliant Locke and his tightly knit band of light-fingered brothers have fooled even the criminal underworld's most feared ruler, Capa Barsavi. But there is someone in the shadows more powerful — and more ambitious — than Locke has yet imagined. 
Known as the Gray King, he is slowly killing Capa Barsavi's most trusted men — and using Locke as a pawn in his plot to take control of Camorr's underworld. With a bloody coup under way threatening to destroy everyone and everything that holds meaning in his mercenary life, Locke vows to beat the Gray King at his own brutal game — or die trying…
---
Scott Lynch's debut novel has one of the best opening lines in contemporary literature, and that's not just because it contains the number "Seventy-seven," but rather because the "problem" presented hits hard, as well as viscerally showing what type of world we've been thrust into.
At he height of the long wet summer of the Seventy-seventh Year of Sendovani, the Thiefmaker of Camorr paid a sudden and unannounced visit to the Eyeless Priest at the Temple of Perelandro, desperately hoping to sell him the Lamora boy
There are few and far between readers who wouldn't want to know more after this, and I can only describe the language in this book eloquently vulgar, which is extremely hard to pull off without sounding pretentious.
Camorr reads as an analogue for Venice with its canals and bridges, but the lore of Lynch's city has an eerier origin.  It was built by a race of beings known as the Eldren, presumably for "elder race," that left only remnants of themselves behind for men to find.  They were advanced and "unsettling."  One particular structure, the Elderglass, is one of their leftovers.   Humans can neither modify it nor destroy it, and it begs the question of when the novel is supposed to take place.  In some far-flung future after-apocalypse when certain technologies were lost?  Or does it take place on some other world that a more advanced species eventually abandoned?  The utter lack of care or curiosity about the origin or properties of the Elderglass speaks volumes for the type of world/society Camorr exists in.  Survival silences such sciences.  A similar question is presented in Joe Abercrombie's Half a King, and it also explains why George R. R. Martin takes a particular interest in this series since A Song of Ice and Fire certainly suggests a similar paradigm.
Lynch also did an absolutely brilliant job with the character Capa Barsavi.  His reputation precedes him long before we, the readers, meet him more than 100 pages in.  Barsavi essentially owns the city in truth, as opposed to the Duke in name with even his lordship thinking twice before crossing the Capa.  This is similar to what Mary Renault did with Alcibiades in The Last of the Wine and Final Fantasy VII with Sephiroth (the latter whom we don't even see "alive" during the main action of the game, flashbacks notwithstanding).  Such a device increases notoriety.
Barsavi is a mob boss.  You pay him to leave you alone, and this system paints Camorr as a city run by gangs with their garristas who all answer to the Capa.  They follow the rules; he takes his cut, and everyone goes home happy.  The only untouchable demographic is the nobility, per Barsavi and  the Duke's agreement, so of course the core plot of the novel is Locke Lamora "touching" exactly that.
The chapters alternate between Locke's past and present, the initial beginning with the former (as can be surmised).  We see how he got to his garrista position, living upon his layers of lies.  The levels are cerebral enough to make you think about who knows who is lying about what and who knows who knows that they're lying.  Lynch's alternating format was captivating.  You think you're going to rush through the "past" chapter, because what's happening "now" is hanging on a razor's edge, but then it's just as fascinating to scrutinize the foundation as it is to witness the peak.  I also have to give a shout out to Jean who completely wrecks all those horrible "fat kid" tropes even as he uses them to his advantage.  He can beat the shit out of most anyone and always has Locke's back.
The central question of Lies is "Who's the bigger thief?"  At one point Locke justifies his actions by saying the nobility stole in order to get to their place.  It's an obvious and clear critique on generational wealth, oligarchy, and capitalism that I can't disagree with or deny.  Thieves don't appear out of nowhere, and most people tend not to purloin when they have what they need.  The bleak and horrifying fates of most orphaned children in Camorr leaves little doubt how such a shadow society can grow, and of course this leads to the greater vilification of urchins, which makes the surviving ones better thieves.  Poverty and destitution weed out those too weak to survive it and create a bitterly brutal society.
It can't be said Lynch's novel isn't compelling, but it took me a long time to start sympathizing with the characters.  Maybe I'm too mired in capitalism despite my hatred of it, because I just saw them as a bunch of burglars getting just as wealthy as the people they stole from.  While I'm not entirely opposed to them relieving the aristocracy of their money (because any system that has uber wealthy amongst desperately poor is inherently unfair), this seeming "Robin Hooding" has made them as rich if not richer than the nobles the rob.  I wanted some other motivation behind their thievery, some "worthy" cause.  There is a particular reason Locke is working so hard, but even without it, he'd still be a thief.  I found his younger version more endearing, and it took me a bit to figure out how I felt about him and his Gentleman Bastards.  The setting of Camorr is brilliant and vibrant among its squalor, the language both poetic and crass, and the writing was engaging.
What Locke lacked in likability he made up for with the shit situations he consistently found himself in where any choice he made would spell doom.  Despite myself, I was rooting for him not to fail, and it was strangely similar to Death Note where I was on the edge of my seat with the cat and mouse game's teetering balance.  When another more cunning "cat" appears to tip the scales, everything Locke and his Bastards thought they knew about the game completely shifts.
I might catch hell for this, but I didn't love it.  The gratuitous cursing seemed almost overdone, which is 100% just my shitty (and ironic/hypocritical) opinion lol.  I know it makes sense for these types of characters to do just that, and of course the author is going for rough talk and general irreverence, but it made the words have less meaning.  That might have been the point though.  Since they talked like that all the time, it was just the GB lexicon.
Can you like a novel without liking the main character?  I think you can.  I think you can even root for that person if their reasons are just, or if they're just interesting enough to warrant it.  The Gentleman Bastards did grow on me, and I liked the subtle/not-so-subtle statement Lynch was making about the elite, class, and generational wealth, especially in terms of how your past can come barreling back at you with reckoning speed.  The alternating timeline chapters helped, because young Locke is endearing: an orphan child doing whatever he can to survive in a pitiless world.  Making a character relatable is better than making them likable, and we can all relate to the desire to take care of, protect, and avenge our family be they blood or not.  Regardless how I felt about the characters, the author was able to keep me interested enough to finish the book, despite what problems I had, but I won't be continuing the series.
3 stars.