<–The State of the Reader: 10/10/18          The State of the Reader: 12/5/18–>
A weekly post updated every other Wednesday detailing my current reading projects and what new titles I've added to my to-read list.  Title links go to Goodreads, and if you have an account there feel free to friend me!  I'd love to see what you're reading and/or planning to read.
---
Books Purchased: 3
---
Books Finished: 4
Title: The Gentleman's Guide to Vice and Virtue
Series Title: Montague Siblings
Author: Mackenzi Lee
Date Added: August 18, 2018
Date Started: September 24, 2018
Date Finished: October 16, 2018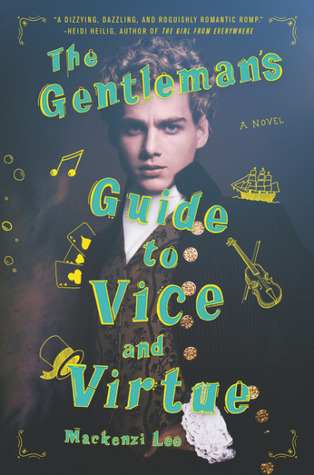 Media: eBook/Kindle
This book was not remotely what I expected, and that's a wonderful thing.  It was spectacular.  Even though it took place in the 1700's, there was nothing occurring that's not relevant today.  Racism, sexism, homophobia, ablelism, etc. were perfectly represented along with how people can have both privilege and oppression as well as the intersection of it to navigate, as is the case with Percy as the half-black son of an English gentleman and a woman from Barbados.  While he has wealth and the privileges that go along with that, he has more than one obstacle to navigate.  Monty showcases how you can completely not understand someone's point of view if you insist on only viewing it through your own lens, and it was often Felicity who completely got where Percy was coming from even as she herself had some seriously problematic views about homosexuality.  None of the characters were perfect and that's exactly what made them so.
Title: The Lightning God's Wife
Series: Master of Crows
Author: Grace Draven
Date Added: September 27, 2017
Date Started: October 17, 2018
Date Finished: October 19, 2018
Media: eBook/Kindle
I enjoyed reading about Martisse and Silhara again, even though they were merely the framing device, but the Lightning God and Rain Goddess story was (ironically) kind of dry.  It could be because Draven didn't have time to flesh out the characters.  This is the first of her work that I didn't absolutely love.
Title: Childhood's End
Author: Arthur C. Clarke
Date Added: April 19, 2017
Date Started: September 13, 2018
Media: Paperback (Library)
I've never read a story like this before, and I've seen a few about aliens, but never in this way.  It's so ahead of its time even in 2018 and it was written in 1952.  Most alien narratives fall into two camps; they're either benevolent and want to help mankind or they're trying to destroy us.  That destruction can come from without as in a War of the Worlds fashion or within like They Live.  Childhood's End is different.  There's apparently a TV miniseries and I'm curious how they tackled this.
Title: Mama Cried
Author: Talia Haven
Date Added: October 15, 2018
Date Started: October 22, 2018
Date Finished: October 22, 2018
Media: eBook/Kindle
This story fulfilled so many dreams/wishes for what I want to see happen to people who harm children.  It's short at only twelve pages and only $0.99 for you to find out what I mean.
---
Currently Reading
Title: Eating Robots: And Other Stories
Series: Nudge the Future
Author: Stephen Oram
Date Added: April 10, 2017
Date Started: October 23, 2018
Media: eBook/Kindle
Progress: 18%
So far every story in this collection has been good.  They're all speculative fiction that's not quite so speculative when you drill down.
Title: Alex + Ada, Vol. 2
Series: Alex + Ada
Author: Jonathan Luna
Artist: Sarah Vaughn
Date Added: October 14, 2018
Date Started: October 14, 2018
This novel pulls no punches in its portrayal of bodily autonomy and breaking down the fallacy of the "good guy."  It also has no problem going after the concept of "illegal aliens."  When challenged, a group of characters say, "It's a free country" to the response of "For some," and it was a kick in the gut because it's all too true.  I can see why this volume has a higher rating than the first, though I still didn't have any problem with the initial book.
Title: Muse of Nightmares
Series Title: Strange the Dreamer
Author: Laini Taylor
Date Added: December 20, 2017
Date Started: October 6, 2018
This continues to be awesome.  The group may have found a way to mitigate Minya's influence, but other concerns continue to arise.
Title: Ireland's Immortals: A History of the Gods of Irish Myth
Author: Mark Williams
Date Added: October 5, 2017
Date Started: July 6, 2018
I finished another section on Tuesday.  I have a long way to go.
---
Goodreads says I'm three books ahead of schedule, and I have only seven left to finish. I've been trying to read shorter novels to make sure I can make it.
This is the last post until December.  As mentioned in other status updates, I'm going on blog hiatus in November to do NaNoWriMo.  Even though it's the novel I tried to write last year, I still need to do my Preptober work this weekend.
I think next year I'll make my reading goal 25 or something like that.  I lessened it this year, but I'm still feeling some pressure.   I'll probably keep up the same schedule, or I might have some days where I don't read anything besides Kindle, which will afford me more time to work on projects.
What's good with all of you?
---
<–The State of the Reader: 10/10/18          The State of the Reader: 12/5/18–>